Gear Question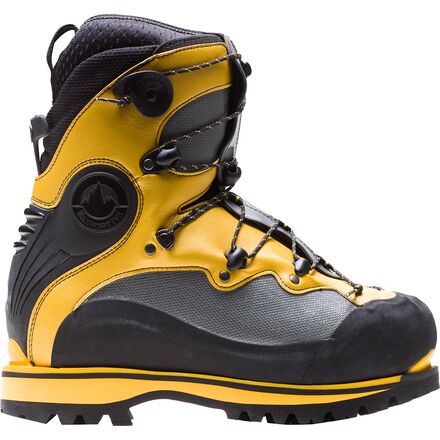 Posted on
I'm trying to decide which boot to use on...
I'm trying to decide which boot to use on Aconcagua for a couple trips this winter. I currently own a pair or Scarpa Omegas that I've only used a few times for vertical ice climbing. I had the liners heat molded. I'm not really sure if the Omegas are the boot for Aconcagua, though, as I'm a little worried my feet will be cold in them. They also seem a bit stiff for the long slogs I'm expecting on Aconslogua...

Last year guiding on Kilimanjaro, I used the La Sportiva Glacier in 44.5. I realize this is a totally different mountain and environment than Aconcagua but I'm concerned about sizing. I normally wear a US 10.5 or 11 and thought the 44.5 Glaciers were a bit too big (not a bad thing on the descent as my toes weren't being too abused).

If I go for something like the Spantik or Baruntse, I'm not sure what size I should order. Any thoughts?

Also, has anyone used the Omega on Aconcagua? How did they perform? Feet stay warm?
Responded on
I would suggest going somewhere that stocks the boots or ordering several different sizes. Then you can try on the boot and pick the one that feels best and return the rest. My roommate just did several large peaks in Boliva in the Baruntse and really liked them.
Best Answer
Responded on
I have spantiks and have used them on Elbrus and Denali. Great warm boot. I am also heading to aconcagua this year and am planning on taking them as well. Other boots need super gaiters for aconcagua but not spantiks because they are really super warm. For sizing, I wear a 12 in nikes and usually between an 11.5 to a 12 in everything else. For long slogs of climbs like elbrus and aconcagua a size 13 (47 euro) fits perfectly for all but the most technical of climbs (I can still climb up to a WI5 very comfortably in them with only minor heel slippage. If your planning something technical only going up a half size would be better.
Responded on
I used the spantik on Aconcagua 2 years ago, they where awesome! A lot of other people where waring them as well, pretty popular boot for a 7000m peak. Id also recommend a plastic liner in between your socks, to keep your sweat out of your boots, do your research before you go or you'll get cold feet no matter what boots your waring. I wear a size 11 street shoe and i orded a 46 to acomidate a liner sock, plastic liner, and a thicker wool sock. Have fun, be safe, party on!
View More Details on La Sportiva Spantik Mountaineering Boot - Men's