Gear Question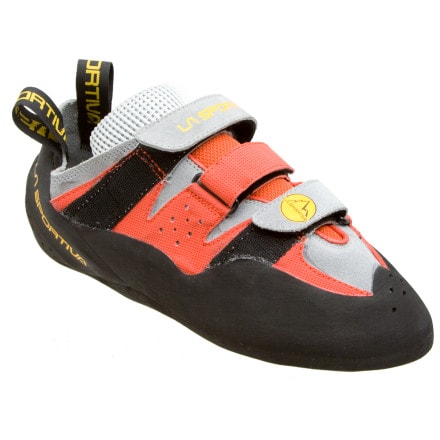 Posted on
I'm new to climbing... What would be a...
I'm new to climbing... What would be a decently priced shoe for a beginner. I do alot of gym climbing, not so much bouldering, and looking to do outdoor climbing?
Best Answer
Responded on
Hey Dakota, I first want to preface this by saying that there will be a wide array of opinions on this subject. This answer is simply my recommendation and opinion, shoe choice is highly personal.

For a beginner shoe, you want something with a thicker sole which will last longer. Beginnners tend to wear through shoes quickly. You also want something with a neutral curvature (as oppose to a downturned toe), which will be more comfortable. I'd also recommend sizing down a half size at the very most.

I also am of the opinion that a leather lace up shoe will give you a better fit. Leather stretches and breaks in much more than synthetic, and a lace up (although slower to get on and off for gym climbing) gives you a much more comfortable and customizable fit.

The cheapest neutral, leather, lace up shoe with a thick sole is the Mad Rock Phoenix. http://www.backcountry.com/mad-rock-phoenix-climbing-shoe-mens The 5.10 Coyotes are similar http://www.backcountry.com/five-ten-coyote-lace-up-climbing-shoe

Hope that helps.
Responded on
I agree completely with Simon on this one.

As a beginner, your footwork may struggle, resulting in premature wear. Like Simon says (HA!) you'll want to steer clear of an agressive (downturned shoe) as not only are they less comfortable, but you won't really notice the benefits of the agressive, more expensive shoe as a beginner.

The benefit of velcro is the ability to take it off really quickly, and to adjust quickly.

Simon had answered your question really well, I just wanted to get my $.02 in!
View More Details on La Sportiva Mantis Climbing Shoe