Gear Question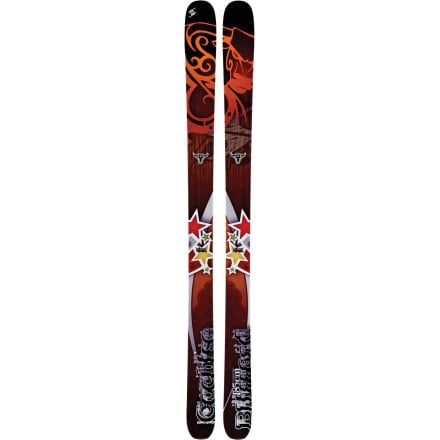 I was once a good skier. Kids and time off...
Member since
Posted on
I was once a good skier. Kids and time off the mountain I know I'm not the same as "I once was".
I'm 185lbs., 5'9". I used to ski Bumps, Steep Mountain, and loved the jumps.
Don't think I will be doing the jumps anymore, but hope to do steep and bumps where I can find them still.
I'm 49 years old, but still in very good shape.
West Coast Skiier. Favorite runs would be Olympic Lady and Red Dog at Squaw, although I've heard they tamed Red Dog :-(

I used to ski Dynastar Religiously.
190 - 200 cm, Slalom Ski, Normally the 1st or 2nd lightest skis made.
Old school skis, not the new technology.

I'm looking at:
http://freeskier.com/gear/products/blizzard-bonafide-ski
Lots of recommendations, "fun and you?ve got yourself a hell of a do-it-all ski"

http://freeskier.com/gear/products/blizzard-cochise-skis
This might be the ski after reading a lot of reviews.

Your thoughts on skis and length for me would be very appreciated.
Thanks,
Member since
Responded on
Rene. You'd be hard pressed to find many Bonafides left, they're sold out at a lot of places. So you're coming off of 190-200cm skis? If that's the case I would recommend the 185 Cochise. You're borderline between sizes but since you're coming off longer skis I would recommend the 185 over the 177. There are quite a few people rocking the Cochise at Squaw these days. They'll probably take a little getting used to as they are 108mm under foot and you're coming of of something that's 68mm but once you get the hang of it you'll be psyched.
Member since
Responded on
Rene, I am same height and 175 lbs. Skied 205 Volkls back in the day, was on Scott Aztecs for the past 9 years, and just spent a week at Snowbird on a new set of Bonafides 180. They handled the hard pack with ease and never had a case of the speed wobbles when ripping down the hill. Very easy to throw around in the moguls, and blasted through the crud. The rocker makes it easy to pivot 180 in very tight spots. If you see plenty of powder then go for the Cochise, otherwise I would recommend the Bonafide (if you can find it). It will serve you well in all conditions, will work in the powder with good technique, and fits the one quiver option well. I am typically locked into Xmas and spring break ski trips due to kids in school and have to deal with whatever snow is available at the resort we are at. The Bonafide is a perfect fit for the job.
View More Details on Blizzard Cochise Ski