Gear Question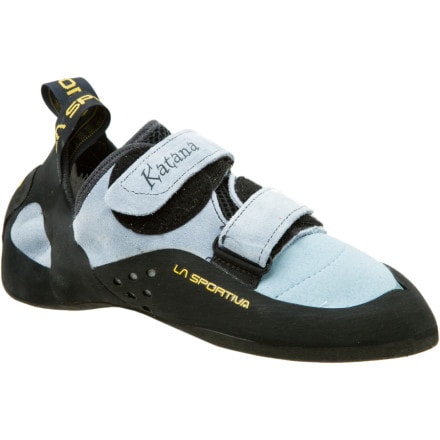 Posted on
I tried these on recently and am pretty...
I tried these on recently and am pretty much set on buying them after doing thorough research. However, I'm a street size 7 and have tried on the 6.5 and 6 and can't tell which fits better. In the 6, the entire shoe molds to my foot but my toes are pretty curled and might even be overlapping...in the 6.5 the heel is a bit baggy and my foot seems to move around a little more than it should given it will only stretch.
Responded on
it sounds like you might go for the 6 and they'll fit better after they break in and stretch. however, if you're not a particularly aggressive (advanced) climber and the heal is just baggy but not sloppy, you may be happier in the 6.5.
Best Answer
Responded on
A couple years later...a word of advice for anyone skeptical of the fit of their shoe:
I was looking at the katanas as a step up from my beginner's pair of evolv elektras, however I clearly noticed something wasn't quite right about the fit; they were baggy in the back and around my arch while my toes were curled at the front of the toe. This should be a warning sign that this is not the right shoe! Unfortunately I didn't know much better at the time. But it is true what they say: climbing shoes should fit like a glove. When you put them on for the first time there really shouldn't be deadspace. Keep trying on shoes because when you know you know. I tried on the la sportiva solutions after some years of advancing in the sport and all I could say was wow! They actually fit every contour of my foot. While fairly uncomfortable, EVERY part of my foot was smooshed, not just parts here and there. It was a tight fit, but the right fit. Just keep that in mind while you're buying climbing shoes and make sure you try on lots of shoes before you settle!
View More Details on La Sportiva Katana Rock Vibram XS Grip2 Climbing Shoe - Women's