Gear Question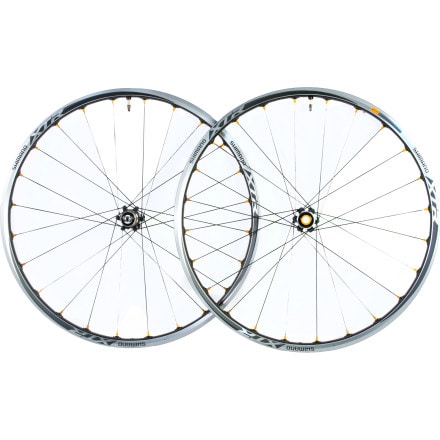 I just bought a set of these Wheels, and...
Member since
Posted on
I just bought a set of these Wheels, and they are indeed first-rate. The Product-description above reads like a Shimano-ad, but it is more objective than what's usually written in the media and avoids the typical hype. One detail I would add: The outer rim-width of 26.4mm that is mentioned in the Description--note that this is not as significant as the INNER-width which is 21mm. Not only is this the actual parameter that allows use of 2.5" tires, but it is also creates a larger contact-patch on the trail, so even 2.1's will grip better. Also remarkable is the fact that a 21mm Rim weighs a mere 400g. So hats-off to Shimano for this noteworthy accomplishment. Selling for about the same (in the real-world) as the Crossmax ST, XTR 988's are substantially lighter at 1670g. And durability should be on par with the competition, too. The only real difference is maintenance--Shimano cup-and-cone bearings need service more often, but it is low-cost and no special-tools are needed. I've used XTR hubs in the past, and they are top-notch. My only issue is the tiny Spoke-wrench that Shimano provides that is supposed to torque the nipples to 120-kgf. Can anyone comment on this?
Member since
Responded on
If I understand correctly: 120kgf is roughly 280lbf. 280lbf of the axial load would be roughly 4.5 in-lbf. the wrench is roughly 2" so slightly over 2.lbf should do.
Hope it helps.
View More Details on Shimano XTR WH-988 Trail Wheelset