Gear Question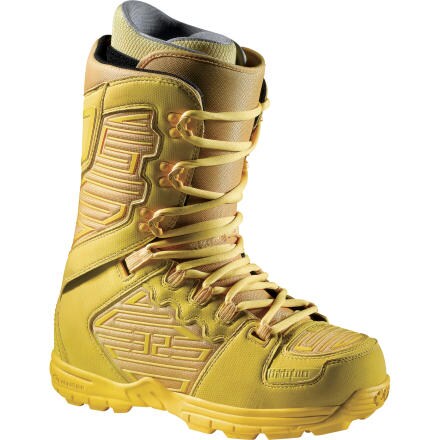 Posted on
I just bought a pair of these TM-Two's the...
I just bought a pair of these TM-Two's the other day! So stoked...boots look so good, thing is...I'm a size 13 and the liner is just snug enough to be a bit painful. I know the boots are not even close to being packed out but do you guys think after getting them heat molded, it will give me the additional room to be comfortable. I'm just so jammed up cuz I love them alot! Looking for some reassurance about heat molding them!
Best Answer
Responded on
Hey man, I've ridden the TM-2 since 2002 (same model, different years). This boot keeps me coming back because of the close fit you're talking about. The break in time is longer than other boots certainly, but they end up being the perfect boot for an all-mountain rider. Stiffer and narrower than the Lashed, TM-2's provide enough ankle support for any riding condition. Anyway, to answer your ?, I've tried heatmolding them out of the box and haven't been as happy compared to when I ride them w/o heatmolding and just letting them form to my feet over time (which they will). call me sadistic but I appreciate the break-in process of a boot, if you hate that, consider heatmolding them. But keep in mind after you heatmold them, this liner will continue to mold to your foot's unique shape even after this is done. There's nothing that standing in a shop with hot boots on your feet can do the same way riding your boot does- you just can't beat it. Yes, these seem like they have a tight fit at first, and honestly, if it's excruciating,consider other boots, if it's just enough pinch to ignore, suck it up for now as you break it in. Also keep in mind leaning forward on your boots when you're riding them isn't anything just like wearing them around. If you're willing to put in the time w/ these boots, you will be rewarded with awesome performance. My current pair is on their last leg but has lasted me 2+ years (that's crazy). Anyway, sorry for the rant but I hoped it helped. I need to shut up sometimes.
Responded on
I bought my TM2 boots in 05/06 and I know what you're going through. I wear an 11, bought an 11 and had that super-snug feeling for about the first 10 days on the slopes, and on the first day of the season every winter since then. I never had them heat molded, but that would probably help. The boots are super warm and I found it helped to wear a thin sock.

So, yeah I didn't get them molded, but they did eventually pack in, and I've loved them ever since. I'm about to replace them this year because the old style boot doesn't fit my Burton Cartel binding very well.
View More Details on ThirtyTwo TM-Two Snowboard Boot - Men's