Gear Question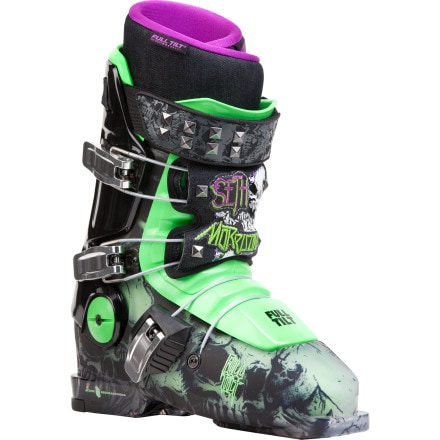 Member since
Posted on
I have tried on the Drop Kick's at a local ski shop just to check out full tilt boots. (That's all they had in a 25.5 size). They were very tight, but comfortable at the same time. However, I felt I had too much room in the calf and shin area when leaning forward and back. It didn't really matter how tight it was buckled. (Not sure if buckles can be adjusted or not with shorter cables)

Is this how all the Full Tilt boots are? If the Seth's Morrison's or First Chair boots are different I would definitely like to know. I am an aggressive skier who likes tight fitting boots. I usually ski Lange or Technica's in 97mm width and 110-130 stiffness, but I may be willing to give these a shot.

Thanks for all your help : )
Member since
Best Answer
Responded on
You can get short cables through the dealer or from fulltiltboots.com. The buckles do slide on a rail system for micro adjusting. The upper cable can be moved into 2 different positions making the cable shorter when room on micro adjuster runs out. As far as tongues, you can get stiffer ones through dealer or fulltiltboots.com Get the largest tongues sold it makes a difference especially on the size you tried on. Thats what I do and wear the same size you have tried on. The larger tongue comes up higher on the shin than the stock one. Heat molding the liners covers most fit issues out of the box. Make sure all adjustments are made before heat molding liners.

Side note on the Drop Kick, it doesn't come with a rear spoiler, which is located on the back top part of the shell, so it sits between shell and liner. This piece adds some higher rear support and takes up minimal space, but some. Also the drop kick liner is a lesser liner in respects to overall density and support compared to the pro liner of the Seth Morrison Pro. The tongue on the Drop kick is a #4 where the Seth Morrison Pro is #8 and you can upgrade easily to a #10 which comes in black.
Member since
Responded on
Thanks a lot! I will most likely try the 2013 Seth's or First Chairs. Hopefully, the rear support takes up significant room and my calves and shins are wrapped tight. That would be great.

I read on their website that they have shorter cables, but not anything lower than 25.5's. I will have to research more.
View More Details on Full Tilt Seth Morrison Pro Model Ski Boot - Men's