Gear Question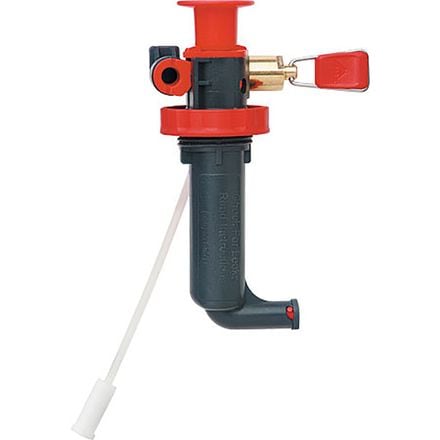 Posted on
I brought my MSR whiperlite intl. at...
I brought my MSR whiperlite intl. at 2007.
The pump is exactly like the above one.
After a few trips, the gas started to leak from the valve controller.

Fortunately i used to test all my gear before the trip, so that i won't have any trouble during the trip.

i have sent it to the local dealer and they repaired the pump for me.
It works fine.

But now, the same problem happen again.
i was so confused and really disappointed wif this so called new design pump.

Does any one have some suggestions?
Best Answer
Responded on
Copperhead,
I just took mine apart again for general maintenance & to better see what problems you might be having.
1. Using a 7/16 open-end wrench, carefully unscrew the brass valve housing.
2. Unscrew the needle valve assembly.
3. Inspect & lubricate the small red o-ring. Use MSR Pump Cup Oil to lubricate or if you don't have that, use a small amount of petroleum jelly & wipe away any excess.
4. I couldn't find that specific o-ring in either maintenance kit so if it does need to be replaced, contact Cascade Designs @ 1-800-531-9531, explain your situation precisely, & I'm sure they will send you the part you need.
5. Carefully reassemble the valve.
6. Also replace the fuel tube o-ring on the opposite side of the pump @ the same time. This o-ring is included in both maintenance kits & is the most prone to needing replacement since it does have direct contact with fuel.

I hope this helps.
Responded on
Thx Jeff, you are helpful.
yes i can't find that specific o ring too.
I think I will try to apply some oil on the o ring first
and if the gas continue to leak I will contact cascade designs or just buy a new one.
Thank you.
Responded on
I've used a WL for years. I think the problem you're referring to is a flaw in this new design: The valve control is now that long affair that folds down, instead of the old thumbscrew. As a result, when it's folded, it acts as a lever arm and normal bumping around in a pack can cause the valve to open slightly. Bad news! Especially because there is no fix available. The best you can do is be sure to close it tightly, and then pack it so that the valve is reasonably protected.

Everything else about the new design is good. This control arm thing, however, was a mistake.
View More Details on MSR Fuel Pump