Gear Question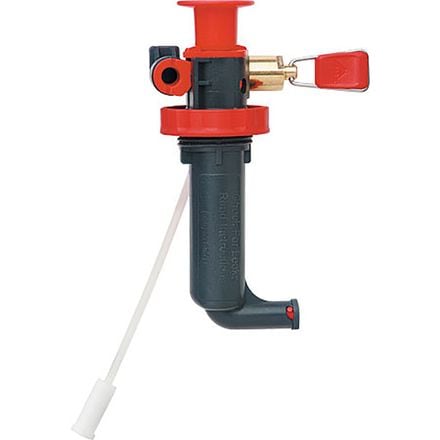 Posted on
I bought a whisperlite about a year ago...
I bought a whisperlite about a year ago and I think it has an old pump, it doesn't look like the one in the picture, it has a small aluminum dial for flow control not the big red plastic knob, and it has two plastic white tubes and doesn't have the right angle like the one in the pic. Am I right, do I have an old pump?? and if so is there any way I can get msr to replace it with a new one??
Even if it is an old one is there any reason for me to upgrade the one I've got (works fine by the way)?? I only cook simple meals that require boiling water, oatmeal, tea, pasta side dishes etc.
thanks
Best Answer
Responded on
I got my whisperlite int'l 2 years ago and it has this pump in it. Perhaps your stove is older? Either way, unless there is something wrong with it, I don't think you need to replace. I don't think MSR will do it for you either, especially if the one you have now works. Look at the Q & A below this for the advantages of the new pump.
Responded on
There are some compelling reasons why you would want to buy the new pump, but it isn't necessary. If the old pump is working then there's really no need to replace it. I would give the old pump a thorough inspection most especially looking at the O-rings (the big O-ring where the pump screws into the fuel bottle is the most critical). If you see any cracking of the rubber or any cracks on the pump itself I would replace it. This is not a warranty issue since it's most likely due to normal use. If you suspect it is a warranty issue, call Cascade Designs at (800) 505-9500 and they will issue you a Return Authorization Number. You will need to send it back and, after they inspect it, determine that it isn't a warranty issue then they will repair it for a reasonable fee. They can help you over the phone if you have specific questions...

The new pump will allow you to simmer better (not like a canister stove, but gives you one full rotation of adjustment vs. the old pump that gives you no rotation adjustment). It's also much more durable, won't spray fuel when you release the pressure after unscrewing it, and is much easier to maintain (no leather plunger). It also comes with a new windscreen which is a $10 value.

My opinion is the $35 for the new pump is money well spent and will upgrade your stove to the latest version of the Whisperlite. The most resent updates to the Whisperlite have to do entirely with the pump, not the stove.
View More Details on MSR Fuel Pump