Gear Question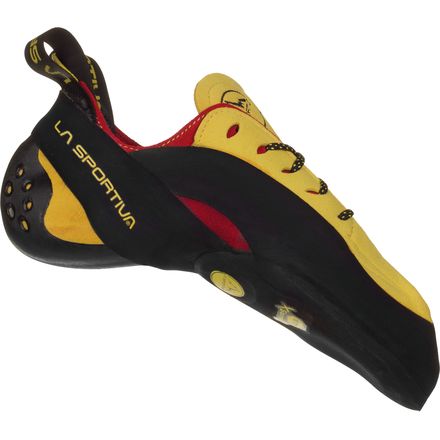 Posted on
How do these compare to the Solutions?
How do these compare to the Solutions?
Responded on
The solution has a thinner sole, its slightly more curved (not noticeably so), and is kind of a velcro/slipper hybrid. The Testarossa is a lace. The Testarossa's lacing allows you to dial in the fit, and they are slightly less sensitive underfoot. They are all-in-all a pretty similar shoe though. Hope that helps!
Best Answer
Responded on
I used to wear the Testarossa and I loved them. I have a pretty narrow heal but these hold great on very agressive heal hooks. And they are relatively comfortable considering how agressively downturned they are. The only thing I'm crazy about is having to lace them up when bouldering so I ended up replacing them with the Solution. I was told that the Solution is basically just the velcro version of the Testarossa. Not so.

Whereas the Testarossa was comfortable, the Solutions are unbearable. I'm not sure exactly what the differences are. However, suffice it to say, they are not the same shoe. If one of the two works for you, my advice is to stick to what you like.
Responded on
I've tried to answer this several times beyond the obvious velcro/slipper vs. laces dichotomy. After owning both of them I ultimately chose the Testarossa's and have stuck with them through three pairs now. The Testarossa's are hands down a much better edging shoe, while still maintaining much more sensitivity than the Solutions. They flex in a way that allows you to paw the holds much more, in addition to being better through tech slab sections. The Solutions are just plain aggressive from the get-go, you slip them on and it's go time, but the Rossa's are the most laid back aggressive shoe you can get. I don't even lace up my shoes half the time (I wear a 40 in La Sportiva and 10.5/11 running shoe) and yet they are there for me 100% through heel hook, smear, thin edges, etc. That being said, I am going to order a pair of Solutions again for a couple hardcore toe/heel-hook intensive problems that I want to send when the snow melts.
View More Details on La Sportiva Testarossa Vibram XS Grip2 Climbing Shoe