Gear Question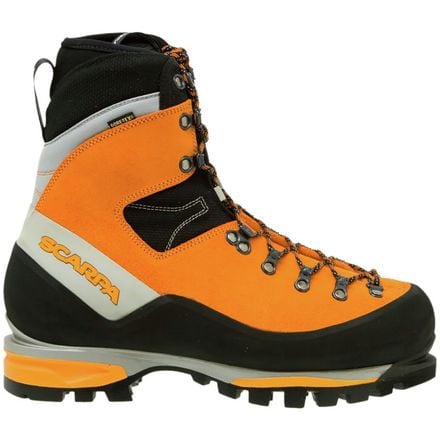 Posted on
How do these compare to the La Sportiva...
How do these compare to the La Sportiva Nepal Evos in terms of warmth and comfort? Which one is more recommended for winter hiking and mountaineering? Also, how is the fit on these, I wear a size 13 US Mens, would a size 47 fit me ok?
Responded on
I can speak in terms of fit, the Scarpa Mont Blanc GTX are much wider in the heel and toebox. The La Sportiva Nepal Evos run much narrower.

Most of those I know that use this tend to get a 1/3 or 2/3 size bigger than their typical shoe size (EU sizes convert to thirds in US sizes).
Responded on
Like the poster before me said, these fit a bit wider than the la sportivas, so that may translate to better comfort depending on the size/shape of your foot. Both are excellent mountaineering boots, each have both heel and toe welts for fully automatic (step in) crampons and full shanks, so they are extremely stiff. For winter mountaineering, these may be a little on the chilly side since they are single boots. In terms of warmth, the Evos and the Mont Blancs will be about the same, but I personally think they are better for something like summer mountaineering in the cascades. Winter might require double boots or over boots/super gaiters.
View More Details on Scarpa Mont Blanc GTX Mountaineering Boot - Men's