Gear Question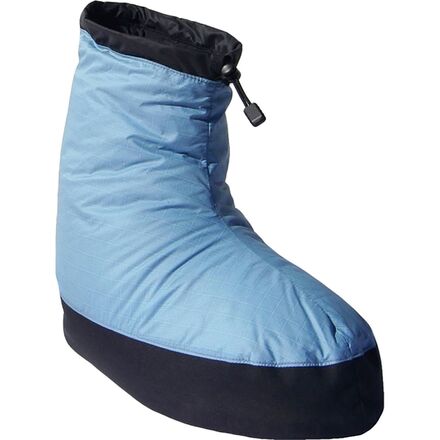 Posted on
How do these compare in warmth to the...
How do these compare in warmth to the Feathered Friends down booties or the Forty Below synthetic booties? Wondering if anyone has any experience they could share. Also, is the shell tough enough where I can walk around a snowy campsite without worrying about the down getting wet?
Best Answer
Responded on
In my opinion, these booties are quite warm. I'm not familiar with the other booties you mentioned, so I'm afraid I cannot make a comparison. I have walked around in these Western Mountaineering booties in damp snow, and they stayed dry. I wouldn't walk long distances or do so for extended periods of time, but a bathroom break or sit in the snow will be just fine in these. They also have a decent amount of insulation in the sole. At times a wore them with bare feet inside (as it's less slippery) and I did not feel much cold coming through considering I was walking on snow. I'd highly recommend these booties.
Responded on
Just to let you know, Western Mountaineering and Feathered Friends buy their down from the same supplier. Not that that means equivalent products will be as warm as one another, but it is relevant. As for the shell, absolutely. I walk around the snow in these with no problem. The down stayed lofty and dry.

A heads up, though, my experience with Feathered Friends customer service is nothing short of egregious. Western Mountaineering is top notch for customer service and warranty claims.
Responded on
I have the FF booties. They are great, and you can separate the shell from the down bootie so you're not putting something in your sleeping bag that you've been walking around outside in. But the FF booties are 9+ ounces, so they are heavier.
View More Details on Western Mountaineering Down Bootie - Unisex