Gear Question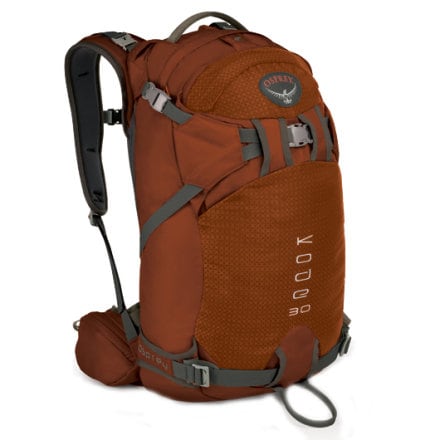 Hi, i've been toiling over this for some...
Member since
Posted on
Hi, i've been toiling over this for some time now, and i don't have enough money to buy two packs. I really want this or the Kode 22 because of the insulated drinking tube place, but i'd be using it year round. the folks @ osprey said i should go w/ something else for summer use because my back would overheat, but if i did, my camelback would freeze in the winter. help!
Member since
Responded on
I recommend something like a dakine heli-pro dlx, or a black diamond Outlaw pack....these have an insulated hydration sleeve, but wont over heat in the summer.........

Another option is to buy an insulated camelback hose like this one (http://www.backcountry.com/camelbak-thermal-control-kit) And then buy a summer bladder to go with it. such as (http://www.backcountry.com/dakine-replacement-reservoir)
Member since
Responded on
Hey Sean,

At least as far as the Heli-Pro goes, you'll overheat in that as quickly as you would with the Kode. And from the looks of it, the Outlaw is no better...

What the folks at Osprey probably didn't mention is that there are trade-offs whenever you want to use 1 pack for every season.

Trade-offs of winter pack used in summer:
1. A hotter back 2. Heavier (though ultra bomb-proof).

Trade-offs of a summer pack used in winter:
1. Have to get an insulating tube for you hydration hose 2. No rear-panel entry to keep snow off of the backpanel 3. Not designs for ski/snowboard/snowshoe carry--though most can be rigged to do so.

So the decision is yours--do you want a pack that functions better for winter sports and then works okay for summer? Or do you want a pack that is cool and light for summer sports, get an insulated sleeve for the hose, and works okay for your winter pursuits?

Also, the best insulated sleeve on the market is the Osprey sleeve (http://www.backcountry.com/osprey-packs-insulated-delivery-system) as it doesn't use neoprene (an awful insulator) but instead closed cell foam and Mylar (emergency blanket material) to keep things warm... And it covers the bite-valve so even the bite-valve is protected.
View More Details on Osprey Packs Kode 30 Backpack - 1600-2000cu in