Gear Question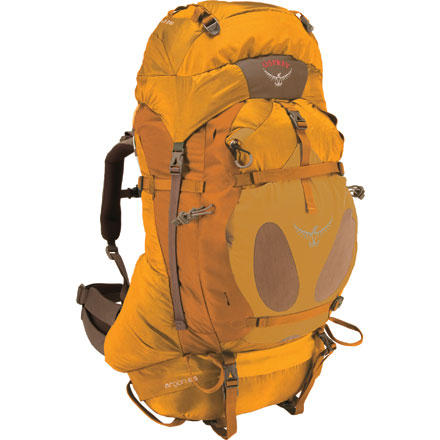 Posted on
Hey. I'm a big guy (6'5", 300 lbs, 42"...
Hey. I'm a big guy (6'5", 300 lbs, 42" waist, big, long torso). Any other big guys out there have experience with this? How's the fit? I'm thinking about retiring my "vintage" external frame pack--which I've customized a great deal to make it fit comfortably. I'm looking at a variety of 80-90L internal frame packs.

Any feedback is greatly appreciated!
Best Answer
Responded on
Just because you are 6'5" doesn't mean you have XL torso length--you may fit better a Large torso better but still need those XL components. You could get the Argon/Aether 85L but exchange the L hipbelt/harness with Osprey for XL waist belt and shoulder harness to better fit what sounds like a XL build.

To measure your torso, have a friend measure your back along the spine from the top of your hipbones (run a finger from the bottom of your ribs down your sides until you feel the top part of your hipbones) to the knobby bone at the base of your neck (your C7 vertebra). With Argon/Aether, if your torso length is bigger than 22", go XL. If not, go L. (Note that all Argons come in the XL torso length, but the Aether only comes in XL in the 70L pack.)

My best guess is that you'd be an XL, but after years of pack fitting, I am always surprised by the lack of relationship between height and torso length.

ALSO no matter which pack you choose to go with, make sure you get your Argon/Aether hipbelt heat molded at a local shop if you can. Heat molding will ensure the best possible fit for both Aether and Argon series packs.
Responded on
I'm a big guy too (just not quite as big) at 6' 3", 265 lbs (used to weigh 310), 42" waist. I scoffed at the thought of getting a Large instead of an XL but when it came down to it, the L fit *ME* better (I'm fairly proportional too, though tend to be a tad more leg than torso). I was even more surprised to find the L hip and chest straps fit rather than having to go with the XL too.

As an avid cyclist, I'm accustomed to having all my outdoor gear ideally sized for people half my size forcing me into 2 and sometimes 3XL (or 7XL Euro-size!) shorts and jerseys. The Osprey's size was quite a pleasant surprise.

This is all to say that fit is everything. Before dropping the bills online based on preconceived sizing notions, you might want to try some out in person if you can. To be sure, my intent was to do just that- shop local, buy global- to save some cash. But I lucked out and was fortunate enough to find this pack not only in my size locally, but on sale too!

Happy trails,
View More Details on Osprey Packs Argon 85 Backpack - 5100-5500cu in