Gear Question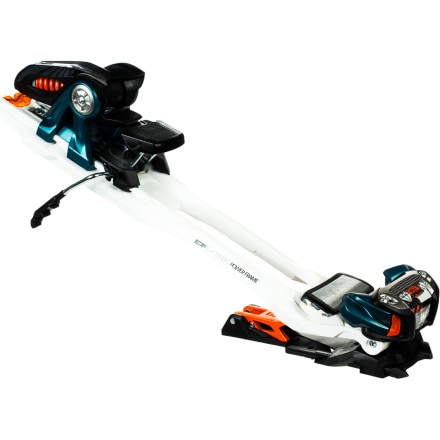 Posted on
Does this binding ski like alpine...
Does this binding ski like alpine binding?
Does it give the power you need to charge big lines and stomp big landings?
Responded on
Hey Bear,

I would say that it does feel rather solid when you are in the binding. However I feel that the height of the binding creates different feel than a regular set of bindings. The other issue I have with these bindings is the toe plate breaks.... a lot. I broke 3 in a month which is a pain in the ass to fix. I would suggest getting the Salomon guardian/Atomic or the new Tyrolia.
Responded on
Bear, I haven't skiied these myself but a number of my friends use them as their everyday binding at Telluride. They're too heavy to do full touring but they're not really built for that. They're truly a sidecountry binding. Great for everyday resort skiing with some hikes or shorter tours. They are raised off the snow a little more but you get used to it and the advantage gained in versatility makes up for the different in height. You can stomp in these just like a regular alpine binding. I've seen it. You certainly can't tour in these like a Dynafit or Fritschi though so don't buy these expecting to tour more than an hour or two at once.

One thing to add to KC's recommendation is that (from what I've read online and been told in local shops) this binding can work with either an AT boot sole or a DIN-sole and the boot brand does not matter. I'm looking at buying a pair for that reason. In contrast, according to the manufacturer the Salomon/Atomic (same binding just different sticker) only works with certain boots (of course made only by Salomon/Atomic). I have not seen torque tests on the Sal/Atomic binding with any boots so I can't tell you if this is BS or true. It's probably similar to Fritshi saying you can't use a DIN sole with their bindings but I've seen plenty of people do it. But just beware. It has to do with the release range so even if the boot-to-binding looks good to the eye it may fail a true torque test and not release reliably. As far as the new Tyrolia this is their first year. I would let them get some of the bugs out for a season before investing $400-$500 in something that hasn't been put through a winter of consumer use.
Best Answer
Responded on
Bear,
I have these on a pair of K2 Petitors (and last years version on K2 Coombacks) and have tracked all day in them for the last 15 days. Hikes ranging from 6km-12kms hiking with respective skiing in JaPow in the Japan Alps in Hakuba. First point to height - yes they do feel taller, but are incredibly solid re transmission tho. Re big landings, these are solid! You won't have any issues hucking 40 footers. I haven't experienced the plate issues (hopefully i don't). I use Scarpa Hurricanes and Scarpa Maestrale RS boots and have had no issues re DIN/torque with setting at 12 (choose of which boot depends on the aggressive hike and length of time skinning - the RS's have greater walkability). hope that helps.
ss
View More Details on Marker Duke EPF Ski Binding