Gear Question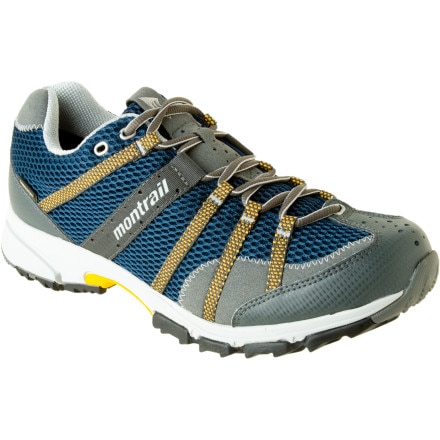 Posted on
Does anyone know how these compare to the...
Does anyone know how these compare to the Montrail Continental Divide?
Best Answer
Responded on
The Mountain Masochist is a much different shoe than the Continental Divide. The ride height is much higher in the C.Divide than in the Masochist. The C.Divide has a heel post where the Masochist has much smaller medial post or 'fatigue post' as I call it. The Masochist has a de-coupled heel and in conjunction with the small post will still provide a bit of motion control but I would not consider this a motion control shoe in the traditional sense. As has been mentioned, it is light, agile, progressive, and won the 'Gear of the Year' award from Outside Magazine. It is a phenomenal shoe and very different than the C. Divide. If you are looking for a slightly stiffer and more supportive shoe... consider the Hardrock '09 from Montrail as well. Hope this helps!
Responded on
I have owned both the CD and this pair. I'll credit that the design objectives for the two shoes are probably different, so it may not be a fair comparison. Either way, I took these out for backpacking the Long Trail in the end of June and early July this year (record amounts of rain and cool temps). I have to say that these shoes, in comparison to the CD, utterly failed for that trip (perhaps credit my gear selection, but I was looking for a waterproof shoe). These shoes are much softer in the forefoot, with a much less rigid trail shield. I had much more foot soreness and bruising rock hoping through muddy spots that I ever would have had with the CD. I was very dissapointed and frustrated at this aspect. But again to credit the shoes and what Jon has testified to, these are designed differently.

In addition, I faced durability issues with my pair. To begin, I wore them for two 10 mile break in hikes. Everything felt good with the shoes. Granted, the fit would probably still have been good out on the trail, but it was just too wet and blisters were inevitable. However, after the first 75 miles or so, the heels started to show compression marks, and after the first 150 miles or so, the outsoles started to delaminate from the midsole in the heel (take note of the split heel in the photos above). This was certainly not up to my expectations for a shoe, esp. from the good history I've had with montrails.

In my opinion, if you are looking for a replacement for the CD, this is not your shoe. I've begun stockpiling the CD (I'm up to 3 pairs) in fear I won't find a replacement I like.

Jon, please consider this customer feedback wanting the CD's to come back! They were the best lightweight backpacking shoe ever.
View More Details on Montrail Mountain Masochist WB Trail Running Shoe - Men's