Gear Question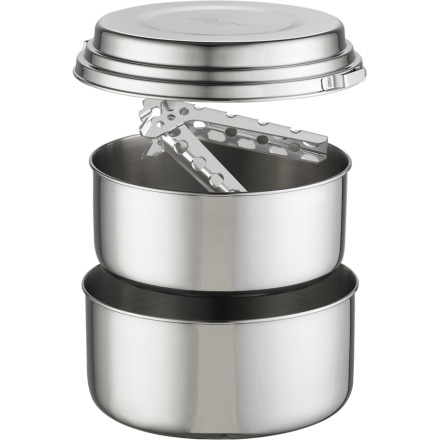 Posted on
Could the lid possibly be used as a frying...
Could the lid possibly be used as a frying pan? Also what are the dimensions of this set in inches?
Responded on
I do see where it was answered that it can be, but then it was stated that it cant be. I also forgot to mention that im using an MSR pocket rocket and sometimes over a fire.
Responded on
Sure you can, but not really for proteins (fish, eggs, meat,) unless you have plenty of fat (lard, butter, oil) and are able to regulate the flame, or adjust the pan to the distance from it. So, for your pocket rocket, less likely. But if you can regulate the heat over a flame by moving it further/closer to the fire, sure. One way to use the lid, as well, is as a double boiler. Put plenty of water in one of the pots, and instead of putting the lid on like you normally would, turn it upside down. You'll get plenty of heat to slowly cook some proteins (small fish, and eggs) without burning them. As for the diameter, The lid and large pot, 7.5", the small pot, 6.5".
Best Answer
Responded on
No, it cannot be used as a fry pan as the metal is way too thin. I tried and it immediately oil-canned from the heat even though my stove was set to simmer. Makes a great lid and plate though. If you want a lid to fry in, try the Primus stainless steel pot set. It has a much thicker bottom with a layer of aluminum sandwiched inside. Of course that makes it a little heavier to carry. The pics are the Primus fry pan.
View More Details on MSR Alpine 2 Stainless Steel Pot Set