Gear Question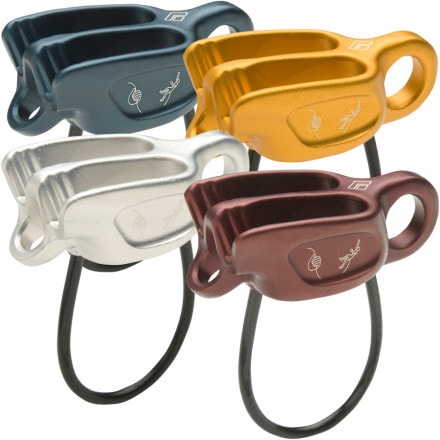 Are these more versatile than grigris?
Member since
Responded on
In trying to add information to this, I accidentally deleted theonlyreal's answer. In any case, I think it can be more versatile overall since you are able to use it as a rappel device. However, when comparing it with a GriGri, you're not really comparing apples to apples. There is an auto-lock feature that you can use when belaying a second from the top, but the device does not auto-lock when belaying a leader or a top-roper from the bottom.The other problem with Grigris, is the rope width. You want to get that super sweet 8.5 mm rope and if you start falling the grigri will let that rope slide on through. I would never use a grigri on a rope smaller than 10mm, so for a catch all regardless atc it up. Cheap but not bad by any means. also when using with groups first time users may pull the lever to try and prevent a fall . This actually realeases the auto lock . I strongly caution any belayer to maintain a firm, controlled grip on the "brake" end of the rope coming out of the GriGri as any device can fail or the rope may be too small, and having control of the brake end can allow the belayer to safely lower the climber in such a situation using only the sliding friction of the device (i.e. - as if the brake were fully open). In summation - NEVER let go of the brake end of the rope ATC or GriGri. I've seen ropes slide through GriGri's before. They are safe, but not foolproof. Happy Climbing!
Member since
Responded on
The short answer is "Yes", this device is more versatile- you can use this as a standard belay device, with or without the braking grooves (depending on how you feed the rope), you can use it with two ropes at once (vital if you're rapping off the anchors) and you can use it (as with the GriGri) as an autoblocking haul/belay device. It is more tolerant of rope diameter variation than the GriGri.

That said, the GriGri does a couple things better: 1) it passively protects a climber in cases where an ATC won't (tho as noted elsewhere, you should always treat any belay device as though it required you to pay attention) and 2) it's simpler to configure and operate, since it's sorta automatic and has only one configuration.

If you can only have one belay device, let this be it- get a GriGri later for the added convenience a GriGri gets you.
View More Details on Black Diamond ATC Guide