Gear Question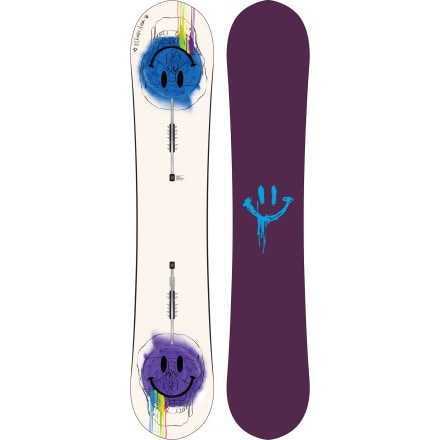 Posted on
Any word on how this board compares to the...
Any word on how this board compares to the Burton custom flying v? I see it is a little 'softer' and has a few more bells and whistles, but just curious to see if it stands up in the real world. Also curious to know if anyone has experienced how the camber of this board works, has anything changed from 2012 to 2013? As a lot of people complained about edge hold on the 2012 models.

Just looking at replacing my Rome Mod rocker which has seen a lot of abuse over 2 seasons and would like something a little softer but still all mountain freestyle. I ride a lot in Japan in powder and when im not there i like to be working on spinning and messing around in the park / mountain.

Cheers!
Responded on
I demo ed one earlier this year at the burton launch party and the Antler is awesome, a real lovely ride. Softer than the custom Flying V, I rode a Flying V last season, and I did like it but the edge hold was poor, the edge hold on the antler was 10x better, they've really sorted out the frostbite edges on the antler. It's lighter, as you'd expect, but not to soft, it's not a noodle, great for pressing and messing about on but when you get fast on it, it seems to stiffen up, so to reach and give you the response you need.
I have since ordered one, if you can demo one then obviously do so but if you can't it's well worth a punt on as the do all board for next season, you won't be disappointed. It's pricey, but pricey for the reason that its the closest thing iv come across to the 1 board conquers all in ten years of riding. Awesome graphics too, nice and discrete, people won't even know what it is unless they've seen another or our aware of the new board in he burton line up this season.
Responded on
I had last year's Nug 150 and Flying V 156, while my brother had the 158, all Flying V.
I got the Antler 157.5 this year with Malavita bindings, and just playing around on the carpet, you can tell the Antler is a bit lighter more playful and more manipulable than the Custom.
It isn't easy to compare the two, because the Custom is Burton's flagship board; it has their signature stability and is all-around reliable from park to steep.
You can tell that the Antler is a bit more flexible torsionally (edge-to-edge), which is to be expected in a playful board, and it is softer throughout the length. The result seems to be a board which is lighter and more manipulable than the Custom, while still having a reliable flex and pop. I will feel more comfortable hopping on all sorts of crap with this board under my feet, than I did with the Custom, although the soft lengthwise flex has me worried about taking this down some real serious stuff..
That's the words of advice from a guy who rode probably 10 days on the 11/12 Custom (w/ Cartels) and rode another 40 or so days on the 11/12 Nug (w/ Cartels), just because that board is the most playful board I've ever stepped foot on, and unless you're heading to the peak to hit some real mean lines, the Nug has been the answer.
All that being said, I still bought both the Antler 157.5 and the Custom 158 this year, hoping to get some Diode bindings for the Antler, and if I had to choose between the two, the Antler is going to be more-interesting and playful. It's gonna be a game-changer.

tl;dr:
I'm really stoked for the Antler, it looks feels like it will be an amped-up version of some cross between the Nug and the Custom.
View More Details on Burton Antler Snowboard