Gear Photo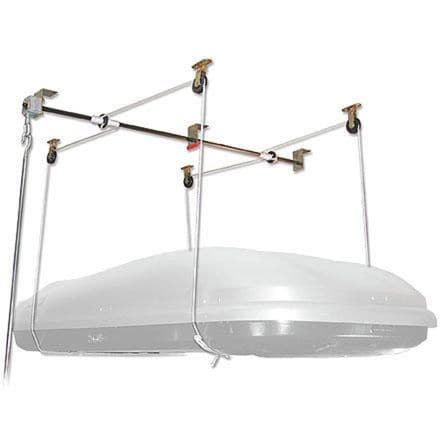 Posted on
Tight to ceiling
My rafters run across the garage ceiling so I had to add lumber to mount the hoist. If the rafters went from the overhead door back into the garage the additional lumber would have been unnecessary. Installation took a couple hours, including a few trips around the corner to Lowes.
Another post says to buy pulleys and do it yourself. The pulleys are about $6 each the rope another $6, but good luck finding the shaft and gearbox. I found one place that could order a gearbox but it over $200.
My only concern was the gear ratio in the gearbox would take 300 revolutions of the handle to gain one inch of vertical, but that is not the case the box goes up at a reasonable pace.
You will need hardware to mount to wood, I spent about $10. The rope provided was about two feet too short for a 10' ceiling and a five foot tall vehicle. I wanted a little extra slack to be able to pull the rope around the ends without lifting the box in case my bride decided to load or unload it.
I am very happy with the product and Backcountry's price, no regrets.
View More Details on Thule Box/Storage Lift