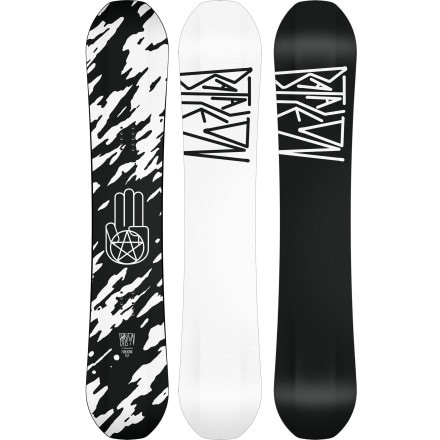 Colors
Description
Order the Park Special with a side of 22nd-century technology.
The Bataleon Fun.Kink Snowboard's directional shape and soft flex may seem like an odd combination, but when it comes to all-mountain freestyle, there aren't many combinations that make more sense. The Fun.Kink carves like an all-mountain board, flexes like a jib board, and dominates just about every aspect of the mountain from the air. So, go ahead and chuck yourself into orbit, the Fun.kink will forgive you, and the landing will be nice and soft (hopefully).

The Fun.Kink's Freestyle TBT rocker provides plenty of stability when you need it. The profile mimics regular camber but with a 3D shape at the nose and tail, where the edges are turned up. This profile gives the board a playful feel, but also powerful edge control when the edges are weighted. Bataleon's Tough Core is an all-wood composite that's virtually unbreakable but that is also super flexible to provide confidence-inspiring forgiveness in the park and on rails. The Fun.Kink's directional shape gives the board a smooth, predicable feel, and Bataleon's Hammer Edges are much tougher than normal edges so the board isn't destroyed after just a couple of rail sessions. Bataleon finished the board off with an easy-to-repair extruded base.