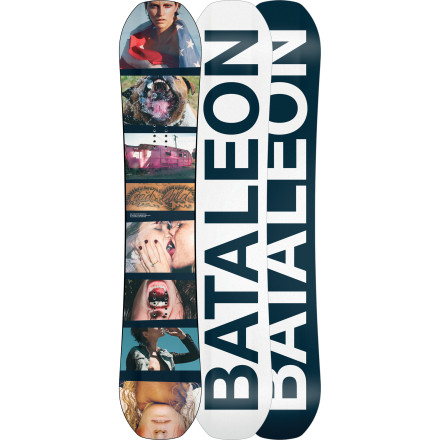 As if the Bataleon Evil Twin Snowboard wasn't already a big enough attention whore, the Artist Edition features photographic images by the mysterious duo Petrovsky and Ramone. This collage of 'love and war'-themed images is so awesome it'll make onlookers' eyeballs feel like they just had kinky sex in a minefield. When this board isn't attracting stares 'cause of its bitchin' base, its trick-boosting flex and ride-enhancing Twin TBT shape will have you raking in gawks and ogles all over the mountain.
TBT (Triple Base Technology) features a traditional underfoot camber and uplifted curves at the tip and tail sidebases for a loose, easy-turning ride with plenty of pop
Twin TBT shape features Bataleon's second-widest center flat base for stability during jumps and slides
Twin TBT shape also has a bit more rocker edge than the Jib TBT shape for enhanced carvability
Extended running length eases spins
Core core has a medium-soft flex with hardwood inset reinforcements for strength and energy-fed pop
Lightning Edges enable precision carving
What do you think about this product?
Have questions about this product?
ok this board is hands down the most solid board i have ever been on! Pop is amazing the tbt makes it a catch free ride without giving up that good old camber! the flex on the board is awesome not to stiff not a noodle either! and when you press on camber boards it looks legit and like your working for it haha! everyone should be on tbt bottom line