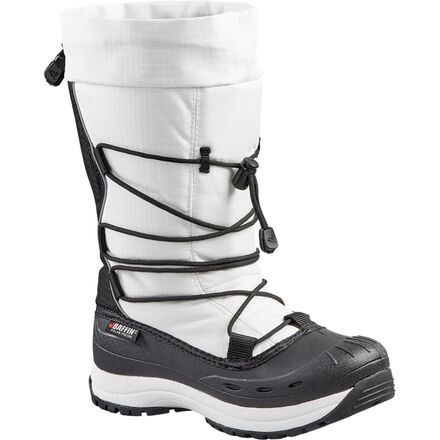 Detail Images

Videos
Description
When temperatures plummet to ridiculously low levels, your feet feel fine in these Baffin boots.
Two feet of snow fell last night and temps reached -20F, but you're not worried because you have the Baffin Women's Snogoose Winter Boots. Their seven-layer inner liners and Thermaplush insulation keep feet toasty down to -40 degrees, the temperature where Fahrenheit meets Celsius. Baffin's aggressive rubber sole provides excellent traction in slippery conditions, and the Snogoose Winter Boots also include a top cinch to completely seal them when you have to walk through knee-deep snow. Just slip your feet into these warm boots, close them up with their one-pull lacing system, and enjoy winter.
Ann,

The waterproof base is completely waterproof while the double-weave 900D nylon upper is water resistant.
Can u drive a vehicle in these or are they...
Can u drive a vehicle in these or are they too bulky?
Best Answer
These boots are not super stiff or bulky. You shouldn't have any issue driving in these.
Baffin Snogoose Winter Boot - Women's
Hey really--these run a size small? I've...
Hey really--these run a size small? I've got big feet and wear a 10--backcountry doesn't sell an 11 in these. Someone let me know--my winter fun depends on a boot that really fits.
Best Answer
I was told they run true to size


I moved to a remote region of Alaska last year with temps reaching -35 with a 7 month winter season. I travel by plane, on foot, snow machine or 4-wheeler and trust me when I say, these boots did not make the cut. These boots began to fall apart after 3 months of use. On a postive note, the boots were light weight and comfortable; however, my feet were not kept warm. If you're looking for a real Alaskan snow boot, skip on this particular Baffin boot...
Absolutely love my Baffin snogoose boots!! I was skeptical about getting my normal size due to all the reviews i saw about them fitting smaller than normal sizes, but i went ahead and ordered my size and they fit perfect!! The more you wear them, the more they mold to the specific shape of your foot as well which i love. INCREDIBLY COMFY and my feet have yet to get cold one time even in several feet of snow, below zero temps, and no problem with my feet getting wet in slush. They are big but not too bulky and i have had no problem with their size no matter weather i'm trudging through snow or walking around the mall. Would definitely recommend these boots to anybody!

ONLY thing i was disappointed in was that when i bought them, it appeared as though the logo on the front of the boot would be pink, but when i received them in the mail, the logo was grey.
Unanswered Question
do all the Baffins fit as narrow as the...
do all the Baffins fit as narrow as the Snogoose?
Sue, I agree with you about the Snogoose. I tried them on yesterday and found them narrow and I have a narrow foot that I have problems fitting. these boots were too narrow. Still looking for a warm waterproof boot.
i ordered these friday and and my wifes came in sunday and mine baffin artic winter boot came in today has same style but cant find the picture..anyway very fast shipping, easy to track to see where shipment is. very light,comfortable,very warm soon as i put them on, true to size. i where about 10.5 they didnt have, only 11 and with boot insert fits like a glove. very happy with purchase. awesome boots
Unanswered Question
Are these boots comfortable for DAILY...
Are these boots comfortable for DAILY mountain hiking in the snow? Or is there a better boot to buy for hiking AND winter?
These boots are nothing less than GREAT ! Warm, comfortable, extrememly easy on / easy slip off. They run a little small, I'm a 7.5, ordered a size 9 and they fit PERFECT. Even has a little extra room for the thick socks. NOTHING bad to say about these boots !
These are the best winter boots I've ever owned. No need for heavy socks at all. A regular lightweight sock is all you'll ever need in them. I just love em. Buy the size you normally wear and break the felts in separately for a few hours. You'll be all set. They are G-R-E-A-T....
Baffin Snogoose Winter Boot-Womans
The most comfortable, warm and light boots I have ever had. Great traction too!
Very excited with my new boots. They fit perfectly and are so soft and warm.
Best Darn Boot I EVER had
I just love my baffins. They are the best boot i ever had. Order to size and you only need a thin sock and your golden. My feet are the warmest they every been out in the cold all day. Love em, love em, love em
Perfect for mountain living
I have average size/width feet, and these fit true to size. If you have wide feet, they may not work. But fine for normal to narrow. They are very comfortable, and are tall enough to keep snow out. Warm. Excited to use them while shoveling snow, hanging out after skiing, and snowshoeing.
Do they have a removeable liner on the...
Do they have a removeable liner on the inside?
Best Answer
Yes they do. Though it is fairly difficult to get out.
the liner is not too difficult to take out with a bit of a tug, they are made to be removed so that you can replace them when worn through as the outer is extremely durable. hope you enjoy them!
if you have wide feet, don't order. They are AAA width. Also, order one size bigger. In EVERY shoe (except my running shoes), I am a size 10. I ordered a size 10 in these and my toe is literally at the end of the boot. That could be b/c I have a normal width foot and these are more "kids" boots (as my hubby said). They are VERY comfortable, tall, and we've never had issues with Baffin. We live in northern Minnesota where temps during the winter are typically below zero...and downwards of -50 actual temp and our Baffin boots have withstood the cruel winters. I would recommend these boots but would suggest a size up if you have a normal width foot.
LOVE them. I will be working outside all winter at a ski resort and I have no doubt these will do the trick. I got a 9 - which is what I usually wear and I can still fit a pair of thick winter socks. Very happy and I have been looking for months for the perfect pair of hardcore winter boots.