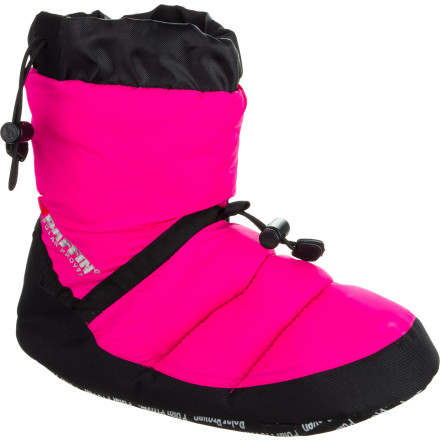 Detail Images

Community Images
Description
Sleeping bags for your feet.
Surround your foot in the featherweight warmth of the Baffin Base Camp Slipper for Women. Lined with cushy fleece, this down bootie keeps you toasty whether you're sitting around the electronic hearth or a campfire. Cordura nylon reinforcement gives this bootie some extra protection, and drawcord locks on top and at your instep keep it firmly on your foot.
3 years hard use, still going strong.
Familiarity:

I've put it through the wringer

Fit:

True to size
I love, love, love Baffin Base Camp Slippers.

Mine really aren't showing much wear but I'm tempted to buy another pair and squirrel them away because I sure don't want to be without these awesome booties.

The sole is perfect, some cordura nylon and a bit of cushion. I wear them in my sleeping bag a lot because my feet run so cold; if they had a more substantial sole, I'd worry about tearing my sleeping bag.

On the flip side, the Baffin's soles are tough enough to stroll about camp. From midnight bathroom runs to meals around the fire, these booties do the job.

My pair weighs about 10oz. I seriously considered leaving them behind on our recent trip to the Mallard Larkins - I'm so glad I didn't! I ended up wearing them to bed 2 out of 3 nights.

I'm a wimp about my feet, I really baby them when I'm backpacking. I think I would actually ditch my sandals before I gave up my Baffin's.

I've worn these on long road trips, I use them in my tree stand, and when the temp really drops, I wear them around the house. Given how often I use these, I can't believe that they're still in such great shape, Baffin makes excellent products!
exactly what I wanted perfect
Familiarity:

I've put it through the wringer

Fit:

True to size
Perfect booty slippers to cover my feet and ankles. I bought them for at home. They are comfortable and very warm. I work outside a lot and this winter especially was very cold, single digits to below freezing. These slippers not only warmed my feet up after a long day but keep them warm and cozy. I am comfortable with running outside a short distance with them to get the mail etc. with the heavy canvas bottoms. Although I bought the exact size stated for me they are a LITTLE big but I am not only fine with that I love these slippers. Also, best part is that they are machine washable and the price is right. Thank you
would these be considered a wide fit...
would these be considered a wide fit slipper? I have a wide foot need ww shoes was just wondering if these will fit well
I'm confident these will fit you. It's not a form-fitting slipper at all, plenty of room for wide-footed folks like us.
I believe they will be fine. I have plenty of room in mine. I could wear heavy socks and still have plenty of room. I usually were a medium width shoe myself and as I said these are plenty roomy.


Candi - this bootie is filled with a synthetic insulation. So they will stay warm in case they get a bit damp.
Best Answer
Hi Kendall,



Thanks for your question and I do apologize for not having any sizing information up for the Baffin Base Camp Slipper. I'll place a chart below for now and we'll fix that sizing chart momentarily:





SM: Youth 3-4 and Womens 5-6

MD: Youth 5-6 and Women 7-8

LG: Women 9-10 and Men 7-8

XL: Women 11+ and Men 9-10

XXL: Men 11-12

XXXL: Men 13-14
I am a women's size 7.5 medium width and I purchased MD. Fit great with plenty of room.
warm feet all winter
Gender:

Female

Familiarity:

I've put it through the wringer
Love these slippers - haven't camped with them yet, but I've been wearing them around the apartment for 4 months now. The bottoms are holding up to hardwood floors, and the down is actually keeping my feet and toes warm (I hardly ever have warm feet).
Warm Feet At Last!
Gender:

Female

Familiarity:

I've put it through the wringer
These are great, just a few minutes of wearing them and my feet get warm again. I sprayed Scotch guard on them and I use them outside a little bit. We snowshoed into a yurt over Christmas and I wore them inside but I also used them on the packed snow to run out to the bathroom or get firewood. I was so comfy in them the other day that I wore them outside while I did a little shooting, I was on packed snow again but my feet didn't get wet at all, probably outside for 2 hours.

The sole isn't particularly substantial which I like since I almost always tuck one of my feet under me. On the other hand, I'm a tenderfoot wimp and there's enough cushion there that I've been comfy outdoors. I like the high ankle for the added warmth. Thought these would be a camping/tree stand slipper but I do wear them around the house when my feet are particularly cold. I can't say enough good things.
Is there a difference between the right...
Is there a difference between the right shoe and the left shoe? My wife bought a pair and there is no difference between the 2 shoes. Writing is on the same side and both shoes appear to go on the right foot. Also she has some discomfort when wearing the shoe on her left foot.
Yes, if you look at the bottoms you can tell right from left.
I just bought these in December and went on a winter camping/backcountry ski trip with them. They were great and I just kept asking myself why it took so long to buy these things. As soon as I took my ski boots off, I left my sweaty socks on, put the slippers over the sock and then a pair of neos over the slipper. Cooking dinner in the snow was warm and comfy. By the time I got back to the tent and took the neos off, my socks were dry and I just hung out in the slippers. I would have paid double the price if I knew they were this great. Bought my husband a pair and he hates loose fitting stuff on his feet, but he is always cold and now he can't believe how nice these fill.
are these soles going to wear out If I...
are these soles going to wear out If I have brick floors? They look like they are fleece.
The soles are nylon. I end up walking outside in these around the campfire and late night bathroom trips, my first and only pair are holding up really well.
They seemed nice at first, but in only a week, the inside of one of the slippers ripped, and the insulation was exposed onto my foot. There was no way to get in there and sew it shut.