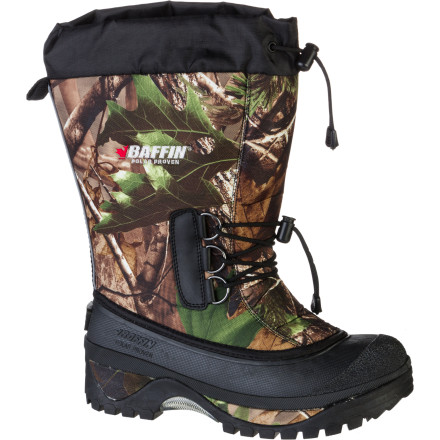 Detail Images
When arctic conditions roll into your neighborhood (assuming you don't live in the arctic), pull on the Baffin Men's Arctic Winter Boot and beat back the nastiness of winter. The 900D nylon cuff features a short lacing system for ankle support and a locking cinch cord on top to seal out blowing snow and cold air. The seven-layer inner boot system features Thermaplush insulation to block the cold and retain heat down to 40 below, and the durable rubber outsole features integrated arch support for snowshoeing, winter hikes, or just shoveling the front walk.
Warm, comfortable, dry
Familiarity:

I've used it several times

Fit:

Runs small
I'm a 10.5 and find the 10 fitted just perfect. They're incredibly lightweight boots for what they are and fit absolutely perfectly. The cinch-cord gaiters keep out powder and so far I absolutely dig them. Better than sorels for arctic temps, snowmobiling and just shoveling the driveway.
Much better than I was expecting
Familiarity:

I've used it several times

Fit:

Runs small
These boots are beefy and warm. For the price you would be hard pressed to do any better. I haven't felt a lick of cold yet and I've worn them for hours in deep snow in the teens and single digits.

I was concerned about size from some of the comments but my regular size was fine after wearing them. Any larger would have been too loose. I think it is because of the insulation wrapping all around that people aren't used to it touching the tips of their toes. I feel no discomfort with after wearing them and would not want a larger size.
Great, warm boot
Gender:

Female

Familiarity:

I've put it through the wringer
I bought a pair of these last winter for standing out in the snow in New Hampshire for a painting workshop. If a boot can keep your feet warm when you are not moving around alot, its well insulated. This boot rocks. I have also walked as far as three miles in them, even though they are not deaigned for hiking. My katoola microspikes fit easily o ver the boot. I like these so much i bought my husband a pair, and he is equally enthusiastic. He just spent about 4 hours splitting wood in single digit temps, and never had cold feet.
These books are too loose especialy around the ankle area, Not a great boot for comfort and feel. The draw strings do not pull the boot tight enough and if you go small in size then the toe area is short.
Hi, I am looking for a winter snow boot...
Hi,
I am looking for a winter snow boot for a day of sledding or tubing in Colorado. I'm guessing the snow will be deep and the weather 0 to -20. I normally wear a 10.5 4E show. Will these keep me warm and dry and what size should I order?

Thanks,

Stu
Best Answer
Stu, these should keep you warm and I would order the 11's.
I have kinda bigger calves and wear size...
I have kinda bigger calves and wear size 11. Wonder if these will fit
I wear a 10.5 6E shoe. Plenty of length and width. I have well muscled calves and have found the boots to be a little snug, unless I pull up my long underwear to just above the top of the boot.
warm and great for a cruise
I have no dexterity in them, but i can get around. They're super warm and designed to handle pretty bad conditions. Great for an early morning start or for shoveling snow. I probably shoveled 8 feet in them this last winter.
The ankle cinch could be a little it tighter. I'd feel more secure if i could get that draw cord to cinch up more.
Does this fit a narrow foot
Does this fit a narrow foot
I wear a 10.5 6E width. They fit me well. You'll probably find them to be too roomy.
good for the price got them for 59.99 but buy at least one size larger
I wear a size 10 shoe and ordered a size 11 baffin boot. They are too small. Are these new boots made in China? My 6 year old pair of Baffin boots are size 10 and fit perfectly with a heavy pair of wool socks. Those boot were made in Canada. Also, the new Baffin boots are cut much wider in the top part of the boot. Way too sloppy fit. Who designed these things? Don't buy unless you try them on.
I'm in Greenland and I needed a warm boot that I can just put on and keep my feet warm without worrying about the laces freezing when all I want to do is take out the trash or ride up the hill to work.

They're slightly large and cumbersome. A little too roomy, but it's true to size. At least I can wear thick socks now. The best part is I don't have to fumble with laces and things. Just slip in and pull.

In all, I love these boots.
I'm not one that typically reviews stuff.. but these have been great so far. We recently moved into the country, and snow drifts across our driveway. These boots help me chug thru the drifts with minimal effort, and even being outside for hours at a time, my feet were NEVER cold.. Love 'em.
Took it to a recent trip to Fairbanks Alaska where it went down to -27ºF and my feet were super cozy. I can't recommend it for a lot of walking but it did seem to drag a little after a while but maybe it's because mine were a little loose. Sizing seemed true to size with thick wool socks. enjoy!
This marks the second purchase of Baffin Bay winter boots I have made; amazing how fast teenagers' feet grow. I have learned to trust Baffin Bay's products. There is nothing worse than a child or youngster NOT having a good time outdoors because you, as parent, bought the wrong boot and their feet are frostbitten. The boots cost a little bit more than what you can buy at department stores but you get what you pay for. There are other places one can skimp a bit without compromising too much but boots aren't one of them if you are serious about winter sports.
They fit good and are warm.Haven't had a chance to use them in the snow yet.
Are these boots completely waterproof up...
Are these boots completely waterproof up to the top of the boot?
Best Answer
The sole is waterproof but they rate the upper part as winter proof. So if you are walking in snow etc you will be fine but if you go through a deeper stream it won't keep all the water out.
How high on the leg to they go up? Do they...
How high on the leg to they go up? Do they go mid calf or higher?
I bought these boots for my son and he loves them! They are very warm. We love in the Northeast and get alot of snow. These boots have been great!
Best Answer
Yeah, but you're not supposed to eat them. Just a heads up.
do these boots go with shoes on or off
do these boots go with shoes on or off