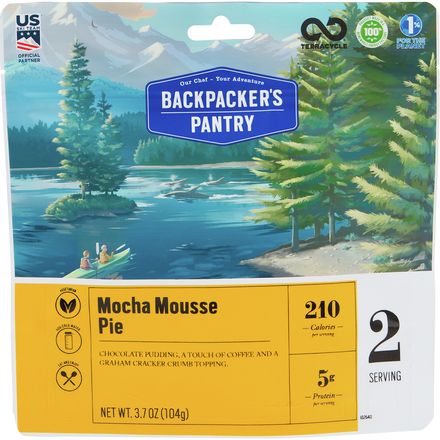 Detail Images
You may want to stuff the Backpacker's Pantry Mocha Mousse Pie into a small pack after the prep, climb a tree, and grab a scenic spot above camp ... yep, it's that good.
Remove graham cracker crumb packet and set aside, add 1 cup (240 mL) of cold water to filling mix, beat briskly with two forks or chop stix for 2 minutes, sprinkle graham cracker crumbs over top of filling, let sit for 13 minutes, enjoy
Provides enough food for two backcountry travelers or one backpacker with a hearty appetite
Check tech specs for ingredients, allergens, and nutritional data
What do you think about this product?
Have questions about this product?
It's simple, add 1 cup of water to the package and mix well. Then you add graham cracker crumbs on top of the pudding (crumbs included in package), seal up the package and let it set for 13 minutes. Boom, backcountry dessert! It was really good, nice and chocolatey! This package was plenty for my husband and I, I would highly recommend this dessert for your backcountry adventures!