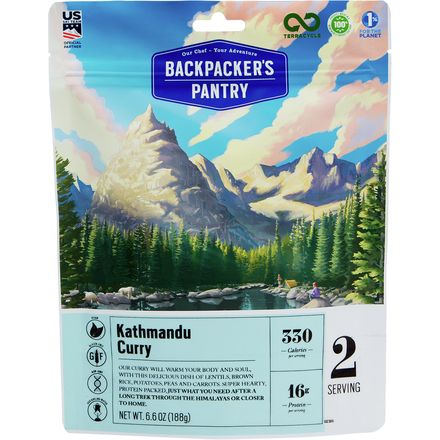 Detail Images
The Backpacker's Pantry Katmandu Curry offers a vegan-friendly option for spicing up your evening meal. Simply boil, seal, stir, and serve—dinner's ready in about 15 minutes.
Good stuff
Familiarity:

I've put it through the wringer
This is a really nice change from most of the other backpacking meals on the market. Its a little spicy and has really good flavor. I can split this with my wife and have a side and we will both be satisfied. This has been added to one of my go to backpacking meals.
This meal was rather satisfying. Like some of the other reviews you have to make sure you stir this really good. I had a few bites that were very salty because it had most of the dry seasoning. Even with that being said it was very good. I enjoy Curry and it is awesome that I can bring it into the wilderness.
Yummy and vegetarian
Familiarity:

I've used it several times
Finding yummy dried vegetarian food is not an easy task. This is delicious, even my meat-eating boyfriend enjoyed it.

As with all the backpacker's pantry products I've tried you REALLY have to stir it up to get good flavor consistency.
64 grams of dietary fiber in a package..
Familiarity:

I've put it through the wringer
I took this on a mountaineering outing. I ate it it for dinner on the side of a glacier. It was only after I consumed the entire bag that I read the packaging and realized that it contained 250% of my daily fiber intake. 250%. 5 hours before ascending a glacier, tied to 3 other people.



Lesson learned: Try this at home first before eating an entire package on the side of a mountain.
I'd eat this at home
Familiarity:

I've used it once or twice and have initial impressions
Although my girlfriend would roll her eyes and call me crazy, this may be the best of the backpacking meals I have tried. Granted I have an iron stomach but I really liked this meal and had no problem wolfing down both servings. The bottom of my list of edible backpacking meals would be the MREs I used to get when working for the Park Service and this would rank at the top, maybe a notch below home cooked. The spice level was very manageable (probably the mildest level you would get at a Nepali restaurant) which was actually really nice because it was flavorful but didn't leave me chugging a bunch of water in the hopes of quenching the fires of Mordor. I like to focus my liquid consumption on wine while backpacking. Which brings me to another point, this paired well with a Pinot Noir I brought and it seemed to enhance the flavors a bit.



Gripes-

-It took a bit longer to cook than the instructions stated (even adjusted for the 11,300ft elevation I ate it at).

-You need a long spoon to eat it all without making a mess (gladly I had my extra long Stoic Ti spoon)
I can see where people like this, but I personally did not love it. It had some kick, and usually I will eat one of these that is 2 servings with no problem. I was burnt out on this 1/4 of the way through. Keep in mind eating something spicy before bed while backpacking will make you drink a bunch of water which results in... If you're like me I don't like getting up in the middle of the night.
Very flavorful and always easy to prepare while setting up. If you're like me and that is tired and hungry from spending all day on the trail, the last thing you want to do is make something complicated to eat. This was really good exotic switch from more traditional dehydrated meals like from Mountain house.
Gourmet Meal in the Woods
This is a great meal. I'm a meat and potatoes kind of guy, so I was a little skeptical at first. But even without meat, this is a great meal. This is now one of my favorites.
Rather than write a small review for each individual item I recently purchased I thought I would share it all in one concise review. (Note with most Mountain House I add 2-3 oz less than it recommends)

Recommend:

Breakfast:
Backpacker's Pantry Granola with Blueberries and Milk – Favorite :) (serve warm)
AlpineAire Strawberry Honey Granola With Milk – healthy and good! (serve warm)
Backpacker's Pantry Denver Omelet (needs pan) – best quick eggs I have tried.

Lunch/Dinner:
Mountain House Chicken Ala King – Favorite :)
Backpacker's Pantry Katmandu Curry - Yum
Mountain House Macaroni And Cheese – Oh to be a kid again!
AlpineAire Chicken Gumbo – Delicious

Sides/Deserts:
Mountain House Potatoes And Cheddar With Broccoli – Favorite :)
Mary Janes Farm Organic Garlic Pesto Fry Bread – I love bread! (bring oil)
Mountain House Peas – Eat your veggies! Add 1-2 oz less water
Mountain House Corn – Favorite, Add 1-2 oz less water :)
Mountain House Green Beans – Add 1-2 oz less water
Mary Janes Farm Organic Brownies – Yes really good!
Mountain House Ice Cream Sandwich – Don't get the Neapolitan, this is much better.
Mountain House Blueberry Cheesecake – Nice size berries, make in a bowl NOT the package. (Note it will NOT keep
Overnight).

Pass:
Backpacker's Pantry Garlic Herb Mashed Potatoes – The Mountain House Potatoes and Cheddar with Broccoli are MUCH
better even the resident mouse in our cave didn't like it.
Mountain House Scrambled Eggs With Bacon - Backpacker's Pantry Denver Omelet is much better IMO but requires a
pan.
Mountain House Scrambled Eggs With Ham - Backpacker's Pantry Denver Omelet is much better IMO but requires a pan.

Neutral:
Mary Janes Farm Organic Couscous And Lentil Curry – Not bad but I like my curry with more curry!
Mary Janes Farm Organic Black Bean Corn Bread – Not bad but NOT cornbread just a bread with some cornmeal in it.
Mountain House Noodles And Chicken – Yet to try will update
Mountain House Pasta Primavera – Yet to try will update
Mountain House Mexican Chicken With Rice – Yet to try will update
Mary Janes Farm Organic Alfredo Pasta – Yet to try will update
Backpacker's Pantry Chana Masala – Yet to try will update