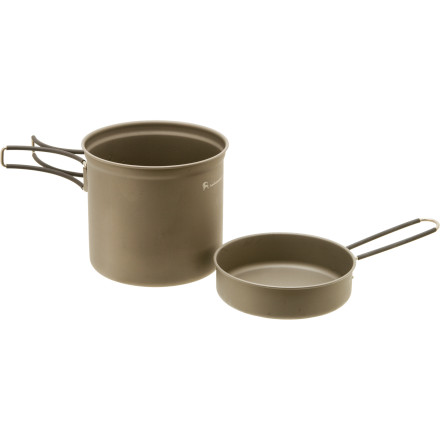 Detail Images

Community Images
The lightweight, non-stick Backcountry.com 1350ml Titanium Cookset begins and ends your day where it counts—with a well cooked meal. Pack this ultra-light titanium cookset for anything from a casual overnighter to a weeklong expedition and save your energy for fun at the end of the trail. The 3-centimeter deep pan doubles as a lid or a sauce pan, and the deep, 1100-mililiter pot boils enough water for dinner, or a day's worth of hydration. Heat-resistant handles fend for your digits, and the easy-pack system plays nice with the rest of the gear in your pack.
Dinner for one... or two?
Familiarity:

I've put it through the wringer
This cookset is the perfect size for one person...maybe two people. I have been using my set for years and its held up extremely well.
Nice storage bag, lightweight, and small. Perfect for solo excursions and small romantic meals for two!
Lightweight, Small, perfect
I got this set because my bigger MSR set was too big to be stashing in my pack every trip I took. Sure, this set is small, but that's the point. I was able to cook up bangers and mash no problem (enough to share with the dogs). Reviews are right that food can stick to it, so just pay attention when you are cooking and you'll be fine. I don't think you'll find a better match for functionality/price.
As others have said, the pan/lid is nearly useless, but if you were frying a small, square-ish chunk of meat or tofu, it'd probably work OK. The handles are pretty nice, but the lid gets downgraded here, again, because the bits of metal that hold the handle to the pan are a little sharp, and dug into the sides of my panniers more than I would have liked. A simple lid would have been preferable. It held a 225g fuel canister, an MSR Pocket Rocket, and a lighter with a small amount of room left over.
Good Set, if you like to cook over open fire then read
Ive used this set a lot, and I really like it! Suggestion - if you cook on open fire or hang the pot off a hook like myself - then do yourself a favor and cut off the rubber on both handles

Grab a sharp knife or razor and slice off the handle plastic coatings.. thankfully they are just tightened and easily cut off and not adhered.

Otherwise they melt under the heat of a normal fire.

the handles are fine and will not melt under a regular alcohol stove or ultralight stove kit because the heat is so concentrated... so if this is all you use, you dont have to worry.

Personally I also drilled out two tiny holes behind the lip of the pot to hang snare wire for a pot hook
Love this little set. Perfect for a soloist or a not too hungry two-some. Very light weight, and the pan is great for cooking up corned beef hash in the morning. If your looking to cook a big meal you may want to look else where but this set definitely frees up some space and weight in your pack for its purpose!
Best bargain for titanium
I just received my 1100 ti set and it is just what I needed.
As soon as it was droped off at my door I had my stove out and ready to test it. The pot sits perfect on the Snow Peak LiteMax.
The pot can safely hold 4 cups of water to boil and the lid holds 1cup.. The lid fits nice and snug on the pot but I don't see me using it as a fry pan, but it does work well as a cup and to measure out 8oz at a time. The LiteMax stove brought 4 cups of room temp water
to a boil in 3 min. I can fit a large Jetboil gas canister, LiteMax stove, and a folding ti spork in the pot wrapped in a cloth with a little room to spare.
This is truly a bargain for A titanium pot and I will be ordering another one tonight..
does anyone know how this compares to the...
does anyone know how this compares to the snow peak models?
Well, it's a heck of a lot cheaper. Outside of that, it's difficult to make a direct comparison. Snow Peak doesn't make a 1100ml pot. Some nice features on the Backcountry version, though: coated handles that sit farther from the heat source make for easier grabbing. It's also only .3oz heavier than the Snowpeak 900ml set, and includes a sack, which Snow Peak does not.
I dig this thing. Its a good size for 2 people on the trail. The included pan is tiny, yes, but it works well for a piece of bacon (thats reason enough right there) or sausage in the morning. It holds my soda can stove, fuel bottle, and makeshift pot stand. The handles work great.
The description says this cookset is...
The description says this cookset is non-stick, but the picture shows bare titanium. Is it coated or not? I know they tried to claim their titanium mug was non-stick because it was titanium. Titanium is not non-stick by itself and needs a coating for that.
Best Answer
Not coated with anything. Mine got stuff stuck to it all the time.
The pot and top, which can double as a skillet, are very lightweight and do not take up much space in a pack. Using the top as a skillet does not allow for much but is large enough for single person use. The pot is large enough to boil enough water for two dehydrated meals easily and can easily fit canned items for cooking. This may not be big enough to cook meals for an entire group but with as light weight as it is, everyone in the group could have their own.
For price these are awesome! Light, simple, and solid construction. I often only use the pot and heat my water for my Mountain House meals and water for coffee. For the price you can't beat these for backpacking outings.
Light and durable. I was able to pack it away in my day pack during a ski trip. Worked great with my stove to heat up some lunch
Light and durable. I was able to pack it away in my day pack during a ski trip. Worked great with my stove to heat up some lunch
Does it have water level marks on the...
Does it have water level marks on the inside
1 fast shipping
2 MSR pocket rocket or snow peak giga will pack inside with regular (8 oz) canisters.
3 the lid is just large enough to hold warm water and the canister. A very useful trick for cooking in cold weather.
4 The snow peak giga works better for cooking with the pan. It has a larger flame pattern so you get less hot spots.
Will a Bushbuddy Stove fit inside?
Will a Bushbuddy Stove fit inside?
The Bushbuddy dimensions are 4 1/4"d x 3 3/4"h. It will fit, but it's going to be slightly on the snugger side in the diameter. As per Bushbuddy specs, it is fully compatible with the Snow Peak Trek 900, so an 1100ml pot shouldn't be a problem. Hope this helps.
Will this cookset fit a Bushbuddy Ultra...
Will this cookset fit a Bushbuddy Ultra inside?
I don't have a Bushbuddy Ultra, so I'm basing this response on it having a diameter of 4 1/4" and a height of 3 3/4". The pot has a diameter of 4 1/2" and fits a MSR Pocket Rocket case which has a height of about 4 1/2". It might be a little tight on the diameter, but should fit without a problem. If you want a little extra room for other items in the pot, the 1650ml would definitely fit your Bushbuddy for only a few dollars more.