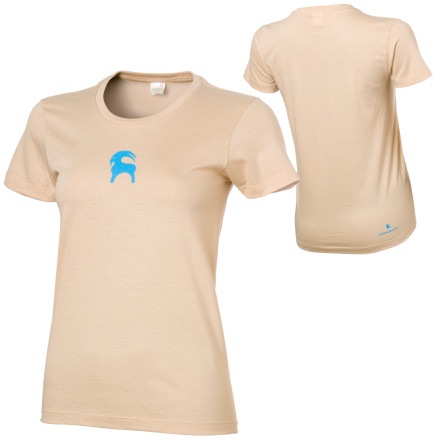 Detail Images

Community Images
I like this shirt, but I would buy one size larger than you typically wear. The material is nice, not too thin. I bought the brown and was a bit surprised that the Goat looks pink and not white as it looks above. Couldn't ask for a better price!
Absolutely love it. It's a thin (but not too thin) tshirt with a cute little design. The only con is that it's small, pretty tight. I'm a pretty solid small (I'd say not a small-medium), but this shirt I would love to see in a medium. It washes well too. I don't dry anything, I put it on a clothes line. It is still snug. So I just wear it when I want a more revealing day (not my usual style). Other than ordering bigger next time, I would definitely recommend this!
sweet organic cotton t! very soft, slim fit. i'm 5'7" 135 and the large is snug on me (but a good snug), so if you're in the middle, order up.
Is this shirt going to be restocked?
Is this shirt going to be restocked?
, ☃bcs_badge_alumni_label☃
No kidding...is it? What is with the best products running out of inventory. It's a t-shirt. I'm pretty sure they still make the blanks.
YES! We definitely need these tees to be restocked, backcountry :) The long ones too, please
The goat is great. The shirt itself is a little too tight and a little too short for my liking. If I were to do it over again I would go up a size.
Nice shirt! Really like the neckline (not too high or boyish), best of all I like how it feels on, it is really nice fine soft cotton. Haven't washed it yet, but when i do I plan not to put it in the dryer for more than a few moments just in case of shrinkage. Even though my measurements matched the size chart for a medium, I ordered a Large, and it fits me great. I am 5'4" with a 39 inch bust, slim waist and 40 inch hip. The shirt fits me slightly snug in the bust, fits a bit loose, (as is to be expected) in the waist, perfect across the shoulder and smooth around the hip. It is not quite as long in the body as it looks in the photo; it reached mid-hip on me, which is fine for me. I am not overly crazy about the tan color, but this shirt was actually a gift so I can't complain. I would have preferred the olive, but there were no olive left in my size left. I have fair skin and "tan" which turned out to be kind of a creamy yellow-beige, is too blah on me but in itself the shirt is not an unattractive shade, however it would probably look fantastic on someone with a dark tan.
This shirt is really soft and comfortable but it I think it runs a little small. I usually order large so that I can layer, but this was too tight to layer very comfortably. Otherwise, love the shirt, just order a size up if you don't want it to fit really snug.
This t-shirt is great! Very soft, comfy and cute.
Love the t-shirt and so does my husband. Color is great and the simple goat is perfect. Goes great with a pair of hip jeans.
Goat Organic Cotton T-Shirt
Love the goat! This T-shirt is great: fits well, is cute & comfy
Cute tee, fit isn't the best
I love this tee because it's super soft and looks really cute. I bought the tan color and am really happy with the way it looks. However, it is a little short and pretty tight through the shoulders. Also, the neck seems a little small. I like form fitting shirts, but this one is sort of random where it clings to the body. Otherwise, way cute!
I bought this shirt for my mom. Not only does she love it, she looks great in it too.
I love this website, and have a couple of things so I can support backcountry.com, but this t-shirt isn't my favorite. It was fitted (exactly like it says in the product description), and the neck was a little too large for my taste. Great soft shirt though, if tight is your thing this is for you to show off your curves, otherwise get a size larger.
i like the cut on this shirt - very comfortable and cute.
This is another word-of-mouth for my fav website.
I have the original long sleeve version which was a little tight, but this one is fitted but loose which is great for these super hot days. Its cute and comfy and just what I was looking for out of my purchase.
, ☃bcs_badge_alumni_label☃
cute way to sport the goat!
I love this type of fitting shirt. long enough to wear with your low rise jeans :) but slim fitting so you don't have to tuck it in