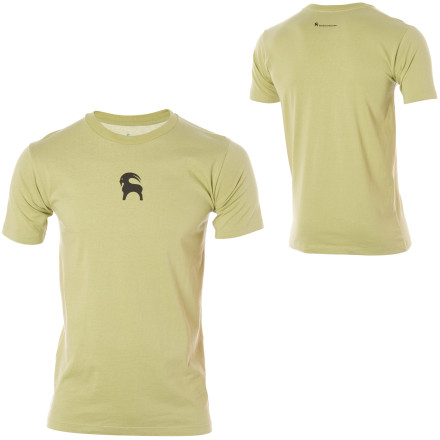 Detail Images
PLEASE STOCK MORE SHIRTS!!!!
Love these things and need more!
Cmon guys, when are ya going to get more...
Cmon guys, when are ya going to get more sizes for the goat logo tees and long sleeve tees. Its such a great design, such a simple presentation. Let me pay you (buy a size L shirt or 6) to be your walking advertisement in bethlehem PA
From what I've been told there aren't going to be more sizes in the foreseeable future......unfortunately!
Close-fitting, but not restrictive. Great climbing shirt.
Goat Organic Cotton T-Shirt Short Sleeve Men's
Love the Goat. Great shirt.
are you guys ever going to get some more product in? there are quite a few of us lookin to buy some goat tees.
A Shirt that keeps on giving.
Love the shirt, organic is the way forward: fit is awesome and the cotton is so thin it barely feels like you're wearing anything. Plus organic is responsible and trendy these days. I've gotten so many compliments I have considered buying another one and only wear these two shirts for the rest of my life. Plus you can make up good stories about what the goat symbol means. I had a guy going the other day that I got the shirt for free for participating in the ancient Scottish tradition of shagging the said symbol.
Great look and feel. Love the organic.
Great shirt I 6' tall and it fits great to me. And not to mention its different, so look forward on getting a lot of compliments!!!
I love this shirt - fits great, looks great. My girlfriend digs the goat. Get it!
Great tee. My girlfriend loves it on me. I only wish the sleeves were about half as long, only for my personal comfort not for show. Keep'em coming in some more colors, shirt and goat.
This shirt was built for taller more athletic people. I'm 6'2 @ 185 and the Large fits perfect, length and width.
great shirt...nice and simple...fit is perfect and i recommend.
Tell the world you love this place
It looks good, it feels good, it's cheap. What more do you want? It's a little tighter fitting than, say, a Prana T of the same size, but don't you want to show off your rippling muscles? It's also a little longer than most t-shirts which makes it great for climbing since it wont crawl up.
Backcountry.com The Goat Organic Cotton T-Shirt - Short-Sleeve - Men's
I got this in Wasabi, and it really is the color of wasabi. The shirt looks good, has a bit of a slim fit and feels great. Plus, the Goat is awesome.
It's fun to wear and love the simple design. They are soft and the cut is great. I get compliments all the time. I wish they were cheaper though, $18 bones seems kinda steep to advertise for BC. Get yours on SAC.
The feel is great and fits me great. I'll be getting more shirts
The goat rocks...this tee is extremely comfy. I will be buying another.
Best t-shirt ever. I bought several of them, and wish I had even more. Have had tons of compliments on them. I am 6' 180 and bought the Large, and they fit great. I now own 6 different backcountry.com items - all of the are the highest of quality. Keep it up, backcountry!
This is one of the most comfortable tee shirts I've ever owned. It's light weight and extremely breathable.
, ☃bcs_badge_alumni_label☃
Pretty sweet T
This backcountry.com The Goat Organic T-Shirt is very nice. I bought the XXL size and it fits very nice. It was a little long when i first bought it and after the first wash it fit just right. it is a very nice T-Shirt.