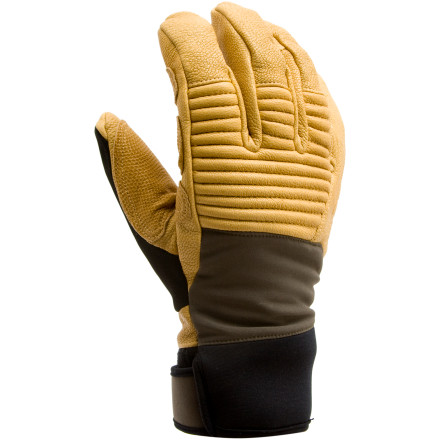 Detail Images

Community Images
After 5 years they are still awesome
Familiarity:

I've put it through the wringer

Fit:

True to size
They are just now starting to show their age. The velcro straps are finally coming undone. They have lasted 4 ski season victoriously. Fantastic gloves. It's borderline insane that they haven't brought these back, but what do I know about marketing.
Best Glove Ever
Familiarity:

I've put it through the wringer

Fit:

True to size
and everyone knows it. Nothing compares....Bring it back! The Paragon isn't the same!!!
Great for a year, good for another.
I loved this glove the first season I got it. After about 50 days of use they began to pack out and loose warmth. After that they were better worn with some liners on cold days. Great dexterity, and comfort. Still use them
Gloves still good three years later, just not as warm and not as dry. Just not perfect.
Hi, does anyone know if this glove is...
Hi, does anyone know if this glove is coming back this year?
Hey there,

unfortunately there are no plans to bring this glove back this year. Sorry for the inconvenience.
This is the number one glove in my arsenal. Anatomically correct, very durable, uniquely designed and uniquely functional. Goes great with the backcountry glove liner when bought one size up. Otherwise a snug fit.
A good glove. Not great. Just good. They fit well. They aren't super warm, but warm enough for most of the days that I am willing to get out.
love these gloves. great for all conditions. warm enough in single digits, no sweaty cabbage hands ona warm day. wrist velcro is nice to keep out the snow. ordered size M and fits comparable IMO to hestra size 9.
I have tried these in all kinds of conditions and compared them to BD Patrol, Stoic Welders, MH Hydras and Burton Goretex gloves and these beat them all to shreds. I allpied some nikwax glove proof and they have not let any water in. They got a little wet after a lot of contact at Keystone in the North Bowl in 10 degree weather but remained dry inside the glove. I would use these from 15-30 degrees. Anyting higher then that would be a bit warm. I hope they make something like this again for next season!
These gloves are by and large the best glove I've worn. They fit true to size, "like a glove". After throughly abusing these gloves snowboarding on icy days, mixed climbing in freezing temps, and pulling hot cans off fire they still seem new. After packing out they still provide ample insulation, and are nimble enough for rope work. I Highly recommend these gloves to anyone looking for a durable pair of warm gloves. I hope bc.com will have stock these gloves 5 years from now, because after a full years worth of use that's the life expectancy I give them.
Excellent quality cold weather gloves with great dexterity for a reasonable price. Way to be BC, was that so hard? Returned the Hestra Skicross for these. Hestra SC's were great with better dexterity, but just not warm enough.
Excellent quality cold weather gloves with great dexterity for a reasonable price. Way to be BC, was that so hard? Returned the Hestra Skicross for these. Hestra SC's were great with better dexterity, but just not warm enough.
MY FINGERS GET VERY COLD. I BOUGHT THESE GLOVES AND LOVE THEM. GREAT WARMTH AND TOUGHNEST. I HIGHLY RECOMEND. YOU WONT BE DISAPPOINTED.
Size L (Large) is really M or maybe even S
I don't have big hands but Size L is too tight.
It shows that internet shopping is tricky.
Don't buy size L unless you have very small hands!
I bought the Stoic Inbound Gloves as a Christmas gift for my boyfriend. He needed a warm leather gloves and since we live in the Rocky Mountain area, I sought out the best of the best. The Stoic Inbound Glove has really been an all around great glove. My boyfriend has not said anything bad about the glove yet. They keep the snow out since they go far back under your coat sleeve and are super warm because they are all leather. If you like riding out in powder and/or on freezing cold days... they are the perfect glove. Excellent purchase.
The other reviewers must be wearing the glove on the equator
Terrible glove. Looks nice, but totally lacks insulation. My hands were FREEZING while skiing in 20 degree weather. Couldn't recommend it less. I'd return it if I weren't so lazy.
I have been skiing with the typical two glove system (shell + liner) for a while now, and this is my first leather ski specific glove.

WOW. I did not know what I was missing until I switched to leather. It feels so much better than synthetic in every aspect. I am talking simply the feel alone. How it connects to the pole, the flexibility, dexterity etc...its hard to describe, but it simply feels more 'natural'. This glove has a sweet wool liner that feels very nice. I can 100% agree with the outside gear review that this was the best fitting/feeling glove...and I must have tried on like 15 gloves. There is just something really comfortable about it. The cuff is not too tight as folks have stated...its very easy to fit over your hand and take off with your teeth on the slopes. The leather feels phenomenal when skiing...if you haven't tried a leather skiing glove, wow you are missing out

Actual ski use has been very good, but not quite as good as simply trying on the glove. I have worn this glove in 5-30 degree temps, on groomers to bowls to trees, and it was worked admirably, keeping my hands very comfortable. I treated the gloves right away to the Nixwax that was provided, and while they never got really that wet from precip, they have not soaked through at all.

The one downfall I have noted [which isnt major], is that I don't get as much of the wicking benefits from a liner/shell system. IE if I were to use a merino wool liner glove along with a breathable shell, my hands did not get as sweaty/clammy as when wearing just the Inbounds glove. I will say my hands get very hot/sweaty easily though. Reference wise, I wore the BC inbound gloves in 0-10 degree just around town, and my fingers were a bit chilly, but nothing bad, as I prefer slightly cool hands.

So for me, these gloves kill it overall for 5-30 degree inbounds skiing. Backcountry they definitely work, but a system style might be better, as you can shed a layer when skinning or working hard when the temps are 20+.

Great job BC, and get some flippin tan ones in size L in so I can have both colors!!!!
seriously. best glove ever. kinda tight outta the box, but once broken in, its amazing. super durable, super tough, really comfy. i was sorta bummed at first b/c the palms were real thick and there wasnt a whole lot of dexterity, but after shoveling the driveway a bunch of times i can feel my ski poles and put my tele leashes on w/o taking off my gloves. another thing is i have wide palms(XXL hands) and i never use the velcro strap as its simply too tight with them cinced and i find myself pulling them on and off all the time. but go without and its a great time

awesome glove
Sweet all-around, temperate weather gloves
These aren't the warmest gloves on the market, but more than warm enough for 9 out of ten days in the bc or on the hill. As a snowboarder, I'm more of a gauntlet over the cuffs kind of guy since when I stop for a breather or in a safety zone I usually have a sit in the pow. BUT, the cuffs on these gloves do a pretty good job of keeping out snow despite being under my jacket sleeve. For that reason, it can be a small struggle to get them on if you have a big hand, but it's worth that small inconvenience. I don't know if they're still in stock, if so buy them. More than worth the cash.
Tried out a pair after seeing the reviews (and some Tahoe ski patrollers wearing them.) I was between sizes (7.25) and went for the medium size after reading the comments. They are too small, so I'm sending them back for a large pair. A smaller-handed friend wore them at Heavenly Resort one cold day. Reportedly they were great until the temperature dropped to about 15F and then they froze up. To be fair, everyone else's froze up around 20F, so I would say that they proved themselves. I'm looking forward to having a better fitting pair to hit the slopes with.