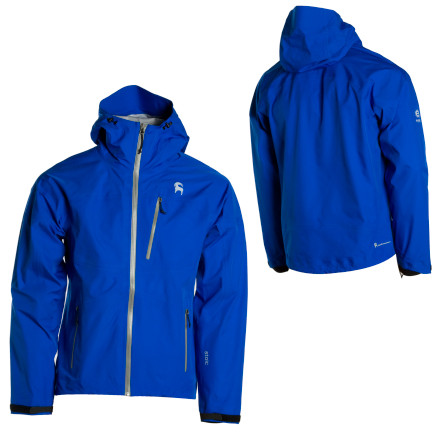 Detail Images

Community Images
Unanswered Question
Is this durable enough for use with a...
Is this durable enough for use with a backpack of about 20 kilos??
Thanks , Carolina
is it good for the winter to keep you...
is it good for the winter to keep you warm?
, ☃bcs_badge_alumni_label☃
Dry- yes, but warm? These are just a shell and are not insulated. You will need to wear an insulating layer such as a fleece or puffy jacket under, in order to keep warm.
My jacket was delivered by UPS just minutes after I had dressed and gotten out of a hot shower. I figured, what better time to try the vapor permeability feature? Still feeling quite warm from the shower I was amazed that I felt no swampiness and was down right comfortable with it on.

Though I have not taken the jacket on any serious hikes yet, I have packed in on a few long bike rides where it came in handy during a cold and windy snow flurry. The hood is a great feature, and covers all the need places especially in the windy conditions I've thus far faced with this jacket.

No complaints on the sizing. I ordered a small (I'm 5'6" and 115 lbs without an ounce of fat on me), and it still has room enough for a base layer of silk, my light merino smartwool hoodie, and a wool bike jersey.

This summer, I'll be taking this jacket with me into the Sangre de Cristo Mountains of Colorado for a 10-day backpacking trip and do so without any worry that should we get a seasonal storm, this jacket will keep me dry and not-sweaty.
I liked the looks of the jacket and it is super light weight, but after reading the reviews about it's fit I got a Medium and it was WAY too small. My other jackets (both technical shells and soft shells) are all smalls or mediums, so was disappointed in the sizing, especially around the waist. They didn't have a large, so I had to return for a refund.
Is this jacket coming back in stock in...
Is this jacket coming back in stock in size xl or xxl(if upsizing one) and color blue anytime in january?
, ☃bcs_badge_alumni_label☃
This is the 08/09 model and is out of production. The current version is available at:

http://www.backcountry.com/outdoorgear/Stoic-eVent-Stash-Shell-Mens/SIC0016M.html
Backcountry.com is sexist... why's the...
Backcountry.com is sexist... why's the male version always more expensive? :P
Call it supply and demand - the MSRP is the same but the women's stuff seems to be on sale more. Ever notice how on eBay the men's stuff always seems to go for more than the equivalent women's stuff?
So is eVent more similar to Goretex Pro...
So is eVent more similar to Goretex Pro or Paclite? I'm just curious about the thickness and feel of the fabric.
Best Answer
eVent is more similar to Goretex Pro. I've tried a couple of Paclite items and they are definitely thinner and have a lighter feel than eVent.

To your benefit, I grabbed three items that I have (3L eVent, 3L Goretex Pro, and 2L Goretex Performance) and did a side-by-side evaluation. My conclusion was 3L eVent feels like a hybrid of the two Goretex fabrics in thickness and feel. Hope that helps and makes sense.
Are they going to restock their supply?...
Are they going to restock their supply? Been waiting months to grab a L rapids to no avail. Any info would be great, thanks.
I don't think so. The "Backcountry.com" brand is now being marketed as "Stoic" brand. All the new stuff is being made as Stoic gear, so there won't be any more of these made. Bummer cause Rapids was a cool color.
Best Answer
The new Stoic Event shell called the "eVent Stash Shell - Men's (SIC0016)" will be available in a similar color (Pool/Silver/Gray) within the next few weeks. Keep an eye out!
The jacket would have been an ok fit if I wasn't going to layer under it. However, I was planning on using this for a ski shell. I am 6'2 235", I wear a 46L jacket. The XL was just too tight across the shoulders and back if i reached forward like i would when polling along on skis. I put it on with a smartwool baselayer, smartwool mid weight, and an R2 fleece. I was buying it for a cold weather shell as much of for wet weather.

To put the fit in perspective, I have a BC shift element in an XL (which fits similar to a TNF Apex) that fits well with the layers. The Stoic eVent is a good deal more slim cut than the shift, length was fine.

The only complaints I have is sizing, I liked the slim fit otherwise. The jacket was light weight yet definitely tough enough for skiing in the woods. I liked the cayenne color. I had to return it, but if I could have gotten a XXL in the blue or the Cayenne I'd have been stoked.
Funky fit, otherwise solid
Was looking at this on a great sale price and tried it but am disappointed to say the fit was the reason it needed to be returned. This jacket is very narrow in the waist and hem. It's made for someone shaped like a "V". I am an atheltic 26 y.o. and medium in patagonia, arcteryx fits me perfectly but not this one so be careful. Otherwise, the jacket looks great, e-vent awesome, reinforced shoulders, light weight, pockets a bit low for technical athletes that will wear a hip belt, but best deal out there for the price if it fits you.
First looks and comparison
I am 5'8", 170lb, and have a 40" chest. I bought this in Cayenne Medium. I should have bought a L (even though I never wear L in MHW or Arc'teryx).

My review compares this against previous hard shell jackets I have owned or tried on: Montane Super-fly, MHW Xenon, Arc'teryx Beta AR, Arc'teryx Alpha SV, and Millet Axon Pro.

MATERIAL: This uses the highly acclaimed eVent. Although I did not do field testing with this jacket, just sitting in my room at 26-28C it didn't feel too hot. This is to compare against Gore-Tex jackets in general. However, I want to state that the real test is in the field. Also the purpose of eVent and GTX are different.

There are two types of face fabrics in this jacket. The shoulders are made of a burlier/tightly-woven material similar, albeit is still thin. The torso and the entire arm is made of a thinner face fabric which is the square-grid rip-stop nylon material. The face fabric is pretty thin and am sure it will go through a lot of wear and tear if you have abrasive materials against it (ie - a backpack strap that isn't made of soft materials).

Overall, the material is THIN which will aid in the breathability. That's probably why people are claiming it's much more breathable than other jackets. Being thin means there is less resistance for vapor/moisture to diffuse across.

DESIGN: Jacket contains two hand pockets at the bottom. As many have mentioned, this pocket is useless if you wear a backpack waist strap. I tried it on with my backpack and could not access the pocket at all. I know some people don't like to have chest pockets. So I think an alternative for their future designs is to make the opening for the hand pocket about 3" higher so that you can at least access it from the top. Good depth for those two hand pockets otherwise. You can fit your whole hand plus more.

FIT: This jacket is meant for someone who has a REALLY athletic body. All dimensions are probably 1" smaller than other jackets. For me, the chest was acceptable and I could layer a 200-weight fleece. However, the WAIST is TIGHT. My waist is 32-33" and even with all the cinches loosened, the waist of this jacket was WAY too tight. I don't think you could layer a fleece underneath the jacket just based on the waist. Be warned.

Arms are NOT articulated. It's just straight cut. You'll notice a huge difference compared to the other jackets I am comparing against. If you don't intend on using your arms very much, then maybe it's not a concern for you. But if you do move your arms a lot, you'll appreciate articulated arms a lot more. The material won't touch your skin as much giving you a feeling of freedom. It REALLY does make a difference. However, the intention of this jacket is not for climbers but mainly for skiers.

Also, the torso length is short. It only goes down 1" lower than my belt.

Zippers: All of them are standard YKK water-resistant zippers. Nothing fancy.

Hood: This hood is as simple as you can get. I think it only had side adjusters and NOT the volume adjuster cinches that most jackets have on the back of the hood. The side adjusters are pretty plain/cheap and aren't as easy to operate as some other upper end jackets such as the Arc'teryx Alpha SV ones. The upper end jackets you can easily adjust by just pulling the chord where as this one, you have to play around with it more. As I mentioned, I don't think it has volume adjusters so it probably won't fit as well on your head as other jackets.

Summary: If you're using this for light purpose activities or don't intend on rubbing this against a tree or getting into a brawl with a bear, this jacket is for you. It packs lightly and you won't notice it at the bottom of your backpack. It's also probably great for breatability because it is so thin.

For high-output activities that require you to get into a fight with a bear and rub against tress, this is not for you.

Key points: PROBABLY very breathable because the material is so thin. The waist is TIGHTTTTT! Shoulders are burlier. Hood is simple. Length is slightly shorter than other jackets.

3/5 - Comparing to other jackets I've tried this one is near the bottom.

If this review helps, give me the thumbs up!
Great Jacket - Bad Sizing
Let me start by saying that the only reason that I did not give this jacket 5 stars is because of the sizing issues. I runs way small order a size up. If you don't believe me read the reviews below.

Sizing aside this jacket is awesome. I got it last season and took it from -4 in NY to 40 in Utah and it performed great under all conditions. It really vents well when you start to heat up working to keep you dry and comfortable. I have also worn it in the rain and it sheds water like my lab's coat of fur. BUT don't get fooled by the light weight this jacket will hold up i.e. random branches in the trees did not cause any tears.

Lastly, it is a little pricey but worth the investment.
Can anyone verify the weight of the Medium...
Can anyone verify the weight of the Medium size jacket?

Right now I'm trying to decide between this and the Westcomb Specter LT hooded jacket, mainly for ultralight backpacking, though it will get worn around town in the rain too.

cheers,

-- michael
I threw my 2 cents in on the Westcomb Specter LT page on this website.
It is a great light weight high performing jacket. You can really feel it move the moisture away better than any thing I have ever used. Pretty much identical to the Westcomb Specter LT Hooded jacket, they are probably made in the same factory in Canada. Keeps water out like it is supposed to. Only complaint is that it take a bit to much concentration to get it to zip... Other than that Amazing jacket.
Unanswered Question
Anyone know if a 2XL is available? I'm...
Anyone know if a 2XL is available? I'm 6'2" and 260 LBS...
Unanswered Question
Anyone else have small tears and/or fabric...
Anyone else have small tears and/or fabric wear on the lighter weight fabric portions of the jacket? Specifically, on the front waist area near the pockets???
This is probably one of the best peices of equipment I own. It is very lightweight and very breatheable, it feels like nothing while I'm wearing it! I got a medium in tahoe (I'm 5'9 145 lb athletic and it fits perfectly) although the actual color is lighter than the one shown. It is nice though cause it brightens up your day if it's rainy and dull! It syncs up nicely with my backcountry siphon, which is also a medium, but if you want more room, I'd go for a size up in the Stoic... I wore this in a torrential downpour on the AT and this thing kept me as dry as a bone, it was really cool to see the water bead off the jacket like nothing else. The eVent fabric is also another wonder of the world; it kept me comfortable in 70 (maybe 80?) degree humid weather, or atleast as comfortable as you'd expect to be in a longsleeve. It obviously doesn't breathe like you're not wearing anything but it WILL move the sweat off of you and through the jacket. Much better than any gore-tex or anything else on the market!
Love the looks of this shell as a backcountry...
Love the looks of this shell as a backcountry ski jacket, although I'm having some issues deciding the size for me, I'm 6'0 155 lbs. 31' waist. I'd like to use it skiing so layering is important.
The fit of BC stuff is very athletic cut/fitted. If a medium in other brands tends to "just fit right" I would consider sizing up, esp. since you are concerned about layers. I am 6'4" 36 waist and the XL works great for me... If that is of any help for reference. If all else fails order 2 and send one back. But bottom line i would say get a large.
, ☃bcs_badge_alumni_label☃
i would agree with lawson bunch on this. this jacket, because the event material does not stretch, does fit tighter than a typical medium. if you want to layer up inside, go up a size for some room.