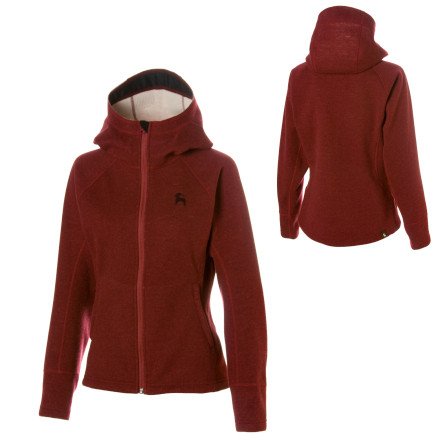 Detail Images

Community Images
This jacket is kind of peculiar. The fabric is essentially a knit wool BLEND (not 100% wool) bonded to a thin microfleece backing. It's really warm, but also very stiff. I got a size small and still felt like I was rattling around somewhere inside the bulk. There is no way to comfortably wear a shell over this jacket. The hood is HUGE. Huge. The sleeves were far too long for me, but then again my arm span is -2. I ended up returning this because I just couldn't wear it practically or comfortably. That being said- I got a fair number of compliments wearing it and found it visually attractive.
Unanswered Question
Anyone selling this jacket - size small?...
Anyone selling this jacket - size small? I am interested in buying!
Anyone selling their backcountry siphon jacket size small?
I have had this for over a year and absolutely love it. It's fitted and flattering while being surprisingly warm and comfortable. No need to worry about scratchy wool, it is lined with very comfortable material that helps keep it casual and fun. Highly recommended.
Best hooded jacket I've ever owned. It is warmer than the North Face Denali hooded jacket. Had it for almost 2 years and still in good condition.
This is an awesome hoody! I love the material on the inside and the long fit is very flattering. I also love that the neck zips all the way up to my chin, and the zipper doesn't irritate or scratch me. I have the berry color and it is pretty true to the pics on line, and i love that too.
nice jacket overall. didn't suit me stylewise, though. sort of like a warm wool sweater hoodie. pretty crimson color. great jacket at the sale price.
Disappointed with the white lining
The fabric of the Siphon is really nice--it looks like a thick sweater knit, and the Berry colour is gorgeous. I liked the cut, and feel of the jacket, and the inner cuffs were a nice touch. Unfortunately the jacket is lined in white, which I didn't pick up on when I looked at the photo, although it's clearly visible in the hood. What this means is that unless the jacket is zipped up all the way to the top, you have this ugly white lining showing. It's a shame as when the jacket is zipped up it looks really nice. If the lining was the same colour as the jacket, or even a dark colour like grey or black it would have been okay, but the white lining stands out like a sore thumb, and that's the reason I will be returning this jacket.
I Love this hoodie, I bought it because it was positively reviewed. I am tall and curvy, rarely do I find performance, fit and a good color in one!
I absolutely recommend this for someone who needs a "go to" layer. It's perfect for around the house, outside as an in-between coat or on a trip to the tropics. It is wool and needs to be carefully washed, but you can wear it a dozen times before that!
perfectly warm and can be worn out sporty or worn out slightly better than casual. the lining is so soft...
Fabulous, but not a jacket!
I love this item--got it for a steal of a price--however, it is NOT A JACKET in the proper sense. The wind goes through it, and even in the temperate Bay Area, it isn't warm enough even with a sweater under it. I need a third layer to keep warm. On sunny winter days over 55 degrees, it keeps me comfortable. I do love the warmth provided by the inner cuff on the sleeves. The XS fit is flattering on my 5'4", 107lbs, a 32C frame, and the berry color is beautiful.
worth the sale price at least
I took a chance on this wool jacket because so many people bothered to review it, and also it was available in brown. I was concerned about ordering the large but it is perfect. I am 5'10" 145 lbs. chest 36 b and i have long arms and broad shoulders. The large on me is still form fitting enough but ample enough for a sweater under and WOW the sleeves are long and cool looking. Very happy with it, Jill
I got this jacket about a month ago, and was looking for something to layer under my heavy coats, and to wear under my down vest. I wanted something pretty fitted, but with a lot of movement. I'm 5'8, 135, and have a long torso. When I bought this jacket all the smalls were sold out, so I actually got an xsmall and i love it. The jacket is definitely fitted, but has full range of movement, and its slim enough to fit inside anything, even my formal peacoats that just are not warm enough. I wear it pretty much everyday now, and use it underneath my shell for snowshoeing and skiing. If you want a slim fit, dont be scared to size down. Even though I'm tall the torso and arms are still long enough on this wool coat.
Hey, so I am reading reviews and noticing...
Hey, so I am reading reviews and noticing that smaller, shorter people are buying mediums, I usually buy a medium, I am 5'9'' long limbs, 140 lbs and usually buy mediums... so before i purchase this i want to make sure i get the right size! I want something that is long enough in torso and sleeves but fitting too! any suggestions?
I think the medium will definitely be the right size, especially if you like the jacket more fitted for layering. The jacket has fairly long sleeves, but a slim overall fit
The wool on the outside of the hoodie is nice; I got the brown and it's a great colour. The inside is polartec fleece and keeps me pretty warm. (I wouldn't wear this under 8 Celcius.) I like that the cuffs are a two-parter - there's another cuff inside the original that fits closer to skin. The size fits a little big - I'm normally a medium but the medium was slouchy. The reason I gave this product only three stars is because it isn't really a jacket - it's a hoodie. That, and there's NO WAY i'd pay regular price for this - I got it at around 55$ and I still think that's a little expensive for this product.
This jacket is exactly what I wanted - light weight, but warm with a hood. Perfect substitute for a hooded sweatshirt - looks way better! It does attract the pet hair, but what doesn't? AND extra long sleeves with cuffs further up the inside so the cold can't get up your sleeves!! Great jacket!
After trying to get this jacket for a reasonable price for the better part of a year and a half, I finally scored it in my size, Small, and favorite color, Berry (a beautiful true red). I got to test it out this weekend in Steamboat Springs, CO. Like others have said before me, this is a bit more like a sweater, but did serve as a warm jacket during the day. At night, however, I layered this piece under my Montane down jacket, and I was toasty warm. Be warned, this jacket is very fitted - no room for anything more than a light layer underneath (I had on a fitted cotton t). It is soft and comfortable. My favorite features are the deep, functional hood with the high front to protect your neck from the cold, and the interior sleeve cuffs. Overall, highly recommended, if you can get it for a decent price.
I got this jacket for Christmas. When I first put it on my first thought was that it was a bit to tight around the belly area. But I loved it otherwise. Put it on a few more times and each time fell more in love with it. I have worn it skiing under a shell and it was warm and super comfy. I have also worn it hiking on a day when the temp was about 45 and it was the perfect jacket.
It is very fitted and really cute on.
I am so happy I got this for myself, I wear it every where. Just got back from the Bay Area and it kept me nice and cozy. Can't wait for backpacking season to kick off so I can wear it in the mountains. :)