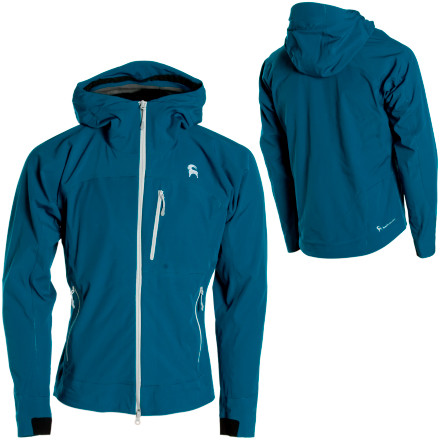 Detail Images

Community Images
Share your thoughts
What do you think of the
Backcountry
Shift Welder Hoody - Men's
? Share a...
Best softshell I've owned... until I left it in an overhead bin and never saw it again. I replaced it with one from Mountain Hardwear, which I don't like nearly as much. The backcountry one was flexible, had a good fit, kept me dry and warm, all while being light. It also looked good.
saved me in a bad scooter accident
This jacket saved me a trip to the hospital for sure. I was riding my scooter at about 30mph on a dimly lit street and all of a sudden I was over the handlebars. My head along with my left shoulder and elbow were taking the brunt of it as I slid for about 20 feet on dirt and gravel with my 200lb scooter riding it out on top of me. As I came to a stop and struggled to get the scooter off my legs, I slowly stood up hoping for the best but expecting the worst. I could stand immediately which was great. Since I was wearing shorts, my entire left leg was scraped up really badly and was bleeding and dirty and had little rock littered inside of it. Next I checked my left arm and shoulder as I knew that had taken the worst of it. I slowly took off my jacket not knowing if something was going to pop out of place, but took it off fine and examined my elbow. It was bleeding and scraped up pretty badly, but I was surprised it wasn't worse. Upon inspecting my jacket I saw about 2 feet of abrasion streaks and dirt from my shoulder to my elbow but not a single rip, tear, or weakening of the material. Amazing. I know for a fact that if I hadn't been wearing this jacket, or had been wearing any other jacket, I would have been in the hospital getting stitches up and down my left arm. So thank for making a bomber jacket that can withstand a 30mph scooter crash. I've been riding for 7 years and have never fallen off my scooter. If I hadn't been wearing this jacket, I might have never ridden again. I loved this jacket like a child before the accident, but now we have a bond. I know I'll have this jacket forever and it'll still be just as bomber when I'm 80 years old.
Would the lifetime warranty for products...
Would the lifetime warranty for products with the backcountry logo still be honored by someone even if not bought through the website?
The lifetime warranty only applies if you purchased the item and it shows up on your account.
I have shells from MH, Marmmot, Columbia, NF, and above all stands my BC Shift Welder!

I am 5'11" 160lbs and the large fits so well, it almost feels taylored to my frame. Sleeve length is long, but perfectly long. I can lift my hands over my head without the sleeve creeping half way up arms. The cut and fit is awesome...It has just enough room for a good thin base layer and a good solid mid layer without feeling like you're wearing a straight jacket or a looking like the stay-puff marshmellow man.

The Shift Welder is an excellent wind blocker. And just as awesome in the snow! It handles light rain with no problem...not sure i would stay dry in a prolonged downpour however.

As I mentioned before, with the right layers this shell will keep you nice and toasty warm in cold temps (15F on the lower end, personal opinion based on experience). I wore this shell on a 25F multiday hike in which we encountered wind gusts as high as 40mph and this jacket took it all in stride and kept me perfectly comfortable.

Dont think about it, dont weigh the pros and cons...drop the coin when you have a chance to pick one of these up! If you dont have enough lettuce to pick one up...beg, borrow, steal, sell the dog, or hock your guns and get one, you wont regret it!
This Jacket is One of kind
I just want to say this jacket is the spring jacket that I measure all other jackets too.

The sleeves are perfect, hood fit the helmet perfectly, then i could adjust the hood for when I was wearing around town very easily, and I loved the style of the jacket.

I am 6"2' 185 lbs, (I wear a 42L in suits) I got an XL and it fits great.

zipper held up great, loved how you could zip from the bottom for quick pee breaks when in the back country. The zippers had this awesome finger print design that I loved. The chest pocket was just right. I could go on and on, I am sad you did not continue with this one. I already got the stoic insulated jacket and love it, but its not the same love unfortunately.

Still a great jacket, for those wondering it seems like the sleeves are a little longer which is nice.
great jacket, could use minor adjustments though
i was quite excited when i received the jacket in the mail and couldn't wait to open it and test it out. i got the carbon colored and gotten good compliments about it from several friends. nice slim fitting, welded, warm, and great attached hood. my only gripes about the jacket is that the sleeves could've been better made with elastics or a cinch of some sort to tighten the ends of the sleeve. i got the small and while the body of the jacket fit well the sleeves were quite long, making me feel like an orangutan. but it wasn't all too bad since i could tuck my hands into the sleeves during cold and rainy weather. although i would like to add that this jacket isn't for being out in heavy downpours. i was in mild to somewhat heavy rain for 15-30 mins or so and after a while of the water beading off the jacket the shoulders of jacket soaked through leaving the shoulders of my shirt underneath wet when i took off the jacket. which was somewhat disappointing, but i suppose it is a soft shell after all. the other thing that bugged me a little was the cinch tassels in the body and hood of the jacket, a little hard and troublesome to get just right. but other than that, i love it!
Is Backcountry planning on putting out a...
Is Backcountry planning on putting out a new model soon? Or are they going to be restocked?
Best Answer
Not a bad transition, but I am going to miss the Goat logo.
This jacket has a nice athletic look to it. Backcountry nailed the lengths for the torso and sleeves. I have long arms and always struggle with baggy fits in order to achieve proper sleeve length. Contrary to the review below, I wore this jacket at a football game in the rain (not just a drizzle) and stayed plenty dry. The only drawback I can find is that it's not as warm as I would like it. I guess that's why I own a down coat also.
Hey everyone, I'm a skier with a 6'10" 140...
Hey everyone, I'm a skier with a 6'10" 140 lb athletic build. I like my jackets a little fitted, but not racing-tight. What size should i get?
6'10" and 140 pounds is not athletic, it's frighteningly thin. Maybe you mean 6'1", In which case I'd advise a Large.
haha, yeah 6"1' you are going to need a large, unless you will only be in freezing cold and are going to be layering up big time.
This jacket is pretty and pretty great. I've gotten a bunch of compliments on how great it looks. The pockets are great, there's a ton of them, the hand packets are fuzzy. Mine doesn't appear to be super water proof, though it doesn't claim to be. It does shed the wind like nothing else though. What makes this jacket so great, is how well-thought out the design is. The hem adjustment cables are in your pockets, so your hands don't have to get cold fixing it, and it has one of the best hoods I've used. the zipper comes way up to your chin to block out wind on cold days, and the interior is super comfortable. A good for fall and spring, though make sure to layer in winter because it isn't too warm by itself.
Right now I'm looking at both this and the...
Right now I'm looking at both this and the Cloudveil Firsturn, is one going to be warmer on its own then the other? I would like to use this every day use during the winter as well as for skiing, so any feedback is appreciated.
the welder is intended for backcountry touring, aerobic activity that requires the most breathability, and comfort when sweating. if you are looking for just warmth, the firsturn would be better, or check out the stoic welder insulated.
Ok, let me start off by saying i love this jacket, the fit is great, and the color is awesome (tahoe M 6'2 185). I find myself wearing this jacket more often than not. Now to my complaint. The jacket is just average in its water shedding abilities. I live in Olympia, Wa and after only 15-20 minutes in a light drizzle the shoulders are soaked all the way through as are some spots on the arms. Now i know that this isnt a "waterproof" jacket but i was expecting a little more in a "highly water resistant" jacket. Another complaint has already been mentioned, the fact that there are no velcro wrist straps. As well as the jacket repels the wind a breeze always seems to climb up the sleeves. Therefore i can only recommend this jacket for moderate to light weather, anything more than that and your better off with something else. Though i guess this is the niche market a softshell is fulfilling.
Its Great, love the versatility in the winter time. Great after skiing, or on a backcountry day building a jumps in the spring time. I am not going to lie, this jacket turns heads. Thats all I am saying.

Likes:
Love how the zippers have the finger prints on them.
Its really soft on your face when you zip it all the way up.
Also how they have the loops on the zipper them so you can switch your lift passes around if you know what I mean.

Dislikes:
It has this really soft little stop cord on the front near your chin, that sometimes bugs when its really snowy out.

SIZING:
I am 6 foot 2 inches and 185 lbs.
It fits me just right, sleeves are just long enough how i would like them.
What is the proper way to wash/care for...
What is the proper way to wash/care for this jacket to ensure good water resistance?
How warm is this jacket compared to the...
How warm is this jacket compared to the Arc'Teryx Gamma SV and is the sizing similar? 5'6, 130 lb thinking small
They are actually pretty similar. The Gamma SV seems slightly thicker, and maybe a little warmer, but not by much. As for the fit, the Shift Welder could be a little more fitted than the Gamma SV (so that there's not quite as much room to layer), and the Welder's arms and body are just a little bit longer.
A. The Blue is amazing and my favorite color out of the whole line.
B. This jacket is warm even on the coldest days, I wear this jacket at Snowbird with some long underwear and it def keeps me warm
C. Don't dry this jacket air dry it, it flattens out better
D. Hood is great, could be a smidge bigger for those helmet days
E. The Goat logo is great and it's reflective print

I would highly recommend this jacket to anyone that goes outside, so anyone.
Review for the tall skinny guys...
This jacket is great. I got the Taho and yes, it is lighter than the picture. its very much teal, but i dont mind too much. I am 6' 1", 145 lbs (tall and skinny) and i got a medium and it fits great. it has enough room for a little layering underneath and the sleeves end at just about my thumb when i have a straight arm and fingers outstrectched. It is warm but in like 20 degree weather, a good baselayer and maybe even a fleece would be necessary to stay warm. the jacket is light and packs down relatively well. if you see it on sale, get it. You will be glad that you did.
Shift Welder Hoody- Men's Large Carbon
This is a great softshell jacket, very versatile. I used this jacket for tours, around town and resort days. It says "highly water- resistant" but its very tough. I haven't worn it in a downpour yet, but in the dry utah climate it has held up in all conditions. Make sure to pick up some nik-wax softshell wash for when washing your jacket. As far as size. I am 5'11 and 160lbs. I tried on both the medium and large. The medium fits snug and athletic for me, but I went with the large for layering purposes, the sleeves are a bit longer on the large. And as always, with backcountrys unlimited return policy you can always change out your size!
i want this, why is it available in limited...
i want this, why is it available in limited sizes? is it discontinued or will we be seeing a new version?
yes it is sadly discontinued. Backcountry launched a new brand/company called Stoic. They have products that are very similar to this one. Stoicgear.com