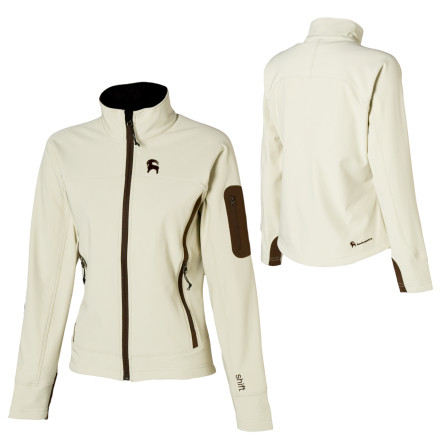 Detail Images
Looks nice but not good for wind
I loved the cream color and was okay with the brown trim. It had a little bit of a womens cut to it. It is VERY water resistant. I spilled red wine on it the first time I wore it and the wine ran straight off the coat. No stain or mark. WHEW. I wouldn't test that twice though. But in the end I had to return it. I bought it for a fall/spring coat and the 98% wind resistant. Did NOT feel like 98%. Maybe 55%. There is almost no insulation in this coat and with a wind, I was always cold.
Soft, Warm, fantastic design
I'm not sure if I have enough good things to say about this jacket.

I love the color. Don't find much in cream. Only downside (or so I thought) was I wore it out on a canyoneering adventure.. with the sliding around, it got a little dirty.. but looking like new again after a wash.

I LOVE love the design. Good quality, nice clean lines. Love the brown pocket on the arm, for easy access, and looks good.

I've worn it under a down layer on an extra cold day (10 degrees).. or over a fleece and merino wool layer on other cold days (30 degrees). Layering with this jacket is super easy because it is thin and lightweight, and seems to have a little give so putting layers under is not constricting.

Dresses up well. While durable, it's still feminine and a "nice" jacket.

I've worn it hiking, running, mountaineering, canyoneering, running errands ... and somehow still looks good with a cute pair of jeans on a chilly night out.
Great Backcountry.com Shift Softshell Jacket
I love this jacket, it looks pretty cute, I got the cream color (was the only one available) and I really like it. Got it in size M because in size S the sleeves are just too short, but still the M is not big or looks bad. The quality is awesome and it is very soft and warm, I totally recommend it.
The jacket seemed nice and I was really excited to get it, but the sleeves were around 2" too short. I'm 5'10" and 140 lbs. I typically wear a size 6, and all my measurements were well within the M size range on the size chart, so that's what I ordered. The overall length was a little short as well but it would have been okay if the sleeves were long enough. Had to return it. I would have considered ordering a L to see if its better, but they are out and I suspect it would have been too big everywhere else anyway. I wish they still had the men's version bc I know that one fits me!
I'm trying to get a sense of how warm this...
I'm trying to get a sense of how warm this jacket is...would it be appropriate for high output activities in cold temps? I'd like to use it for snowshoeing in British Colubmia, so in the 10-15 degree range. I'd probably wear a merino baselayer. Thoughts?
Ali,

You've got the right idea. Softshell materials offer the best balance of water and wind resistance, warmth, breathability. This is a perfect jacket for your chosen activity, but have an extra insulation layer handy for those long water breaks (a 300+ fill down would do nicely). I prefer to wear my insulation layers under my shell, but if you plan on spending most of your time in the shell, a larger insulation layer may be more appropriate for easy donning and doffing when you're not moving.

P.S. Merino is AWESOME!

Happy trails!
This jacket is very versatile. The slim fit makes it nice for layering under a heavier jacket or down vest. I wore it today shoveling snow in 20 degree weather under a down vest and it was perfect! It's light weight and the arms aren't tight so you can move around in it. It is agreat jacket for a great price!
I got this jacket on sale in a light blue and when I realized how great it was I bought it in cream as well just because. It is stretchy, warm, water repellent and cuts wind. It's light and comfortable. You can wear it over a long sleeve layer or over a t-shirt. I used to wear sweat-shirts a lot but now this is my go to layer for most of the year because it's lighter, more versatile, and nicer looking than a sweatshirt. I took it on vacation to paris in the fall and wore it every day. The best garment you never knew you needed.
Backcountry.com Shift Softshell Jacket - Women's
I got this for my wife's birthday. Being a Capricorn she especially likes the Goat Logo.

The jacket is awesome. She wears it often for evening walks on the beach, and it works great for snowshoeing on warmer days when we go to the mountains.

Thanks for a great product. I only wish there was more Backcountry gear for men!
A good friend was recently visiting from the UK and was wearing this jacket everyday and highly recommended it - she wore it as a layer while touring. She spoke very highly of it and I was a bit embarrassed I didn't have one (as an employee of Backcountry)! Anyhow... I ordered the jacket and now understand why she recommended it. It's a jacket that is very easy to throw on.. hikes with the dogs, running errands, ski layer, at the office... it fits great, looks great and the the color is fantastic (cream and brown). I find it to be plenty warm for layering or for more casual wear. And of course, I love the Goat logo.
I haven't actually tested the jacket yet so take the following as superficial. The jacket looks extremely thin. Call me old fashioned but I wouldn't take it out downhill skiing in the North East. It seems great for more consistently aerobic activities. I wouldn't want to be caught standing still on a cold day. It's also short in the torso which makes for a cute fit but inadequate for powder days or cycling. That being said, it does look really great and the Medium fits nicely for my 5'3" 125 frame.
Will B.C. Be getting these in any bother...
Will B.C. Be getting these in any bother color besides cream?
Hey,

Unfortunately we will not be restocking this item any time soon, sorry for the inconvenience.
Excellent Fit, Quality, Temp Range
I found this jacket better in every way than far more expensive softshells (Northface, Marmot, etc.) and far less expensive than those of comparable quality (e.g., Arc-teryx). The softshell fabric is Polartec's wonderful Power Shield which is thinner and more flexible for the same warmth. It is also very smooth, quiet (not swishy), and lies flat (no puckers). It really does block virtually all the wind. There is a compact fleece lining on the inside for softness, wicking, and a little more warmth. The streamlined cut is also much nicer than most jackets-- this one has ample room in shoulder and pits (rare!), curve in for the waist, true hip length, and a longer tail in back. That said, it is not tight. The reasonable shoulder room makes it possible to wear an under layer, and the shaping makes it possible to wear the jacket under an outer shell (e.g., for heavy rain or very cold temps). Plus, the fabric stretches a nice amount. There are plenty of pockets with zipper closures (two handwarmer, one on the sleeve, and inside breast pocket), a little chin protector at the top of the zipper, and small insets of extra abrasion resistant fabric in key areas. This jacket works down to at least 40 degrees without any base layer, lower if you're moving fast.
P.S. I'm 5'7" 120 lbs and the small fit perfectly, as described above. Also, I find many softshells too small under the arms (even though I'm small busted and not brawny), but not this one.
P.S. The color is a tiny bit darker than it appears on the screen, the accents are a very pretty cocoa, and the lining is a dark tan.
Would this product keep me dry in a sudden...
Would this product keep me dry in a sudden downpour while climbing, hiking, etc?
Not really, it's not a fully waterproof shell.
Cute jacket, great cut but very thin. Had to return.
Write your question here...What is the...
Write your question here...What is the weight of this jacket?
, ☃bcs_badge_alumni_label☃
Softshell ticks all technical boxes
The down side, which is important to us fashion concious gels, is that the outside detail is brown, not black as shown on the pictures on the website and just won't go with the many pairs of black trousers & jeans (pants to you yanks!) that I planned to wear it with. Also the lining is tan, again not black as shown. Sorry, but it had to go back.
Shift Softshell is awesome!
Just got this today and I love it. Material is incredibly soft and the cut is perfect .. like it says in the description, it has a streamlined silhouette but amazingly I don't feel restricted in my shoulders at all. Good for layering or just for the spring/fall in-between season. I'm 5'5" and 135 lbs - medium fits perfectly. Only gripe is that I wish they had some better colors. Cream works with anything though, I suppose.