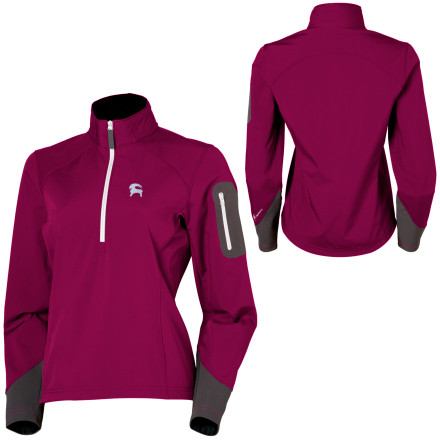 Detail Images
I really wanted to love this pullover, but the cut was so short that it barely went past my waistline. It was snug around the bottom but boxy everywhere else and way too roomy in the bust. This was such a great price for this item (Arc'Teryx makes a similar pullover with the exact same fabric for over $200), but it just didn't fit me well at all. Had to return it.
I am regularly a size small in backcountry stuff and this top was a bit too snug, and the arms seemed a bit too short. Liked the color though!
The idea of this top is great and so is the price, but unless you like your tops with 3/4 length sleeves don't buy it!
I live in Oregon and run almost daily. The weather here rarely drops below 30, but it's wet 9 months of the year. This windshirt is the best piece of Oregon running gear I've purchased. Keeps me warm and keeps the rain off. It doesn't breathe that well, but nothing wicks away sweat well when it's raining sheets anyway. I'd buy more, but the gray color is a bit drab. If you're going to be in the rain, you may as well be colorful. Backcounty, can you make some more of these in better colors like the men's version--blue, green, yellow, orange, whatever?
I got this for my girl friend for Christmas. I decided to size up after reading the reviews and owning the guy's version. The larger size works out perfectly and she loves it. If you are in between sizes or just want that extra room for a layer definitely size up. I would even consider sizing up even if you are not between sizes. Overall, an amazing layering piece or stand-alone pullover.
One of my guy friends bought the men's version of this jacket and would not stop talking about how much he loved it, so I figured I'd go ahead and buy the women's version. Quite possibly one of the best purchases I have ever made. This jacket is comfortable, cute, and keeps you dry and warm on cold, rainy days! I'm 5'6", 135 pounds and got a medium, fits with room to spare for a t-shirt and light sweater underneath. ALSO----you cannot beat the price on this! Absolutely worth the full $150, but for $45 you might as well buy one for a friend, too...they'll want one once they see yours!
I love this jacket. I wear it all the time. It's perfect for a top layer for an outdoor run or hike. It's perfect for running errands and taking my dogs to the local dog park. I bought a size larger than I normally wear since this jacket runs a little small. It keeps me warm and fits great. It's made of hardy material too. I went for a run yesterday and fell hard. I tore a hole in my pants and my gloves, but the jacket was unscathed. It's a great deal!
Most of these reviews are accurate in saying that the jacket runs small...because it does! I'm 5'4 ~135lbs with a larger than normal chest. I usually wear a medium in outerwear and I could barely fit a medium over the girls. However, the large fits nicely. Take my word for it, order a size up! Love the color.
Not only does this soft-shell come with me on every adventure, BUT it looks good too. Great fit! It's a perfect weight for climbing, hiking, mt. Biking, running, wearing to the store on even on dates! Also, one of my favorite things about the jacket is the collar. It's has some substance to it, which makes it stay up around your neck and keep you warm while looking good too.
I love this pullover! I bought the grey, loved it so much went back and tried the merlot. I little concerned about the color when I ordered based on picture, but I have to say the color was a wonderful surprise. A very rich color. The fit, perfect. I ordered the XL as I like tops to be roomy for layering, I"m 5'9" 169lbs. I wear this for just about everything, running errands or to work out and I get compliments along the way!
not you mother's softshell
Absolutely fantabulous! Superb water-repellance (is that a word?!?), great cuffs, and the merlot color is so flattering. Sleeves are a tad long for a 5'3" shrimpie, but not enough to get in my way. Perfect for autumn hiking, errands, looking slick when I head out to watch cool evening sunset! I usually wear a small but preferred medium in this style...hmm.
Unanswered Question
I would love to see this jacket *exactly*...
I would love to see this jacket *exactly* the same (merlot color included) but with a full zip and hood (detachable, ideally, but that's negotiable if color & zip are in place). Can anyone recommend something like it? The Backcountry Shift jacket seems comparable, but there are no more pretty colors left and the hooded version is almost $150 (the latter being the greatest disincentive). Any help would be greatly appreciated!
It's thin, so it's good for high aerobic activities. It's somewhat water resistant- I was dry enough in a drizzle. I'm about 5.3 and 125 pounds, the S is loose on me, but I like it that way so it's not too constricting, especially with an extra long-sleeve layer underneath. I like the maroon color. :)
This jacket has been phenomenal!! It is extremely lightweight, snug(easy to layer) and looks great on. It weighs almost nothing and feels fantastic. High quality construction is evident, but it can be a little tricky to get off. Order up if between sizes (form fitting and is a little short in the torso). Thanks BC!!
Has Backcountry ever made a Rime pant? Or...
Has Backcountry ever made a Rime pant? Or anything with Fleece-backed Polartec Power Shield? If they haven't, they need to! This material is perfect for cold runs, snowshoes, and cross-country skiing...
, ☃bcs_badge_alumni_label☃
Not that I'm aware of. That would be cool though.
Yes, they have. Check out the Backcoutry.com Overhang Pant.
Awesome Waterproof Overshirt
I wouldn't call this a jacket. It is made for being active so it's pretty thin. I love using it for runs on cold days and anything I do when there is some drizzling goin on. Keep in mind it is made to be close-fitting so size up if you want it looser. I am 5'10" 145 lbs and the medium fit me beautifully. Great length in the arms and not awkwardly tight anywhere. Plus, the merlot color is very pretty!
Love the jacket, its a great lightweight piece; however, it runs kinda small.
Already sent this one back. It looks great, feels like good quality, but the fit was weird. Too short in the body and arms. And wide in the waist but narrower across the chest. Not sure what went wrong, as other backcountry stuff has been great. You win some, you lose some.
Love this jacket! It is snug, perfect for over a tech t. Wear it every weekend - fall runs and kids soccer games. Love the color. Been eyeing it for a long time - could not resist when it went on sale. Best buy ever!!!.
I just got back from a hiking trip in Breckenridge , Colorado. I wore this jacket with a long sleeve technical shirt and was not cold in the least ! Temp ran in the mid thirties to 40's and was outstanding with wind protection of gusts 40 miles an hour on top of Hoosier Pass, and waterproof with the snow storm at Mohawk Lake. I highly recommend this jacket!!!!!!!!!!!!!!!!!!!!!.. I usually wear a small to medium. I picked a medium to layer and it was just right.