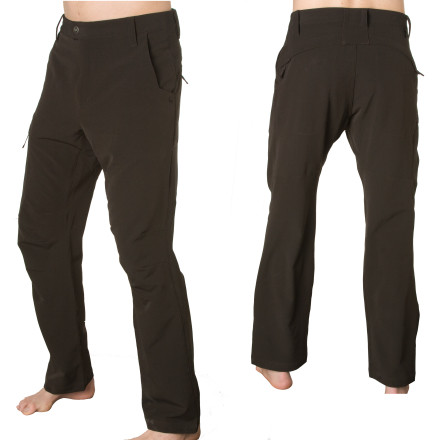 Detail Images

Community Images
Did this item get rebranded as Stoic? or...
Did this item get rebranded as Stoic? or is the design discontinued?
Backcountry.com gear is now sold under the Stoic brand name.
I guess I knew that. I was more or less asking if they still make this exact pant but under the new stoic label. I found out they do and with out surprise it is called the Stoic Overhang Pant.
Late spring and summer skiing in these pants is great. A little tight around my AT boots but worthy none the less. Also, these are my go to hiking, camping, trekking, pants. Really breathable and stretchy. Not wind proof, and not waterproof at all. Super comfortable, but had to buy mine a size bigger then I expected. Really love these pants.
Unanswered Question
Whats the best way to wash these pants?
Whats the best way to wash these pants?
I think you have no stock for this pant....
I think you have no stock for this pant.
When are you going to have stock?
I think the BC version of these has been replaced by the Stoic version. See here: http://www.backcountry.com/outdoorgear/Stoic-Overhang-Pant-Mens/SIC0058M.html
these are my favorite ever pants
the microfleece lining has pilled up and removed in a few spots with lots of wear, but these are my favorite pants ever.
I wear 32x32 in most jeans/khakis, etc, and go smaller if anything--the medium fit me well, hang just a tad lower on my waist though. these have function great for rock climbing, summer mountaineering, and in less extreme cold temperatures, single day winter mountaineering events (no colder than 20F though). They dry incredible quick, are durable, microfleece lining is soft, pockets are great/zip closure--and it is hard to beat the goat logo!
These pants rock! Got them about 2 weeks ago, wore them to Bridge to Nowhere this weekend. There were about 8 thigh to knee-deep water crossings along the way, and they are water-resistant enough to be dry when I got out of the water each time.
Besides the water it was a warm day and they breathed well, I didnt feel like ripping them off at all. Lots of yuccas overgrown on that trail and they didnt tear up the pants at all.
I want to get the shorts!
I usually wear a 32-33 waist, 30length and the Mediums fit great, a liiiitle bit long.
I would say get them, but you cant! Stoic needs to make these things.
I'm looking for a good pair of pants for...
I'm looking for a good pair of pants for XC skiing/ snowshow/ spring skiing/ fall, spring hiking. Has to be pretty water resistant, read some pretty darn good reviews, how would these stand up against the Mountain Hardwear Winter Wander? also, I'm guessing the XL for a 38X33?
you could get into the XL as a 38X33. I am a 36X34 and wear the XL they are a bit loose in the waist. I use these while tromping through shin deep snow for an hour and they did not wet out. hope this helps.
These pants are awesome. They feel SUPER good and I actually do like the fit, whereas others sometimes think they fit a little slim. All in all, I would def. buy these pants again and hopefully they will come out with another color so I can get another pair.
Functionality yeah - color eww
Color sucks. Kind of purple brown. Not pretty. Very functional and light weight though. Water repellent at least. I also love the stretch material. They seem to hold up pretty well.
Unanswered Question
Are you ever going to get more sizes of...
Are you ever going to get more sizes of these awesome pants back in stock?
The pants are great! They are comfortable and so far have been really durable which is awesome cause I'm rough on my pants. I would definitely recommend these pants to anyone who hikes or boulders.
I picked up a pair of these pants in a size small (im 5' 10", 140lbs) for christmas and they are awesome. Very lightweight, highly stretchable and all the pockets are a plus as well. The color is a bit odd, but to be honest, as long as they function as they should, the color doesnt matter to me.
I bought these for a cold weather backpacking trip in the smokies. Got them in the mail and everything looked fine, but when I put them on they fit far too tight at the ankle and did not have any sort of zippers to open them up. Being one of my pet peeves when pants dont fit over top of shoes I will be returning them.

Would probably be fine with sandals and they seem very comfortable but boots no sir.
they fit well and are great even for casual travelling. will keep you warm down to 30 degree temps. haven't tried them in colder weather yet.
wish backcountry would make more sizes and colors!
I bought these pants to take on back country hut/yurt trips. Super light weight and a bit more functional for hanging out around the hut/doing chores. They've now become my go to comfort pants at home.

Some additional color options would be nice, black especially.

This is yet another backcountry.com product that has impressed me, in fact its becoming my number one choice of brand when looking at new gear/clothing.
Pretty good. I think I am in between a medium and a large.
I like these pants but less than I expected. They are more windproof than I thought but a windstopper layer would make it awesome. They are really stetchy and I guess you would lose that. I got the large and am 5'9 175. They are a little big in the waist and length but the medium looks to be too small in the waist.
They did pass the accidental firewood snag test. They feel great but the fit is just not there for me.
Cruising through Atacama desert in Chile, I'm rockin' the BC Overhang pants and staying cool and comfy. Like most Backcountry products, the Overhangs have a slim fit, (I'm 5'7", 135 pounds, 30"-31" waist, and wearing a small). The pants resist brush and weeds like armor but are super flexible for an impromptu bouldering session. In the desert you won't fry and on a windy outcropping, you'll still be comfy. I really like the pants but they are a bit quirky: there are seams that hit you across the top of the knee that take some getting used to and my girlfriend pointed out that the back is sewn in a way that make the pants look like they have a huge butt panel (think old school pajamas). Overall the pants are good, not great, and a deal if on sale but there are better options out there.
I bought the wrong size for anything active. I'm 6'2" and 220 pounds and the XL is too big by a LONG shot! I'm usually a 34" or 36" x 34" I do wear them all the time anyway for chillin at home and cruising town for errands. I may try them with some thicker Marmot Dri-Clime pants underneath for snowshoeing. That should eat up the extra space. Aside from my mistake in sizing, this pant is nothing short of an A+, don't hesistate on this one.
From the Backcountry to the Bar
These pants perform very well. They are light, breathable, stretchable, they shed water, and they hold up well to abrasion. I recently replaced my standard nylon hiking pants with these, and couldn't believe the difference. The range of motion while wearing these is nearly the same as not wearing pants at all! Simply put these are now my default pants when heading out to the backcountry. In addition to their function, these pants also have form. They look good enough to wear out. They are a classy chocolate brown color and don't look to techy. The fit is good. I am 6'3" 185lbs, i usually wear 34" waist, and i got a Large. Could have used an inch or so more in length, but it is not really noticeable.
i've had these for a while now and wear them regularly to work due to their comfiness. I'm 6' 180 lbs and normally wear 33" waist jeans. I went with the large and they are a bit loose in the waist but I guess that's what belts were invented for. They are roomy enough that I can easily fit sweat pants on underneath them if its chilly out. My only complaint is that I had imagined them being more water resistant. During a 4 day hike on the oregon coast this summer I encountered torrential rains and my legs were soaked within about 20 minutes. Luckily they dry rather quickly after being soaked.