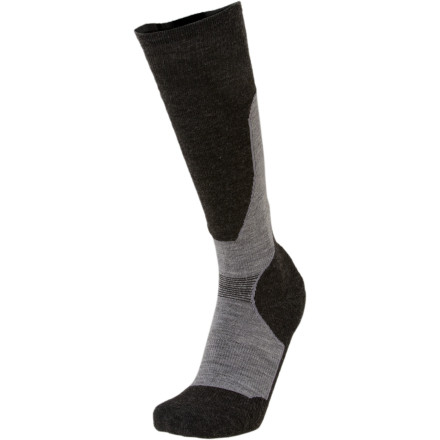 Detail Images
Absolute favorite ski sock. Warm, comfortable, durable.
Outstanding socks! Used repeatedly in the backcountry and resorts. No complaints!
Merino means there is no smell after a long day of skiing and also your feet stay warm and overall dry. Seemed pretty high quality to me after multiple uses skiing, didn't get cold and the socks didn't end up smelling at all.
Great sock, but with one small problem
2 pair for under $20 is a pretty good deal in the first place. The socks are warm, fit nice, and are quite comfortable. One sock, however, developed a hole near the ankle, on the front (see those grooves in the picture...right there).

BC.com has a great return policy and these socks have a lifetime warranty, but, unfortunately, this model is out-of-stock. In other words, I can't exchange it for a non-holed sock; I can either return both pairs (even the one that has no problems) and get a refund or get the refund and purchase another item with the exchange value.

Neither is a great option, in my opinion, so I'm going to keep both pairs and use the (slightly) busted pair for lounge socks/fall yard work. All in all, though, (if these were still available,) I would recommend these socks to others.
Worn and washed them 5 or 6 times and so far they've held up pretty well. Pretty thin sock so it doesn't bunch up in a boot, but wore them in sigle digit weather yesterday and definitely wished I had something warmer.
solid sock. just wore them for the first time this weekend. kept the toes warm and wasn't bulky at all. definitely a can't miss buy.
I bought the L/XL to fit my 11 (US) shoe size. These socks are WAY too big. When I pull them on tight, the heal is at least 6 inches up my calf.

I also bought my dad the S/M, which are still a little big on me.

Very strange sizing...
Ordered a small b/c im a size 6, unfortunately these stretch out to to a size 10. Wicked cheap so i guess i'll keep them anyways.
When the list of midweight socks comes up...
When the list of midweight socks comes up these are listed for $22.17, once you click on the item, they are $36.95 for all sizes. How much are they really?
It would probably be better to get on Gear Expert chat, as they can tell you for sure, but I am gonna say that the price posted here is the price.
I just checked and these are $36.95 - I really like these socks, they have been comfortable, durable and a perfect weight for skiing in Little Cottonwood Canyon all season.
Long enough to cover my knees, and being 6'2", with long shins, I found that bizarre. Still, a comfortable sock. No holes to plug, yet!
I love these socks. They are thick enough to keep my feet warm on cold days and thin enough to fit in my boots perfectly.
, ☃bcs_badge_alumni_label☃
Perfect thickness
These socks are a great thickness. They keep my feet nice and warm, while not adding too much to stuff into my boot. Super soft and, of course, they never smell.
People buy socks according to their shoe...
People buy socks according to their shoe size. If you don't supply a conversion chart, how can you decide what small, medium, large & extra large socks convert to in shoe sizes?
Normally, a large sock fits from a size 9 - 11.5 or so shoe. Just use this as a benchmark, and go from there. Hope that helped you.
, ☃bcs_badge_alumni_label☃
FYI There is a sizing chart.
, ☃bcs_badge_alumni_label☃
Warm
These socks are warm, functional, and the best part is that they are not so expensive as other brand name socks
Good stuff for good price.
Just came back from skiing, worn both socks, I am size 6,5 or 37 for Europe, bought the S/M size. The socks are too long, it is not comfortable at all to have them above the knee, easy to get blisters at the back of the knee on the other side they stay up so you can easy put them more of them just above were your boot ends. I am 158cm(5,2"?). They stay put all day and that is really nice. I have had some problem with pressure injuries, but these ones were really comfy, with no prints or anything to make the surface uneven. They are not superwarm and were to cold for me skiing, then I am also one of them that freezes alot. They stay pretty dry, don't smell even after several days wear. Overall good sock for good price, but could be shorter and a little warmer.
These socks are awesome! They are really comfortable to wear, provide a little extra padding in my boots, and keep my feet toasty snowboarding. I wear a size 12 shoe and I'm about 6'1", the L/XL can stretch up onto my knee, definitely covers the entire calf.
Backcountry.com Midweight Merino Ski Sock - 2 Pair
Love these socks, only I'm 6'2" and the S/M goes all the way up to my knee, and just a little bit above that. They're very comfortable, but the stitching on the toes is letting go, and I'm getting holes in the toe as well. I've only had these for about 2 and a half months.
Good socks, plan and simple.
Merino equals never-stink-o. I've worn these each several times and been amazed that they don't ever get funky. I wash em anyway, just in case. Yeah, they do come up a little over my knee. But at least they stay there instead of sagging down and bunching up. Oh yeah, my feet are warm when skiing and they're great for wearing with shorts while out ballin' in the streets!
I have Raynauds syndrome, and I am having...
I have Raynauds syndrome, and I am having a terrible time trying to keep my feet warm, especially the front part. What are the very WARMEST socks that you would recommend? No electric socks, please
These socks insulate well, but if you're looking for extreme warmth look at the Lorpen line here on backcountry.com. They have a thick sock under the hiking or backpacking category. They're very, very warm!Hope that helps.