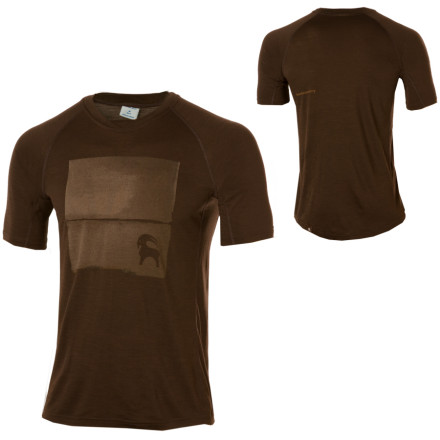 Detail Images

Community Images
This has been the best fitting shirt I've ever had. Please make similar shirts :)
The stoic shirts all tend to be a bit bright or too sporty
I think that after wearing this shirt nonstop for three days, it smelled better than when I took it out of the packaging. Great buy.
I own a number of merino wool shirts from a variety of manufactures and love the feel of this shirt. It is so soft, but doesn't sacrifice on durability, construction, or performance. It comes highly recommended as an anywhere, anytime base layer. The fit is a much preferred slim fit, but not restricting because of the stretchable properties of the wool. 5-11, 165 athletic and the M fits amazingly well - as if it were designed for my body.The flatlock seams are great with my only minor complaint is the peculiar look of the collar - which is a hybrid of a crew and a v-neck, which seems to be the result of looking to reinforce the collar for some reason.
I'm 6'3" and ~180 pounds. The large fits perfectly, not too tight and not too loose. The sleeves are a little longer than normal and the crew neck has a V flourish thing. Not a deal breaker for me and it doesn't look weird in my opinion. Check out the pictures to know what you're buying. I've been wearing this for about a week now and so far it doesn't smell much at all! I've been using it for drumming, working out and general use and it stays dry. I definitely recommend it for the price ($30 at the time of writing).
For the price I thought that I would try these out. WAS NOT DISAPPOINTED!!! Has an athletic fit and does have a little more length to its torso. For those of us who are taller and look for slightly taller shirts this is the ticket! No @$$ crack fallin out here! Light weight, great fit, and for the price and design it's a total steal. I'm not as picky as most with fashion mainly if it functions the way it is supposed to however the fashion component was not lost on this shirt. I hope to see more from BC in the future!
Ok, so I just got my Merino Wall T-Shirt and I was pretty excited to see how it was going to fit me. I'm a pretty picky person when it comes to how my shirts fit and feel. I'm 6'1 and 180 lbs. and it fit slightly snug around my shoulders, arms, and chest, but it started getting loose right below my chest and down to my abdomen. I love exactly how it fits. Perfect! The merino wool feels great without that heavy irritation feel that most wool fabrics feel. I can't wait to see how it will perform in the elements and on runs. Thanks Backcountry for producing such a great product. I just wish there were more T-shirts with the Goat!
Great fit - feels like a great underlayer. It does fit a bit slim in the width, but it is still the right length for the size - 5'11 & 180 and I have the large. wife loves the design and stitching pattern so that helps. great purchase - thanks BC.
BC Merino Holds Up to the Rest
I've now had this item for a couple months and am back to upgrade it from 4 to 5 stars. It washes well, perfect fit - I'm 6'1" & 175 lbs and I have size Large. I like the sleeve length and all the little design touches they've added . . . and as for the neck, no it's not a V-neck and the description doesn't describe it as such, it's a basic crew neck with a small V flourish and I like that too!
Normally, I wouldnt buy wool because I'm on a tight budget, but reading the reviews I couldnt pass this up with the sale price. Its a great shirt, I bought it mainly for use in my sleeping bag and around camp, and havent yet used it as a base layer, yet I expect greatness. The only thing I dont like about it is the faux v-neck, I would have preferred a regular neck, but I'm happy with this purchase. It does run slim, so size up if you dont want it to hug your skin. Some people prefer this for it's wicking advantages, but I feel restricted in it. It's personal opinion. Great shirt at a great price.
What is the g/m weight of this shirt?
What is the g/m weight of this shirt?
Weight of this merino is 140g/m2
This is my first merino T and it was way better than I expected. I got it for $26 on SAC and now I realize they are worth way more than that. Please make more. 6'1" 185 and the L is a good athletic fit.
Another great addition to my t-shirt collection as I try to rid myself of cotton. Good athletic fit and worked great as a base layer when I forgot my long sleeve bc.
When are u guys going to re-stock this...
When are u guys going to re-stock this item. I need a medium.
Probably never...
From what I understand backcountry.com brand stuff (the goat) is being replaced with Stoic. But I'd love to hear from a BC representative on that.
Sadly Rick is correct on this one for the time being. We do not have any on order as of right now. But I wouldn't completely loose hope. Check back we might surprise you.
There's mediums in stock now
Had this bad boy on for about 8 or 9 days before I decided it was time for a wash. Keep in mind it has a Slim fit so it can wick the moisture/sweat away. I'm a slim 6'0 152lbs and Medium fits great.
I am keeping the shirt, it is pretty cool, but like one other reviewer wrote the sleeves are strangely long and the v-neck is undoubtedly feaux. I didn't notice it when i bought it, and it doesn't look to bad on, it was just a surprise. the fit is tight, kind of like icebreaker shirts. I am about 6' 190 and the XL was the right choice as a not-too-tight shirt i don't have to wear as a baselayer.
THX for Another Sick Deal
6'2" and 192 lbs, just got the medium for a sweet base layer, just right like a second skin.
Not scratchy for me, not in the least. This is for under my Icebreaker 320 sweater.
Also, my second Backcountry lightweight merino, both are top quality in feel, fit and stinkless! I think I'm into sheep.
Just got this out of the bag (super fast, I ordered it on monday at 2pm and it's here, wednesday at around 7pm). Out of the bag, this shirt looks awesome. The small fits just right on me (5'11" 145lb). A little tighter than most t-shirts, but just barely. Sleeves are maybe 1-2 cm longer than a normal T-shirt. Doesn't look weird or anything, but noticeable. The "wall" print on the front has an interesting texture somewhere between a nice screen-print and those band shirts you have with really thick design on the front. The weirdest detail about this shirt is it has a faux v-neck (I don't know what else to call it), check the picture above to see what I'm talking about. Finally, it's a tad scratchier than my old Merino Bliss, but less scratchy than my Icebreaker SuperFine 190 Tech T, (which I hate), so I'm going to rank it in between those two.