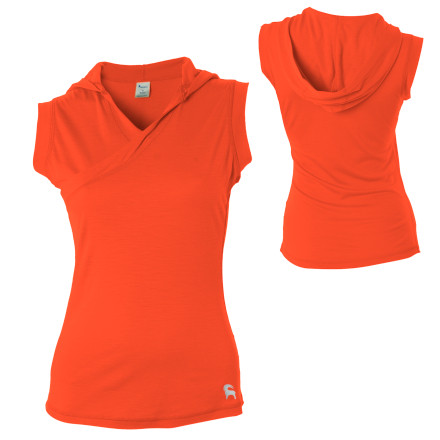 Detail Images

Community Images
i would agree w/ most of the advice-- this is a form fitting shirt and sheer. if you want it looser, order a size up. the tomato red is *really* red. i think if i had a choice, i would've gone for the green. still, a great layering shirt.
absolutely love this shirt, soft and super stretchy, curve hugging it's just perfect, the only thing it's a little too sheer.
i absolutely love this shirt. merino wool has been my favourite material for a while now, but until this shirt i had only had various thicknesses of long sleeved and sweater type shirts. wool makes sense for warmth. this shirt was my first foray into the world of all year 'round wool. i'm completely sold. wear wool in the summer? YES. i love this shirt, it is a very flattering cut and fits me well, something i can't always say for shirts meant to be 'stylish'. this shirt is functional while still looking good even if i'm not doing anything athletic, just wearing it to class or around. i have nothing bad to say about this shirt. i love it.
The color is not lilac in any way of the word. It is pink, pink, pink
accurate fit -- good for layering
I got this shirt for backcountry activities: high output (hot) with very cold breaks. Need lots of layers, esp for the core. Later in the spring, when the skiing is still but but I want a couple layers to keep my beacon off bare skin, this sleeveless hoodie will be perfect.
The merino is super soft (and I've very very sensitive to itchy wools, some merinos even). Nice colour. Good fit.
Bought this as a Christmas gift for my wife. She likes the cut and feel of it. Super-cute she says.
just came today in time for kickboxing. It is great! it fits so cute and the fabric is so light and soft. I love it. I got the tomato because it was the cheapest color (being the college student i am) It is a bit see through but I really don't think it is a big deal to show off your sports bra a little bit. Because I am tall, my concern when I pulled it out of the package was that it would look weirdly short on me, but it fits great! love it!
Backcountry uses nice merino for all of their clothing, and this hooded, sleeveless shirt is not exception. The colors are bright and dyed nicely, and the hooded design is pretty fun. These shirts are pretty tight, and I recommend sizing up over the sizing chart if you don't want something close to skin tight. However, I think the Backcountry.com brand sizing chart is pretty different from other brands. I have a 34" chest and ordered a small, though I would have preferred a medium, like a wear in shirts for most other brands.
The arm holes are large and the neck line was horrible. It was returned.
The green color is great! Got it today.. see myself wearing this over another workout shirt, or just over a sports bra for active yoga/pilates. My measurements are on the larger side of a small (based on Backcountry.com's sizing chart) so I ordered a small - it is definitely fitted like the picture shows. If you are insecure at all about your tummy, I would order a size up because this will show off any imperfections if you have any - it's that fitted. I can't see myself wearing this casually, but definitely will wear it to the gym and for outdoor cardio stuff.
The lilac color is very nice, but the shirt runs small. I ended up exchanging it and got a size larger. It is a little see through in lilac, not sure about other colors. It adds a touch of core body warmth when layered.
Wear forever and never take it off...
This shirt has a great fit, nice color (got green). Nice performance and very sweat resistance. It is a little see-through but works great with sportsbra. Only hunchback: My cat got hooked to Merino wool and ripped it. So, I had to get a new one after only two weeks (of permanently wearing it). I have to (cat-safe) store away all merino wool gear religiously.
It looks very nice on, but is a little baggy under the arms. I took the advice of a fellow respondant and got a size bigger and it fits well. The red is not that see-through, certainly not enough for me to worry about.
As the other reviews stated, it is see-through. One can see whatever you are wearing underneath it, and even the tag along the side. However, that has not been a problem since my wife wears it over a long sleeve shirt as a sort of light-weight hooded vest. Used in that fashion, it keeps her warm when there is a slight chill without having to put on a heavier layer.

The lilac color is a pinkish color with a hint of purple.

I would estimate that the weight of the fabric (based on other Backcountry, Smartwool, and Icebreaker merino products that we have) is between 120 and 140.
Backcountry.com Merino Hooded Shirt
I bought this shirt last week, and I have no regrets. The green color is really pretty, and it looks really good on. For icebreaker clothes, I have always had to size down to an extra small, so I wasn't sure how this would fit. I decided to stick with a small, and it fits perfect. Very comfortable, it is a little loose but not too much. I noticed that it was a little see-through, but it did not seem problematic.
According to the sizing chart a small should fit me but this shirt is so tight I would need a medium if not a large. It is also almost see-through! However, it is so cute and so soft that I'm going to save it as a gift for a (very petite) friend. The red is a really pretty color.