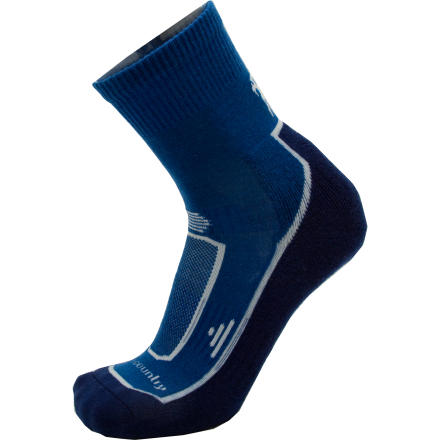 Detail Images
Best Hiking Socks!!
Familiarity:

I've put it through the wringer

Fit:

True to size
These are great merino hiking socks. We bought two packages, which had six pairs. Whenever we go out, we put on these all the time - they are not just for winter. I wish Backcountry.com would make them again.
Hiking and...motorcycling?
Gender:

Male

Familiarity:

I've put it through the wringer
These were awesome for use in 40 degree weather. My only complaint is that they pill really badly, so I hang dry to extend the life. I have heard a few stitches tear if I'm not careful putting them on, so get the sock fitted to the heel before pulling the tops up.
I bought these for my little sister for Christmas last year. Big mistake, I should've kept them for myself. They are toasty, comfy, pretty much perfect in everyway. I end up borrowing them from her everytime that I am at home, and one of these times she's not getting them back. My only comment is that they are one the verge of being heavy-weight compared to my other mid-weight socks.
At first I loved these socks and now after three months I am starting to have second thoughts. I am not sure if I just got a lemon or what but on my socks the white line fabric that runs along the foot has started to fail. There are holes popping up everywhere. While I did get a good deal on the socks I am starting to think I should have put the money towards Bridgedale, Smartwool, or Darn Tough.
Best socks I've ever owned!!
I LOVE these socks!!! I've worn them 'in-town' but more importantly, I've worn the same pair (with and without liner socks) on 3-4 day backpacking trips. They're comfy, light, warm / cool (read: just right!), and best of all, there's no stink! I've washed the 3 pairs I have multiple times and they're still in beautiful shape. I only wish that Backcountry still sold the 'Ocean' color.
Awesome sock! Very comfortable and warm, they have so far held up quite well. They have pilled a little but that is to be expected. Definitely worth the money, and they come in threes!
Awesome socks! Very comfortable. I like the design too.
I was wearing these bad boys for hours in a blizzard and didn't even notice that i had snow in my boots the entire time. Kept my feet nice and toasty.
Got these on sale in a three pack. Great for everyday wear, and they're ok for skiing. they're nice and thick, and great support.
To be honest I was not sure what to expect with these socks. Once I had a chance to try them I was surprised at how good they performed.

Seem to wick moisture well and have never had a blister while wearing them.
Great Socks @ A Great Price!
Funky Smell, Be Gone! ~ Worn with my Keen Targhee II Mids, these socks work perfect. Not too thick, not too thin. They provide comfort and have never left my feet smelling gross. I've only been doing day long hikes with them though, so my experience ends there! Both in cold and warm conditions (Northern California Weather) I will definitely be purchasing some more in the future and would recommend them to any and everyone. Plus, look how cute!! -- Wish there were more colors available!
Backcountry Merino Hiking Socks
I have many pairs of these socks and they have performed really well for me. I use them with a pair of Lowa Banff hiking boots and the socks are just long enough to be about 2 inches above the boot cuff. These socks keep my feet warm whether they are wet or dry, and they don't smell too bad after a few days on the trail. I bring two pairs and alternate each day wearing one pair and rinsing the other pair in a stream or lake.

They would get 5 stars, except I've found that they can fatigue and tear in the seam area on the heel that is just below the goat logo. The seem holds the two different thickness panels together and it can separate when you pull the sock on your foot.
nice midweight sock. They are nice and warm and wick well. The purple is a great color for us girls.
I hate to admit that I'm excited about socks, but yup, these wooly foot covers are the schitt! And for the half off that I purchased them, even better!
I got a pair of these in a gift bag as part of participating in a race and love them! They are the summer/spring/fall low top version and are perfect for daily wear and/or running, biking, hiking, etc.. I've been partial to Bridgedale or Smartwool, but these are on par quality-wise and cost less. The Merino wool is durable and retains it's loft after many washings, which means that they are still warm, cushy and comfy after hundreds of washings. I wish I had the "Lupine" color instead of the blue, but aside from that, I am very happy with these socks.
Seriously, They're Just Socks...
but they're pretty great. They're merino wool(ish), still the right size after washing, and they've got a goat on them. They were great for a 10 mile hike this weekend. Probably a little too short for a ski boot, though.I'm a 10/10.5 street shoe and I have the L/XL. I think they'd be small for the upper end of the size chart.
These socks are great. They are form fitting with extra padding and extra flex in places where it makes sense. They are well built and the Merino wool feels great. I wear these socks hiking and walking around town when it is cold. They are also great as travel socks if you are going to where the weather is bit cooler and you will be doing a lot of walking. I got a great deal on these from Steep and Cheap, but they are worth the full price on backcountry.com
I put these socks on as soon as i got em and the length and feel is great. Excellent price for quality socks, i only wish that there were different color options.
These appear very well made and are very comfortable with the use of different material thicknesses. As other have mentioned, the price can't be beat. I'll be buying more of these for sure.

One note: I've been used to thinking of cycling socks as "lightweight" all summer so I found these to be thicker than I would have expected for "midweight", but that's not a negative.
Wool socks for everday wear
These are great socks for use with light hikers and work style boots. I wear them practically everyday with my 3/4 mid Magnum work boots. From temps ranging from the 50 to 85f with great temp moderation and sweat regulation. These are great socks and when people catch a glimpse of the goat it always starts a conversation, and I get to praise Backcountry.com.