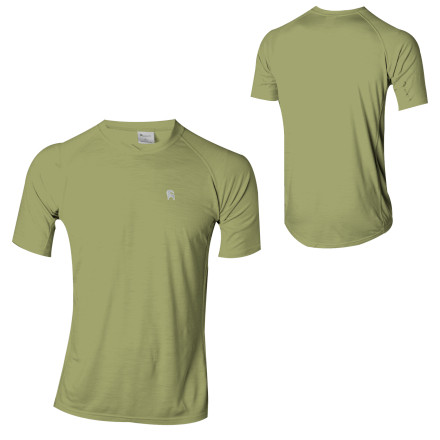 Detail Images

Community Images
Great shirt for the money!
This is one of those shirts that you just love to grab! Merino wool is comfortable in warmer weather. The only problem I've had is after the first wash, the fabric on the body of the shirt twisted, so the seam that runs down the left side of the shirt is now running from my armpit, twisting around and crossing my belly button. It just looks weird, but still is very comfortable!
very comfortable, no stink T
My friend made fun of me for me for wearing a wool tshirt on a run while we were on a summer road trip in upstate NY. It was a hot day and we really sweated out. He was wearing some plastic Nike thing and after we were done I could smell his shirt from a few feet away. I hung my shirt out to dry and then wore it in the car later that day. After 150 miles I told him I was wearing the shirt I'd wore running earlier that day. NO SMELL AT ALL. He decided that a wool tshirt was pretty amazing thing after all.
Nice and light but too thin
I bought two merino crew shirts and SAC and thought I had found my dream merino shirt. However, there were two big problems. The fit is weird and the shirts seemed to shift to the side like they were cut that way. I couldn't get one of the two to face forward at all. Second, the fabric is extremely thin. After a handful of washes holes developed in the fabric. Both were swiftly returned!
the cut is inconsistent. I have an ocean and a brick in medium and they fit differently around the arms. When you put in on, it takes about an hour to get used to it and then you get used to it.
Pretty good but doesnt last
Good shirt, does what it says... but not durable. Mine was completely destroyed after wearing on one long backpacking trip. It ripped around the neck in about 15 days while wearing with a fleece (carrying a 50 lb pack). Would recommend for light use.
Oddly tight around the shoulder/arm-hole region. Felt weird, so I returned it. If you have skinny arms, (don't be ashamed,) then it'll probably work great for you.
Me: 71"/250lbs, 18" neck, well padded athletic body. Usually wear XL tops. Ordered the XL, too tight, exchanged for the XXL, still a bit too tight. Returned. Fabric was indeed brick red. Perfectly described as "silk-weight", very smooth and stretchy, identical hand to silkweight poly. Smoother knit and lighter weight than Icebreaker SuperFineUltraLite. Probably would have been a perfect all-season base layer and workout shirt. No itch and I have sensative skin. Liked the mock V-neck, did not like the logo. Some small inconsistancies in the sewing. With the sale price it seemed a very good value. Try it, if you're slimmer than I you may love it.
Backcounty needs to make more of these!
Backcountry.com needs to restock these shirts, it is my new favorite t-shirt. The cut is perfect, snug without looking like spandex and has a nice drop in the back. Yeah, the armpits are a little higher than normal, but they are not uncomfortable at all. 6'3", 200lbs and the XL is great. The XXL would probably fit as well.
I have three of these shirts. They are very versatile and comfortable. They are great for hiking in hot weather or as a baselayer skiing. I agree with other reviewers that the armpits do seem somewhat tight, but I think they do that on purpose to make sure the material is in contact with the sweaty skin on you're armpits, thereby allowing wicking action.
Any idea when these will be in stock...
Any idea when these will be in stock again?
These will not be in stock again, however the Stoic Merino Crew is available. It is pretty much the exact same thing.

http://www.backcountry.com/outdoorgear/Stoic-Merino-Crew-Shirt-Long-Sleeve-Mens/SIC0009M.html
This shirt changed my life!
Not really. But that's the sort of reaction I figure most people would have to this shirt. It is, without a doubt, one of a kind. It's light, but it's not a running type shirt, made out of polyester or something. This is the genuine article. Only thing, tall guys, buy large. I'm 6'4" and a large is a bit short on me. Now buying another one in XL in another color. Sheer awesomeness.
LIKE WEARING AIR CONDTIONING...WITHOUT THE WEIGHT
MY COUSIN TURNED ME ONTO THESE SHIRTS. I THOUGHT THEY WERE A BIT EXPENSIVE , SO WHEN A SALE HIT I SCOOPED 2 UP. WISH THEY HAD MORE IN MY SIZE. ULTRA-LIGHTWEIGHT, SUPER COOL IN HOT HUMID CLIMATES. MY NIPPLES ACTUALLY GET HARD IF A SMALL WIND BLOWS
Good fit, but size-up. Icebreaker is the big kid on the block of merino wool performance shirts. This shirt did retain some odor. I'll stick with Icebreaker.
6'2" 215 I wear a 16.5 neck, 35 arm...
6'2" 215 I wear a 16.5 neck, 35 arm shirt. 44 long jacket / 46 regular. Can I do an XL and have it be fitted?
6', 190, 16/35/42-44 athletic - large in the bc ss merino, and its fitted....these t's...at least on me were fitted and a bit long as they have a drop tail...very soft/thin/light weight...happy w purchase...i think at 6'2" and 215, an xl will still be fitted on you and more comfortable than a l. you can also "manage" the size by throwing it in the dryer at med heat for 10 min at a time until you get to the size you want. It might minimally affect some of its properties but not by much...just dont forget about it or else you'll be regifting it to someone much smaller (it will shrink if not watched)
The Best Merino Wool Shirt
I bought this shirt and I love it! I now wear it more than any of my other shirts. Unlike other merino shirts this one doesn't itch, at all (it's a higher quality merino than what others use). The performance is awesome, it keeps me dry, keeps me from being smelly. When I first got it I wore it running everyday for over a week before I washed it. Each day when I'd put it on the smells from the previous day were gone.

Some say the sizing is off, I don't really think so. I'm 6'0" and 175 lbs. I wear a large in other brands and a large Backcountry.com Merino Crew fits me nicely. The sizing is a little slimmer than other brands so if you are in between sizes I'd go with the larger size.

Since it is merino it take a little longer to dry than synthetic shirts, but the fact that it feels better when on and doesn't hold odors more than makes up for that.

So far after about 3 months of use and close to a dozen washes, there are no signs of wear. I will be replacing all my synthetic shirts with these merino shirts. They really are the best merino shirts you can get.
Stoked that I got 2 of these
These shirts are the bomb: Lightweight, contain the odor, stretchy, athletic fit, and nice goat logo again, hehe.
I got a pair of these about a month ago and use them any time I go climbing indoor or outdoor. They are so light I feel like I am climbing shirtless.
Sizingwise, I am 6'3" and weight 170lbs so athletic built. So I got the medium size and it's perfect. I am so happy I didn't get the large like some people mentioned in the reviews, it would have been way too loose/big for me. I agree it is a bit tight at the armpits, but I don't feel it anymore so I don't know if it is because they stretch a bit or because I just got used to it. But it doesn't bother me at all.
Best exercise / laying about shirt ever. I wear it working out, playing soccer, or just down to the local coffee shop to grab some breakfast on the weekend. The ladies seem to love the way the shirt fits, as it is supposed to be a base layer and fit fairly close to your body.

It is super light and not itchy like regular wool. Merino is not your grand dad's sweater. And because it is wool you don't have to worry about it getting the funk that synthetics develop.
This shirt is not as itchy as other merino shirts I own. I dig the collar and the flat seams, great base layer or WARM weather shirt.