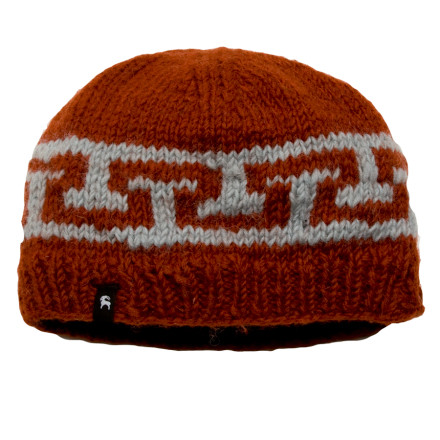 Detail Images

Community Images
Wonderful, but a bit small...
Warm, comfortable, fits in your pocket, good price, doesn't look half bad, plus made in Nepal...super rad.

Only reason I'm giving it four stars is because I have a big melon and it took a bit of stretching out before it totally covered my ears.
freaking love this beanie
I wear this thing ALL the time. Super warm, super comfy, and just the right fit. the wool is great, not too itchy and really warm. the fleece ear band adds to the comfort and keeps the sweat out of your eyes if you really get moving. The beanie is suprisingly durable too. on a route i was recently on there was a chimney section that came to a small roof you had to pull to get to the belay. needless to say the beanie handled a fair amount of sandstone scraping without showing any wear. i love this thing so much i bought my brother one for christmas! he's not a climber, but this thing is super stylish for casual wear too.
struck by lukla love (via the Goat cupid)
Recently picked up this top and the Nepal as gifts for family members and tried both on right out of the packaging. Nearly immediately decided I will be buying myself one of these Luklas asap. Warm, comfy, and great looking. although I'm not crazy about the current available color choice (abyss/tahoe), they arent bad. In the picture the abyss looks black, but its closer to a navy for sure, so keep that in mind. Also, as others said, the wool does make some contact on the bottom rim (forehead and ears) but the fleece liner does well at keeping it comfy.
The best beanie out there!
My search for the perfect beanie is over! Looks great and feels even better. I love the fleece liner around the bottom, it keeps my ears perfectly toasty, and everyone keeps asking me where I got it from. I can't wait to get the rest of the Lukla colors
The Nepalese really nailed this one
Comfortable, warm and it fits my big noggin! Wish they still had the red..
Did BC discontinue the Red/Gray version...
Did BC discontinue the Red/Gray version of this hat? I'm looking for a new beanie to match my Stoic 2.0 shell in Carbon w/Red Zippers.
Yes, I was able to speak with a reliable source at BC.com about that very question and they informed me that, unfortunately, they no longer make or will make that red/gray version. Tis a shame because I wanted this hat in that color, too. Oh well...
Well made, perfect blend of utility and bohemian virtue. Good value for price. Liner band keeps the wool itch away.
Love this hat....just got one and took on a camping trip over the weekend! Really high quality and an excellent fit. Isn't too tight like a lot of other beanies I have had and the fleece around the ears is wonderful, not itchy, great fit.
Really nicely made beanie. Has a great wool and a comfortable fleece on the inside. Sizing is great and it fits nice and snug on my head. I got the coffee/smoke color and the coffee is a little more of a reddish color than I was expecting but overall a very nice hat.
First of all the hat is made in Nepal not sure why but I love that, maybe it kinda feels right along with my Mongolian scarf.
It has a great fit and an internal kind of modern fabric that makes it extra comfortable and un-itchy. Maybe a bit warm for everyday use on a tropical country like the one I live in, but still great for those chilly nights.
Really nice hat. Super warm, and has the fleece liner so you don't get that itchy forehead.
This beanie is pretty warm-though not windproof or the warmest. Great for around town, but you might need something warmer for colder weather, like below 40. It also fits my big head and then some. Pretty dang comfortable too.
I dig the looks of this beanie (or Touque for you Canadians out there) and it's super warm. It does get a tad itchy along the edges, but the fleece liner keeps things cozy.

I wear it chillin around town and have really liked it. Nice one from the Goat crew.
I wrote a review a while ago but decided to write another since I picked up the rest of the colors. These are great beanies! They insulate extremely well but the fleece keeps the wooly effect away from your skin. They'll fit about any size head. Really, they're killer hats and I think everyone should pick some up. Well worth the dough!
I have a larger head and this hat still fits nice. The fleece lining at the bottom prevents the wool from being too itchy. I love the blue design, it goes with most of my jackets and is stylish without being ridiculous.
What a nice beanie. I got the Abyss\Tahoe and I have to say the Tahoe is lighter then the pictures. It does however match my favorite GorTex jacket so it's perfect for me. The wool is thick and the fleece is so soft. This is a very warm hat. Almost to warm for activity outside unless its wicked cold. But if you are just dealing with the cold this hat will not disappoint. The logo is slick, I get asked all the time what brand it is. Looks like backcounty has another winner.
I have a big head. Is this hat for me?
I have a big head. Is this hat for me?
Best Answer
I'm a fellow mondo-noggin and just received a bc.com beanie today. It fits great.