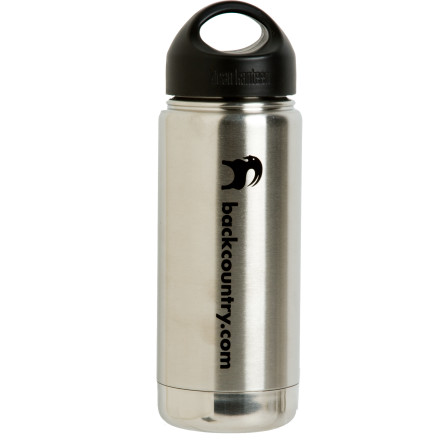 Detail Images

Community Images
Doubters thought it would be impossible to improve upon the pristine design of the Klean Kanteen Insulated Bottle, but we did it. All we had to do was slap on our Backcountry.com goat and voilá—perfection. The Backcountry.com Klean Kanteen Wide Insulated Bottle w/Duo Cap lets you take crystal clear beverages (or unclear ones if you're more of a whiskey drinker) wherever you go.
Insulated design keeps your warm drinks warm for up to six hours (huzzah for hot coffee!)
Cool drinks stay cool for up to 24 hours (huzzah for cold margaritas!)
Extra-wide mouth means it easy to fill and easy to drink out of even if you have gigantic lips
Compatible with most hand-operated filters so you can have clean, giardia-free water just about anywhere
Food-grade stainless steel construction won't leach phalates, BPA, or lead; it even keeps out the forces of evil
Lid even features a stainless steel upper so your drink is never touching plastic
Does the job and looks great...
Gender:

Male

Familiarity:

I've used it several times
Does the job and looks great, but it would nice if it kept things warmer for longer.
I love filling up a drink, adding 1 maybe 2 ice cubes, hours later still ice cold!
I hucked this into the sea near the long beach ports..and it floats!! another plus. Although I can't vouch for its seal durability, I ended up chewing a few pieces of sand but im pretty certain the wild turkey 101 killed any contaminants.
Unanswered Question
which paint print on the bottle ?...
which paint print on the bottle ? the BC's logo ? or the KK's green logo ?
and can I get 2 kind of tops from this bottle ?
whether its cold or hot, why not bring some liquids along for the ride? Hot coffee or tea stays hot, and i mean for hours!!!! laser etched logo so no need to use stickers that fall off...
Get the most bang out of your Brew
I cannot say enough about this bottle. I have tried many thermoses out there, and this is by far the best. I have one, and then I have since bought it for 2 other people. Once you pour your steaming hot coffee into this sucker, be prepared to drink steaming hot coffee for hours to come! Even if you leave the hot beverage cap open on your desk, walk into a staff meeting, and come out 2 hours later, your coffee will be hot and waiting for you.

Pros: Easy to use; easy to clean; the duo caps are awesome and super easy to change between
Cons: Does not fit in a standard car cup holder. That's it. That's the only con I've got.

Love this bottle! Everyone needs one.
This water bottle is great! Its made out of stainless steel, so it is good for your health. It also comes with two tops, one for water, and one for coffee. Also who wouldn't want a goat logo on their water bottle!
Great bottle, 20oz has better weight to volume ratio
I've got the 20oz version (sans BC logo), and it rocks. I spent a long time looking for the best ratio of liquid volume to container weight, and the 20 oz was the best I found (so I give the 16oz one 4 stars because the 20oz is not available). On one windy 15 degree F day, I had it stored in my backpack, and 5 or 6 hours into the day of ice climbing I pulled it out and it was almost too hot to drink. Great bottle!
This bottle is sleek and awesome and BPA free!... as metal tends to be. Mega insulated and just a great bottle overall.
Hot or cold this is the canteen for you! I love that you get a hot beverage lid as well as a water lid.
Almost the best insulated bottle.
This really should have five stars, but I rated four because the drinkable lid is not completely sealed when closed. Love it with the bottle lid because it seals tight and slips in the backpack without a problem. The bottle lid is also nice because you can carry it using two fingers instead of one, or clip a caribiner to it.
I loved the water bottle, looks great with the brushed stainless steal and the backcountry logo, and loved to two caps as well. The only reason i returned it was there were a bit smaller then i wanted, but backcountry was so helpful with my return made it super easy! thanks Backcountry
very slow coffee drinker, stays hot for 6hrs with cafe lid. I could only image that it's even better with the sealed travel lid. Perfect cup holder size and unlike some other mugs i can still see the road when i tip it back. Truly impressed, but i did have the unfortune of dropping it on a tile floor which folded in the bottom of my cup so it doesn't sit flat. Still here to purchase another one though
Is logo painted on or etched into the...
Is logo painted on or etched into the bottle?
Does the loop cap mount on top of the sippy...
Does the loop cap mount on top of the sippy cap or must you pick which to use?
You must pick which to use.
This bottle has kept my coffee hot for over 4 hours and even if I leave it in my car it is still warm by night time! Ice also last just as long in the bottle! Great Bottle, and the Backcountry.com logo isn't bad either! :)
Keeps drinks hot all day.
Keeps drinks cold without sweating.

The cafe cap leaks, though. If you plan on this bottle spending any time upside down or on its side, use the loop cap.
I like the fact that this bottle won't sweat like my old Klean Kanteene. That's a nice feature. Add to that the fact that ice stays cold for a pretty good while, and the bc.com logo (of which im not just an emplyee, but a fan) and you've got yourself a winning deal!
Use this insulated, portable, clip-friendly can for everthing from coffee to water. Keeps the hot hot and the cold cold. Only wish I didnt dent it so often. May need to purchase another. Keep up the great work backcountry.
This Insulated Bottle by Klean Kanteen lives up to the high expectation I have for the company. Along with keeping my coffee warm during cool fall hikes I use this bottle everyday for work. I agree that it does keep my coffee warm for 6 hours and honestly even longer sometimes. Best thing about this bottle though... It does not leak!