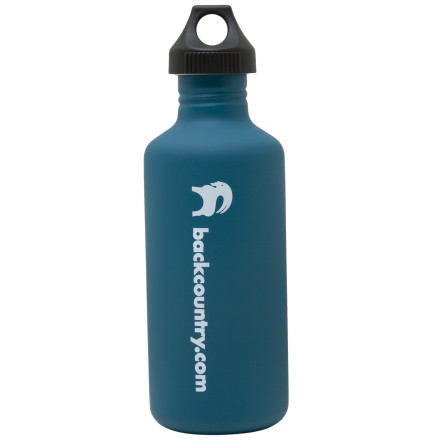 Detail Images

Community Images
The Backcountry.com Klean Kanteen 40oz Powder Coated Bottle gives you a heaping helping of hydration for a day at work, school or the mountains. Fill up this unlined, BPA-free bottle with water, juice, a smoothie, or your favorite soup. Hell, you can even dump a beer in there for an after-hike reward. We took the best-selling Klean Kanteen, coated it with a cool blue-powder finish, and slapped our famous goat on there. You'll stay hydrated knowing this handy bottle won't hold flavors or leach any nasty chemicals into your precious water.
I have 4 of these, and they are all spectacular. I have had no problems taking them for business, camping, or traveling.
Crappy Cap, but Steel is Real Man!
Though I am totally over the plastic bottles and love Klean Kanteens, as the other reviews state, the cap on this one is a joke. It leaked immediately and then broke in half as I fiddled with it to try to make the seal fit better. Fortunately, I had already intended on buying the sport cap for it. The sport cap, however, should also come with a warning because it makes the most ridiculous and obnoxious noises that make people turn and look at you strangely while you are just trying to wet your whistle. I new this from a friend before I bought mine, and have decided to deal with the noise rather than razor sharp metal from half of a lid that doesn't seal correctly.
I am very disappointed. As soon as I got my bottle, I went to the sink to fill it up and check the seal to make sure it was functioning. Guess what? The bottle leaks! on top of that, the cap broke after about 4 twists. Now, the cap just spins, and water leaks all over the place. This is by far the worst 30 dollar water bottle in existence. After further investigation, I found out that this is very common with this bottle. Now I have to ask the question, Backcountry.com, why on earth are you putting your logo on such a crappy product? Please carry the widemouth kleen kanteens, those don't leak or break.
I love this bottle. The powedercoat seems to hold up better than the finish on other bottle I have. Just wish they still had the smaller size (27 oz I think). I haven't had any trouble with the metal cap. I noticed that they were unavailable from KK for a while and just recently are available again, so they may have gone through a redesign; anyone know for sure?
enough with 32 ounces, 40 is where its at. great wide mouth for adding ice and drinking is still a breeze. bomber construction and still fits in my cup holder. liberate yourself to 40oz.
Great for everything but...
Great working and looking 40oz bottle. Don't mind traveling with the weight, steel isn't the lightest thing, but I like drinking from it much more than plastic.

But...
It leaked once, might have been user error. Very likely.
I don't recommend this for really cold backcountry days as the bottle gets too cold to handle with bare hands.
Not sure how, but kleen kanteen ' seems to withstand drops without denting better than other stainless bottles. Did leak on occasion. the powdercoat has lasted longer than I expected it would. overall, better than plastic bottles for keeping water cooler on hot backcountry days
I love this bottle! It's extra burly, tastes great and I've gotten loads of compliments on it from fellow gear lovers. It's hard to beat any piece of gear that has the goat on it!
I love this bottle. It's the perfect size to take to work. It doesn't leak and it doesn't taint the taste of my water. I can't stand the taste of water from a plastic bottle, so I drink more than I used to now with this bottle. The squeaky cap doesn't even bother me :-) Besides, it has that cool goat on it, so I can forgive the squeak!
This works great, much better than aluminum bottle and at a little more weight. Holds enough water for an extended excursion, 3-4 hours. It has dropped from 3 feet and survived with no dents. Seals up nice with the top and does not leak. It is too heavy to hang from a biner on your shorts, but works fine on a backpack strap.
the 40oz vol is nice but it's just slightly too big for large universal cup-holders and the mouth should either be bigger or smaller - hard to drink from w/out spilling
This is a great bottle to tour with or heck even chill by the hot tube. I use to always have a frozen hydration line and had to hound P Haney for water or eat snow (which freezes your gum BTW). It's perfect for day trips and won't leak all over the inside of your backpack.

Great powder coat finish with nice contrasting Backcountry.com logo.
I like to freeze my water in the water...
I like to freeze my water in the water bottles to keep the water cold throughout the day. Will freezing it damage this water bottle?
Best Answer
No, it shouldn't harm the bottle, since it is just a steel one. Make sure you don't fill it all the way, since it will expand, and that could possible damage, a.k.a. push out the shape the bottle.
From http://www.kleankanteen.com/faqs/faqs.php

Can I put my Klean Kanteen® in the freezer?
No. The force of liquids expanding as they freeze can cause your Klean Kanteen® to become deformed and can also break the weld that holds the bottle together, so we strongly advise against it. Freezing any Klean Kanteen® (Classic, Wide or Insulated) will void the one-year warranty against manufacturer defects.
The cap sucks, you can't open the bottle after it separates
Used for a short time and then found out I couldn't open the bottle anymore because the plastic cap had separated from the metal cap piece and it just turned in place. Upon further investigation, 3(+) people have mentioned this in the reviews. Here is video I took of it. http://www.youtube.com/watch?v=x3VrxWDJKSw

The product gets a single star (a water bottle that's impossible to open???) but another star is rewarded for excellent customer service. Rich F was very easy to work with and immediately sent out another bottle for me... hopefully this next one is better.
So we call know plastic sucks. We all know it tastes bad and will probably kill you with toxins.

Best solution, KLEAN KANTEEN! Plus this one has everyone's favorite logo on it! Large and tastes great, who's to complain?
much better than naglenes.
I love this bottle. It fits so much liquid in it, and maintains the temperature very well - keeping it very cold or hot for long periods of time. It's so much easier to drink out of than a naglene and the lid handle makes it nice to carry around with. It doesn't dent or stratch at all when dropped on hard surfaces. You need to be sure to screw the lid on securely so liquids don't leak. Definitely worth the price!
yeah yeah i know... $34 for a water bottle, what was i thinking!

Well i dont regret it one bit, this thing is awesome. It isnt the lightest, but it is durable, and most importantly DOES NOT RETAIN THE TASTE OF THE LAST THING YOU HAD IN IT.

Coffee, rinse, water, rinse, OJ, rinse, milk, rinse....

You will NEVER taste the last thing that was in it.

And the blue color is really cool :)
I've been a long time customer of backcountry and was looking forward to spreading the word of the website by using this bottle. The reviews for this bottle really sold me. However, within two days of receiving it the black top came off and now theres this metal plug stuck in the neck or top part of the bottle, which is impossible to get out. Now I've got a bottle filled with water and no way of getting the top off... The water stuck in the bottle is going to add to the shipping charge I'm going to incur when I send it back... This bottle is not worth the money at all. Something as simple as a bottle for the price should have been designed much better. Extremely disappointed Backcountry has let me down....
This bottle is perfect for daytrip with 40oz of water, it'll quench your thirst! I usually use it whenever I go climbing for a day and I do not need to get anymore fluid in.
It also looks great, the goat sign is always a plus. Got lots of compliment on it, the bomb!
After purchasing this item found several products much cheaper of equal quality at brick and mortar stores. Shouldnt this product be cheaper if its sold online and has online store branding? Further, found that the coating dings easily just bumping into the water machine at the rock gym.. can only imagine when I take it on longer hikes. Since its kind of heavy, its decent for the gym however the camelbak is still the way to go on the trails.