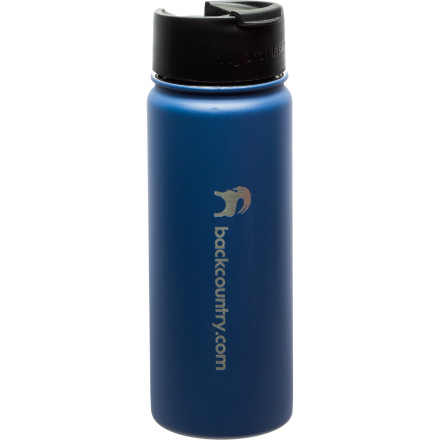 Backcountry Backcountry.com Hydro Flask 18oz Wide Mouth Bottle w/ Coffee Lid
View Larger Image
Community Images
Say farewell to the ceramic mug you painted way back in the fourth grade; the Backcountry.com 18oz Hydro Flask Wide Mouth Bottle w/ Coffee Lid has arrived to keep your hot beverages steaming and your cold drinks chilled from this day forward. The food-grade stainless steel won't retain any funky odors that can taint beverages, and the Hydro Flip lid ensures easy spill-free sipping.

18/8 food-grade stainless steel is inherently BPA-free and exceptionally durable
Double-wall vacuum insulated design keeps hot beverages hot and cold beverages cold
Wide 2.2-inch mouth allows for easy drinking and cleaning
Included Hydro Flip lid allows for easy one-handed opening and hot-coffee sipping, and it prevents spills when you set it down in the car
This product is awesome to keep your coffee nice and warm while you get your day started. Whether it be a dawn patrol hike up in the Wasatch Mountains or a long hike in Zion National Park. You will be confident that your beverage will be warm and ready to drink during or at the summit.



I now have 3 of these and take them everywhere I go.
Top notch even without stickers!
Familiarity:

I've used it several times
If your getting up at the butt crack of dawn and like to sip your coffee slow then this thing is for you. The flip lid is perfect to drink some here or there and you don't have to worry about going to get a drink an hour or two later and it being cold. With saying that if you are the type to get coffee in the afternoon and just want to drink it down within an hour then move on to the next one. This thing can keep your coffee hot for a really long time and with that you either risk burning the crap out of your tongue or being awake til 5am (trust me this came in handy for writing papers during finals week). I am right in between and make this thing work so if you want a vacuum bottle that keeps your stuff hot and can quickly grab a swig then this is for you! Only thing I hate is that stickers won't lay flush on this thing because of the finish that is on the bottle. oh well guess this thing will just be a little blander than my Nalgene!
Do you like hot coffee?
Familiarity:

I've used it several times
This thermos will keep your coffee warm for hours! The lid is nice when you are driving so coffee does not spill on the seats.
Keeps the coffee hot
Familiarity:

I've used it several times
for many hours it keeps the coffee hot
Best coffee mug ever.
Familiarity:

I've used it several times
keeps the coffee hot for hours and the lid makes for the perfect sip!!! Found my perfect cup:)
One great coffee canister
Familiarity:

I've used it several times
Doesn't leak keeps my coffee hot for hours!
Yes!
Familiarity:

I've used it several times
I honestly can't say enough good about this bottle. It keeps my coffee hot in the morning for at least 5 hours and is able to keep cold drinks chilled for even longer. I have even had ice last overnight in this bottle! Nothing else compares.
Bomb Proof
Familiarity:

I've put it through the wringer
I use this literally every day. It keeps my coffee hot for hours and also when the trek across town is 0 degrees. I've dropped it multiple times onto asphalt, resulting in a loud clanging sound, but not a dent. The best part about this bottle is that it doesn't leak! It's seriously incredible, I throw it into my pack and my notebooks/computer are left dry and unscathed. I would recommend this to any coffee/tea drinker who needs to drag their addiction with them anywhere and everywhere.



Only complaint I have is that it doesn't fit into my car's cup holder, since I have an older car, made back when to-go cups weren't the size of a bathtub. However, as I said, it doesn't leak, so instead it gets crammed in other handy spots.
Hydroflask products are legit!
Familiarity:

I've put it through the wringer
Hydroflask just makes an all around awesome product. There's nothing better than getting back to your car after a ski day and having a warm beverage waiting for you.
I love this product, you will too.
Familiarity:

I've put it through the wringer
If you love your coffee/tea/select warm beverage hot and ready to ingest you should snag this item ASAP. First time I used it I went for a hike in the Wasatch and did not take a sip until I went up and then down again about 3 hours and my coffee was still piping hot. Great insulation hot or cold and a nice texture for grip. Also repping the backcountry blue and name is always a plus! I love this Hydro Flask so much I have not one but two!!
Amazing thermos
Familiarity:

I've put it through the wringer
I absolutely love this product. Great texture for the grip, extremely durable and keeps everything super hot and cold! Couldn't ask for a better bottle. It's weird, but the best part about this is the rate liquid comes out. I dont get hot coffee on my face, and it always works perfectly. Highly suggest this.
hot...Hot...HOT!!!
Familiarity:

I've used it several times
So as you can tell by my title this thermos is awesome! Hands down the best for keeping drinks hot or cold in any temp. Throw some hot coco, and irish cream and you have your after shred drink ready to go when the day is done. You can even stick it in the snow leave it and it will still be hot! Also the backcountry.com graphic is sick! I have bought them as gifts for my family and they love it. My mom takes it golfing and she loves it!
Hot for HOURS.
Familiarity:

I've used it several times
I love this thing. I does actually keep drinks hot for HOURS AND HOURS. I usually have to let it sit with the lid off for A WHILE before I can even drink the stuff. The mouth is perfect for sipping on the go too. I can drink while walking easy-peasy!
These water bottles are Amazing. The blue one I use for coffee and hot beverages and it stays warm for hours. The green one I use for all my cold beverages and they will still have ice cubes in it long after I finish the drink. I will never buy another water bottle again.
grippy goodness
Familiarity:

I've put it through the wringer
A nice mug/ bottle for all liquids. Stays put in hand, cupholder, bike cage. Haven't dropped it on pavement yet but the construction seems quite solid, and hasn't adopted any flavors yet. Much better than my kleen canteen insulated in terms of convenience and size for the caffeine addicted.
Keeps it hot!
Familiarity:

I've put it through the wringer
Hydro Flasks are really the best. Hot drinks are still hot seriously 5 hours later, and it's DURABLE. This specific flip lid is really easy and stays shut well- but if you need something that you can REALLY throw around- go with a Hydro Flask with a screw on lid. I love this mug.
winter bike commute must
Familiarity:

I've put it through the wringer
This is a must have on your winter bike commute, if you're into that kind of thing. Fits in most bottle cages and provides you with warm caffeine, which is more important than water when it's 15 degrees and you can't feel your feet because you forgot to wear thick enough socks.
My LAST travel mug
Familiarity:

I've put it through the wringer
No need to buy another travel mug EVER. This is my go to mug of choice. It fits every where I need it (car cup holder and back pocket while running through the MEZ). The one and only con that I can think of is that this runs out of coffee way too fast, but that's where my 40oz Hydro Flask comes in handy. If you are shopping for the best, buy from the best.
Go to coffee mug!
Familiarity:

I've put it through the wringer
This Hydro Flask is a favorite for sure. I've been traveling with and using mine for the past year now and it's in perfect condition, no dings or nothing. Keeps the coffee super warm for a while which is good because I'm a slow drinker. Nice design, very functional, easy to clean, and it has a lifetime warranty...that's why it's my go to coffee mug.
AWESOME
Familiarity:

I've used it several times
It keeps your hot beverages ... HOT. I haven't used it for colder bevies yet... It cleans nicely and doesn't retain odors. . . or effect the flavor of the liquid inside. I'd recommend it without a hesitation. It's super nice if you want something a little more easy access than a full-on thermos but you still want your beverage to retain heat for a long while.