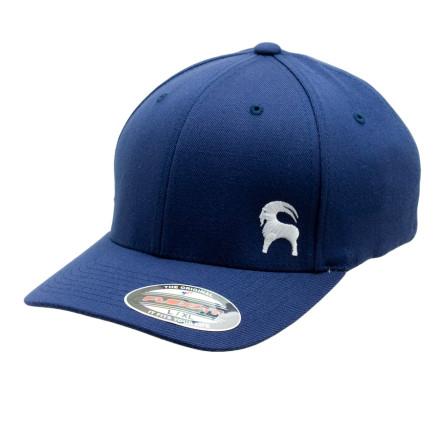 Detail Images

Community Images
Any chance of a new version or a place to...
Any chance of a new version or a place to get another one?
Im sorry Tyler but we aren't gettin anymore of these in.
aww man...been waiting for these to come back.
I am looking for a new one also. I have worn through two of them now, and I am sad to see that you can't get these anymore. The Goat Wool Flexfit was my favorite hat for years. K in AA.
Great for running and hiking
I got this hat for running and hiking, which incidentally are the only things that I wear hats for. I like that is has a wool blend.

The medium fits me great (7 1/4 head size) and it fits my wife too. Thats why flex fit rocks.

It has not yet developed a sweat ring (which is what I hate about cotton hats) but it is still pretty chilly out so time will tell.

I recommend it; its a great way to represent the backcountry website/lifestyle that it stands for.
recommended..with the following
Seems like LOTs of folks here would love a predominantly wool hat in some darker colors for winter wear. It would be the BOMB.
I was looking for a wool cap, and this one suffices. I like that it comes in sizes (I need a small or women's size). What I don't like so much: no adjustment for size, no "hole" for my pony tail, not all wool (in fact, mostly not wool). Overall, a good buy especially on sale.
Undoubtedly the most stylish lid in my collection. I ordered a L/XL, but I am an in-betweener when it comes to Flexfit. Sure it might be a bit large, but guaranteed to make you a stylish dad when picking up your kids at school. One dad asked if I was in a gang, which made me realize that I was cooler than him.
My head is in between a 7 3/8 and 7 1/2 so I got the L/XL. fit's snug on my dome (i got a decent amount of hair). Perfect for cruising around town.
Unanswered Question
Will there be more variety in the color...
Will there be more variety in the color options soon?
Great Hat, marginal color
Love the fit and brim on the Goat Wool Flexfit. I use it mainly for running and hiking and it is very comfortable. It wicks more than most of my other hats, but dries out easily. The only bad thing is the color, the light blue came from someone without much concern for those whose manhood is occasionally threatened.
Unanswered Question
This is by far my favourite hat!! Could...
This is by far my favourite hat!! Could someone order some more in!!!!
Unanswered Question
Is this hat style being closed out or will...
Is this hat style being closed out or will there be new colors (brown specifically) restocked soon?
Bought it to go kayaking of the West Coast Canada.....warm, durable and even when soaking wet (never saw the wave coming).....stayed warm. Lived in it for 6 days. Fit perfectly and I was skeptical buying a hat on line.
I love this hat. I have a large head, and most XL hats won't fit, but this hat fits perfectly. Love the color and the backcountry symbol. Simple but stands out.
I have a small head (stop snickering) and the small/medium actually fits. I have a hard time finding a good shaped hat that doesn't look and feel to large, and you nailed it with this one. I love the light blue as well. Great deal and great hat.
great looking hat! (navy blue)
I don't have the biggest dome on the block (not sure my hat size, I've been wearing flex-fit so long now), but the L-XL fits comfortably without resting on my ears.

I snagged the Navy Blue (before it sold out apparently) and it looks really great. I dig the simplicity of the design and the hat is the quality you'd expect from Backcountry.

If you get this hat, you will not be sad about it.
Unanswered Question
Will backcountry sell the brown style cap?...
Will backcountry sell the brown style cap? i only see the carolina blue... the light blue just isn't my style. I really dig the look of the brown one though. My dome uses a size L/XL
I wear 7 3/8 fitted hat, and the L/XL was way too big for me. Great looking hat though!
Unanswered Question
Is the brown color making a comeback...
Is the brown color making a comeback sometime in late '09?
fits my head, enhances my style
I got my hat today and I'm wearing it as I write this review. I love this hat and you will too -- all the people will love you for it.
Its got a Goat, that's enough for me. The blend is actually 83% Acrylic and 15% wool.
Frist, I couldn't be more pleased with the style, appearance and fit of the hat. It's great inthose respects as was the very fast shipping. However, to claim this is a wool hat as the webstie does, is stretching things a bit, IMO. The label in the hat states it is actually made of 85% accrylic, 2% spandex and 15% wool. Not exactly a wool hat by my definition. Still, I bought it primarily for x-country skiing in relatively warm temps and I think it will still work fine for that being made of those materials. And I like everything else about it so I reckon I'll be keeping it. Still?