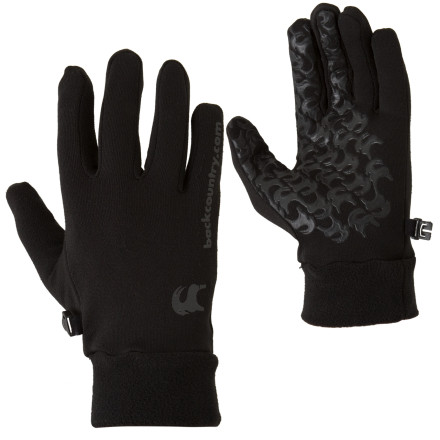 These were a little thick to use as a liner, but the Goats are rad to look at and they are very grippie. Perfect for cold morning drives to the skin and great on the way up too. They are always in my ski pack!
I bought these because the 80 dollar gloves were not keeping my hands dry. Worth every cent and nice to have the gripping on the palms so you do not have to take them off if you need to adjust equipment.
Very comfortable, great fit, nice thin glove.
Very nice product. Can be used as a liner or on their own. Warm, lightweight, and tons of grip. Hands don't get all sweaty when putting them to work. A great set of gloves overall, especially when compared with the more expensive brands.
Love the grip, love the fit. I use these as gloves all by themselves for around-town stuff. great price and good for driving
I couldn't pass these up. These are great quality and are slightly thicker than most liners that I have had. These are great for touring, snowkiting, or just riding my bike to the grocery store.
I bought these gloves to have when shoveling snow, or when the steering wheel in the jeep is cold and they work great!
These little gloves are awesome. They fit real snug and have a sweet goat pattern on the palms. Nice to have on the cold days, and they fit nicely inside my ski gloves for extra warmth. Definitely a great product for the price!
These gloves are warm, and they go great under my regular gloves for extreme warmth when needed. I am not particularly crazy about the "goat" grip on the underside of the gloves, The goats are kind of big and I wonder how they'll wear after i've had them more than a season. -1 Star for style. I'd buy again.
These gloves exceeded my expectations. Not only are they great glove liners, but they can be used in any situation. The added grips make them great for driving, snow blowing, and even belay gloves. Most other liners are simply that liners, these can be used in most any situation.
, ☃bcs_badge_alumni_label☃
thin, functional, all conditions whether in a car or in the woods
I throw these on when I'm snowshoeing, driving, and around town when it's windy outside. They match almost anything being black and also stuff nice into my pockets because they are so thin. They fit inside my other gloves when I've gone on hikes and need a little more protection from the elements. The little goat grips actually help out tremendously, no slip no worries with these.
These glove liners were exactly what I was looking for. I use them for extra warmth under my ski gloves on colder days. I also use them as driving gloves. The rubber material on the palm and fingers is super grippy for driving and are shaped like little goats. Nice touch. Pretty much I always have these gloves wherever I go.
Got these a few days ago, and really didn't have much opportunity to try them out until today. We got dumped on with snow here in the Mid-West and my hands were nice and warm while shoveling snow for a good hour or so. My hands didn't get wet at all from throwing snowballs either.

Good buy, and great price. I recommend.
These are a great product. Not so much a liner, as they are more of a power stretch softshell material, but they are my casual gloves around town on cold winter days and nights. Love the grip goat pattern on the palms, too.