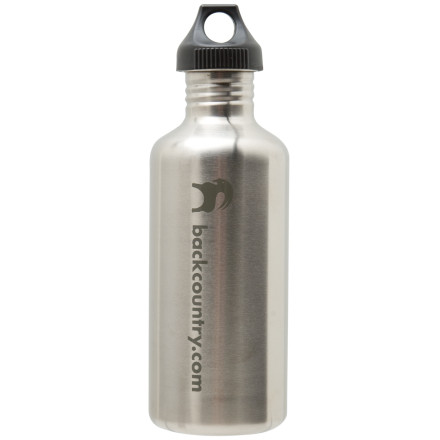 Detail Images
In the 40 oz size this thing is really big. I mean capable of quenching the thirst of grizzly adams if he had 2 beards big, which would be about the equivalent of a smidgen of lumberjacks with beards... not sure how it would be converted if using the metric system. Bottom line is I have used Nalgenes and Siggs and this is just much better in my opinion. If you don't have a beard you may want to get the 27 oz size though... just a thought
Probly the best water bottle. Extremely durable. It does get dings if you drop it on rocks, but I do too. I read someone else's review bashing klean kanteen for using low quality stainless steel because magnets will stick to these bottles and that quality stainless steel intended for contact with food and water is not magnetic. This is untrue, these are made with 18/8 stainless steel which is of the highest quality and made for contact with food and drinking water. These bottles are magnetic because the 18/8 stainless stell is cold rolled into the bottle shape which changes the physical properties and makes it magnetic. So these bottles are completely safe to drink out of. The 40oz is a little heavy when it is full, but it holds a lot of water.
What good is a bottle with a busted cap?
If you buy this bottle, just know the cap will break into 2 pieces. 1 will be the metal, screw-in plug that will become your functioning cap. It will have a razor-sharp edge on the top...enjoy that!

Backcountry acknowledges the issue but does not carry the plastic 1-piece top that KK makes. Once you replace the cap, with that one strait from KK, the bottle will last forever and taste great!
Wish I would have read the 'bad cap' reviews
The bottle is great.

The cap, not so much. Wish I would have paid more attention to the other folks with cap problems. After only about a dozen uses, the plastic part of the cap detached from the steel screw part. So frustrating. Just like everyone else, it popped back in, but now it pops off every time I try to screw it in.
Love the bottle. Mouth opening is about the same size as a 32oz. Gatorade bottle opening. About the same width in your hands as the Gatorade. As the rest of the reviewers said, this bottle adds no taste to the water. In fact, after tasting my water out of this bottle, i realized i needed to filter my water--i couldn't taste the impurities in my nalgene :)
Love the clean stainless container and the stainless inside the lid! No plastic touching my drink! Can't stand the dufus who slapped on two stickers, the "Made in China" on the inside of the lid and a great big one on the bottom of the container. I got the sticky off on the lid with peanut butter, but the one on the bottom took too long and I gave up. Two months later it still picks up papers and lots of cat fur--great for snagging things you can't quite reach or de-furring the cat!

The other problem is that this container keeps disappearing--my wife likes it as much as I do! Buy two!
I had forgotten what water tasted like. With this bottle, thats all you taste - clean, fresh water. Very durable designe. It will get some dings and dents, but that adds to its character. I never carried my nalgene bottles, unless I was camping or hiking, but with this one I carry it with me every day. I am soon to buy more of these great bottles. Way to go KK!!!!
My husband saw these online (for less than $16) and we bought 3 right away -- wow, the water tastes even better at that price. Seriously, they are durable, esp for our 14 y/o son who is rough with just about all of his things. I like the huge amt of liquids it holds. Overall, have nothing bad to say about these bottles!
I would purchase this again. I bought 4 of them for 15.50 each and the wife and I love them. I use one everyday and haven't had a lick of trouble. I've been somewhat cautious with handling the kanteen by the top as someone noted previous, it may come off, as of yet all is well here. I've also had numerous comments on them, "where did you get that? Backcountry, where else". Life is better with a klean kanteen!
What a great bottle! Light weight and easy to clean up. I just wish I had ordered more when I got mine.
does the cap still have the stainless cap...
does the cap still have the stainless cap /screw part as pictured or is it the newer, plastic only cap
, ☃bcs_badge_alumni_label☃
It still has the stainless steel cap.
I assume that neither this nor the 40oz...
I assume that neither this nor the 40oz will fit my favorite splashguard (2 in. diameter)?
Correct, the opening of the Kleen Kanteen bottles is 1.75" They do manufacture a sport cap, which will help prevent spills, but unfortunately backcountry does not carry it.
I've found that you don't really need a splash guard, to be honest.
won't fit into my SUV's cupholder
Klean Kanteen rocks, even better w/ the goat logo. No BPA, use less waste, no funky odors. Not all of the stainless bottles can claim to have no toxins, but Klean Kanteens have been proven safe.
Great bottle -- clean taste, durable
I have about 5 of these bottles now and have completely replaced my Nalgene (and similar plastics) for all of my hiking and backpacking needs.

The Klean Kanteen bottles are all stainless steel which provides a lightweight but durable bottle that yields great tasting water all the time.

Note: these are NOT thermos bottles so cold water won't stay cold (although I have no trouble loading ice into the opening of these bottles) and I would HIGHLY recommend that you NOT put hot liquids inside as you'll easily burn yourself with the bottle.

The caps are all interchangeable as ever KK bottle has the same opening dimensions.
i got this for $15 so it was a really good deal! i didn't pat attention to the fact that it is 40oz! oops, it is good though, still taste like metal, but kept my water cool while latched to the back of my pack in the hot summer heat. it is really heavy, i thought. it doesn't leak!
not so happy with this one
I am a hiking guide at the Grand Canyon and put gear through the wringer. Consistently I've been pleased with all my Backcountry.com purchases (which are many), but this time I'm gonna have to be a bit negative. The bottle itself is great, just a problem with the lid. The black top popped of ving the actual "male"aspect of the screw in stopper still in the bottle. It does pop back into place but now that it's happened once it is a reoccuring problem.
Are the openings the same size on the 27oz...
Are the openings the same size on the 27oz and 40oz? Are they compatable with the PUR Hiker water filters as the nalgenes were?
Best Answer
The openings are the same size, but the threading isn't the same as a Nalgene so the filter won't work the same way. On a Nalgene, the lid goes over the top of the bottle whereas on a KK, the lid threads down inside.
Yes. They are identical. I have two 27oz bottles (one with plastic ring cap and one with sports top cap) and one 40oz bottle (with ring cap) and I interchange them regularly with no issues.
Is it or is it not lined? I have read...
Is it or is it not lined? I have read conflicting comments this.
Definitely not lined, 100% steel. Water tastes great!
, ☃bcs_badge_alumni_label☃
klean kanteen stainless steel is not lined, and does not need to be lined. aluminum bottles, such as sigg and others must be lined.

The stainless, unlined allows a clean taste, no chemicals, and in a pinch you can even heat water in the Klean kanteen, but keep the lid off!