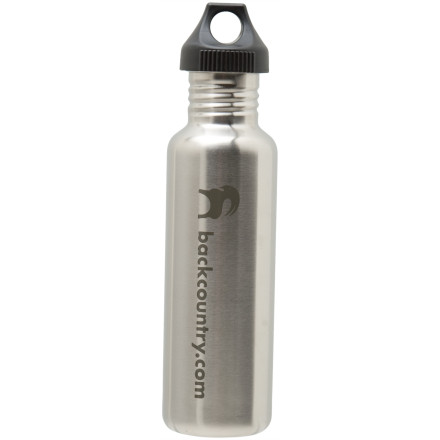 Detail Images

Community Images
Bought this as a gift for my friend. Looks like a great bottle.
Unanswered Question
When is there going to be more in stock...
When is there going to be more in stock


I have a few of these and they are my favorite bottles for treking and daily use. They're so quick and easy to open and will not cross thread like my Sigg. You just have to be careful not to over tighten them and pop the lid. Even if you do break the lid they are still pretty easy to open with out the plastic cap.

This is a Definite buy.
Moderately useful water bottle
This bottle tends to not make your water taste worse, which is cool I guess. I throw it in my car when hitting up the surf, or sometimes take it in my pack skiing in the resort. But honestly, I've still got a bunch of nalgenes, both lexan and regular, and I prefer those for more serious routes involving large packs and filtering out of streams. Something about being able to throw them around, measure visually, and having the wide mouth I find more utilitarian. Plus, I'm not all that concerned about the BPA thing. It's a good marketing strategy mostly, but from all the chemistry classes I've taken (and a couple professors have actually brought this up when studying aromatics back in organic) the actual amount you're exposed to isn't going to do jack. Whatever. I appreciate the environmental friendliness of klean kanteen, and they're definitely more durable than all the siggs I've seen destroyed. Go for it!
Klean Kanteen makes, in my opinion, the best metal water bottle on the market. Admittedly, I have only tried Sigg and a few random stainless brands, but still, these water bottles are bombproof, BPA free, and ecofriendly. The best thing about this model KK is that it comes with a stainless steel cap (see the second detail view provided by BC.com above). The skinny here is that the threading on the cap, and the part that water will actually come into contact with during routine sloshing, is made of stainless just like the bottle. The gasket and top of the lid are still plastic/rubber, but the important part is that the ENTIRE interior of the bottle is stainless.
This does result in a noisy removal of the lid, but that's the price you pay for keeping your H20 plastic free.
it's great water bottle all around but don't take it to a meeting it can get a little noise
Ok ok, yes the cap has some issues. When you over-tighten the cap on this bottle the black plastic does have the tendency to separate from the metal part of the cap. It's easy enough to pop back into place, and the seal is quality so you don't actually have to tighten the cap down as hard as you might think would be necessary. Like any gear this bottle has a few quirks but, like any gear, if you handle it with some respect and don't just force it around, it'll probably do what it was intended to do. I use my bottle every day and after I got to know it, it's solid and keeps my hydrated.
Cap separates - can't open the bottle!
Used for a short time and then found out I couldn't open the bottle anymore because the plastic cap had separated from the metal cap piece and it just turned in place. Upon further investigation, 3(+) people have mentioned this in the reviews. Here is video I took of it. http://www.youtube.com/watch?v=x3VrxWDJKSw

The product gets a single star (a water bottle that's impossible to open???) but another star is rewarded for excellent customer service. Rich F was very easy to work with and immediately sent out another bottle for me... hopefully this next one is better.
Does backcountry sell any that have the...
Does backcountry sell any that have the plastic cap instead of the partially metal cap? My friends' Klean Kanteens all have a broken cap (except the plastic ones) and even for $14 I'd rather not have to replace the cap eventually.
I use this bottle for tea or coffee, so if some people said it has the metal taste, I can't taste it because tea/coffee covered. I only have the bottle for a month, so far the caps are good, I don't know about the future. I had 2 other water bottle with plastic caps and I don't like it because i can't put hot water in it.
The cap on this thing broke with the black plastic part separating from the stainless steel on the third day I took it to the OFFICE! Wouldn't last 10 minutes on a camping trip. I thought about trying to glue it back together, but am afraid I'll be eating epoxy with every sip. Might as well got a BPA bottle.
It is what it is, an excellent water bottle!
I would like a different top that is easier...
I would like a different top that is easier to drink from. What others are available?
, ☃bcs_badge_alumni_label☃
Best Answer
this small necked bottle is pretty dang easy to drink from. what are you interested in, for easier? klean kanteen has a couple other options, check online. they have a sport cap and a sippy.
http://www.kleankanteen.com/products/accessories/klean-kanteen-caps.html
Has a metallic taste... Easy to clean and refil. The top not being attached may get lost but guess you could tie it with a peice of string. Mouth is a little big to drink comfortably on the move but much better than the Quart Nalgene. I found a thing called the "top top" for my nalgene that is a screw cap that has another screw cap that is smaller for drinking and now prefer the nalgene.
Great bottle and great value
I was standing in Whole Foods the other day looking at their collection of overpriced Swiss bottles and almost broke my arm patting myself on the back for buying the Klean Kanteen. I love good products like this Klean Kanteen, which is the perfect size for day hikes, or bring 2 or 3 for an overnighter. At the price, you can't go wrong.
I got this about 3 weeks ago and its the best bottle I have had. Holds up great backpacking and also with school just starting I carry it around campus. And as always it comes with backcountry.com's amazing customer service and product quality!
can it contain hot or warm water?
can it contain hot or warm water?
Best Answer
Yep. It does great with hot liquids (except that the metal itself gets hot). I like to fill my Klean Canteen with hot coffee (I always worried about doing this with my Nalgenes, for fear that the plastic would leach into the fluid). Of course, it has no insulation to keep beverages warm, but it also doesn't retain the smell or taste of previous beverages.
Great bottle. Watch dropping it on a hard surface, it dents nicely, but adds character.
The bottle does not add any taste, even when water is stored in it for extended periods.
Great water bottle. Need to try the larger size however.
I like these bottles but, the cap broke the first time out in my pack! Expensive little thing!
the loop cap easily separates into the metal and plastic parts. this is just through normal use. I recommend buying the flat cap directly from klean Kanteen.